Linux Beats Mac In Latest Steam Survey, Radeon RX 7900 XTX Finally Shows Up
Windows is by far the most popular platform for playing games on PC, including titles on Steam, but what about Mac and Linux? For a long while, Mac ranked second on Steam, though that just changed and probably for good. According to the latest Steam hardware and software survey results (for July 2023), Linux now has a bigger footprint among gamers than
Mac
.
Before we get into the numbers, it's important to note a couple of things. First, Steam's monthly survey results are not necessarily definitive in what they appear to represent. The data can (and does) vary based on which systems Steam chooses to ping. For example, an over reliance on internet cafes in China (as has happened before) can paint a misleading picture of actual trends.
Secondly, the results are a snapshot of Steam users only and not the entire PC gaming community at large. That said, Steam is by far the biggest digital distribution platform around for PC games so ignoring the data would be just as foolish as ignoring the caveats.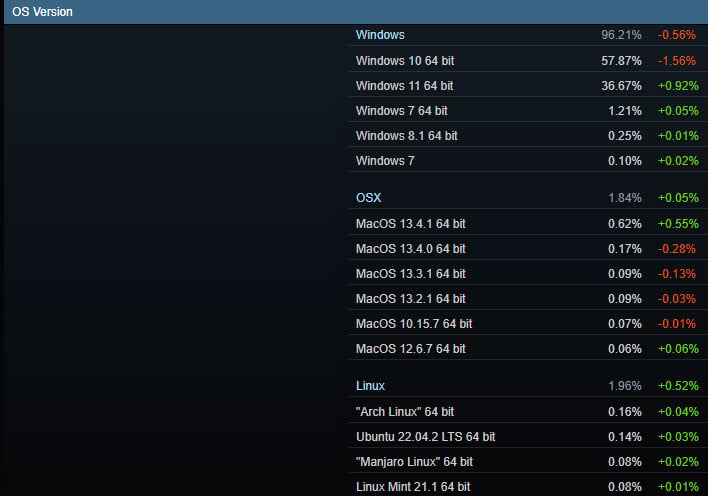 Now then, let's get to it. In looking at the OS breakdown for July, Windows remained way out ahead with a 96.21% share of Steam accounts pinged. That's actually down 0.56% from June. That's a relevant stat because
Linux
saw its share grow by nearly as much—0.52% for a 1.96% share. That was enough to overtake macOS, which stayed virtually flat (+0.05%) at 1.84%.
Big whoop, right? Perhaps, but there's some relevance to the data. More than just a changing of the guard for what crumbs are leftover by Windows, the uptick in Linux is almost certainly associated with the Steam Deck. Out of the box, the Steam Deck runs SteamOS, which is a custom version of Linux. While Valve's
mostly-defunct Steam Machine
initiative never really gained any traction, the Steam Deck has proven to be a popular handheld. As such, we would expect to see Linux's numbers continue to grow
The rise in Linux share also comes on the heels of a recent and significant
Steam Deck discount
that was part of Steam's summer sales event. During the sale, pricing dropped from $649 to $519.20 for the 512GB SKU, $529 to $449.65 for the 256GB SKU, and $399 to $359.10 for the 64GB (eMMC) SKU. Prices are back to normal now, but even so, the Steam Deck remains one of the best bangs for your buck in the PC gaming handheld console category.
Radeon RX 7900 XTX Shows Up Fashionably Late To The Steam Survey Party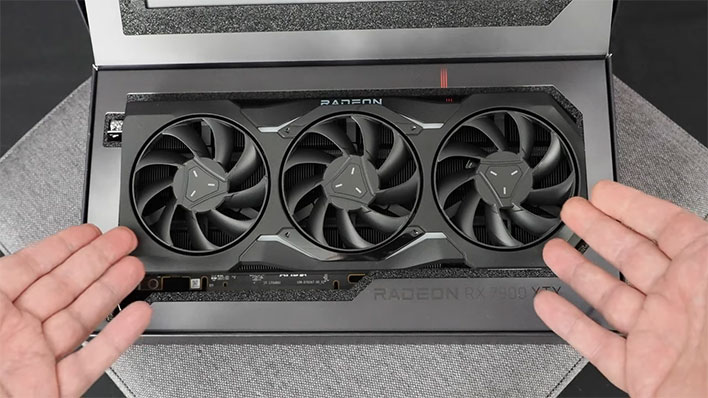 Pivoting over to hardware trends, the
Radeon RX 7900 XTX
made its first appearance in Steam's survey since AMD launched the GPU in December of last year. Better late than never, right? It didn't claim a significant share among Steam gamers by any stretch—just 0.17%—but you have to start somewhere.
It's the only Radeon RX 7000 series (RDNA 3) desktop graphics card to make an appearance so far, as the Radeon RX 7900 XT, Radeon RX 7900 GRE, and
Radeon RX 7600
are all absent from the July survey results.
Meanwhile, here's the breakdown of NVIDIA's GeForce RTX 40 series (desktop cards)...
GeForce RTX 4090: 0.72%
GeForce RTX 4080: 0.47%
GeForce RTX 4070 Ti: 0.68%
GeForce RTX 4070: 0.55%
GeForce RTX 4060 Ti: 0.23%
GeForce RTX 4060: N/A
The most-widely used GPU in the
latest Steam survey
remains the GeForce GTX 1650 (5.3%), followed by the GeForce RTX 3060 (4.88%), GeForce GTX 1060 (4.6%), GeForce RTX 2060 (4.1%), and GeForce GTX 1050 Ti (3.5%), to round out the top five desktop GPUs. If looking at both laptop and desktop GPUs, the mobile GeForce RTX 3060 secures the fifth spot with a 3.76% share.
Meanwhile, the entirety of the GeForce RTX 40 series on the desktop accounts for 2.65% systems surveyed in July.