LG Premium Soundbars With AI-Powered Calibration Are Headed To CES
The annual Consumer Electronics Show (CES) in Las Vegas is right around the corner, and that means a bevy of product announcements are incoming. Ahead of the event,
LG
announced it plans to roll out an "impressive lineup of soundbars" with premium quality audio, easy connectivity, smart functionality, and "AI room calibration."
I can hear you groaning as you read that last part, and it's a natural reaction—it seems
everything
these days touts
AI technology
in some form or another. It is what it is, though. And in this case, AI room optimization promises sound that is better tailored to your living room setup, or bedroom arrangement, or wherever you might place one of these soundbars.
"AI room calibration guarantees more optimized sound by automatically tailoring output to the specific characteristics of the room. These advanced models are self-calibrating, able to recognize and analyze tones to accurately assess the dimensions of a given space and adjusting accordingly," LG explains.
Even though companies are playing fast and loose with the definition of true artificial intelligence, I'll admit LG's implementation here sounds intriguing. The concept itself is not exactly new—plenty of home theater receivers basically do the same thing, though usually by having the user place an included microphone in the room, and then going through a setup routine.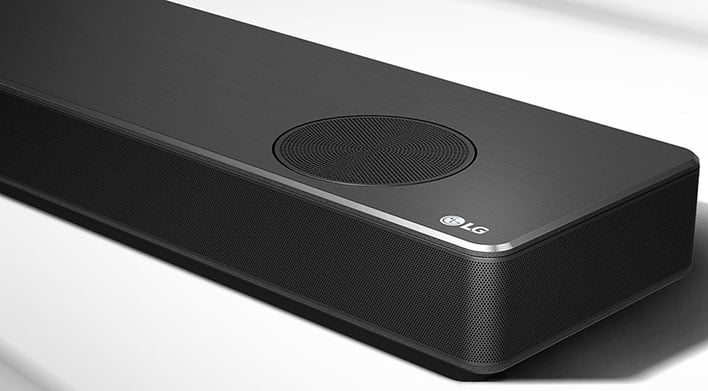 It sounds like LG's soundbars will essentially streamline the process, and perhaps even adjust for changes as time goes on, though the company did not specify if that is the case. It would make sense, though, and take the fuss out of optimizing the sound.
AI goodness aside, these soundbars will bring support for Dolby Atmos and DTS:X for "breathtakingly realistic surround sound with audio that appears to originate from multiple directions." They will also come with a 4K pass-through, and can optionally be connected to an SPK8 wireless rear speaker set. Finally, LG says the
Google Assistant
will be built into more models for 2020.
"Our goal has always been to bring better sound to more people and by offering more great products that leverage our successful partnership with Meridian, our latest soundbars help achieve this," said Park Hyung-woo, head of LG Home Entertainment Company's audio and video business. "High-performance, convenient and very versatile, LG's newest models will make the premium audio experience accessible to more customers worldwide."
LG did not say what specific models are on tap, when they will be available, or how much they will cost. All of those details will presumably be made available at CES next month.