Leak Reveals When You Can Preorder A Gaming Laptop With A GeForce RTX 4090 Or 4080
Preorders for laptops powered by NVIDIA's most potent Ada Lovelace architecture GPUs will start a week ahead of the official launch date, a leak has revealed. At CES 2023 earlier this month, NVIDIA said that devices packing the high-end GeForce RTX 4090 and RTX 4080
Laptop GPUs
will become available from February 8.
IT Home
has learned that pre-sales of these $1999+ laptops will begin a full week ahead of availability (i.e. February 1). There is a possibility that this news is China-only, or the source has made a mistake, so please add a pinch of salt to the preorder dates. The release dates mentioned in this article do come from NVIDIA's CES 2023 slides, though (as per the example below).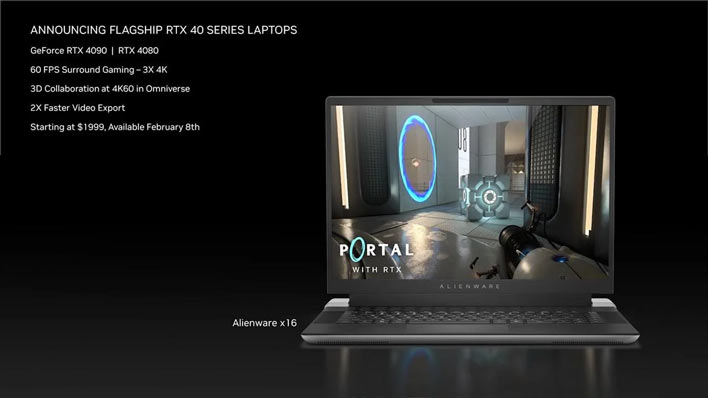 The release of GeForce RTX 4090 Laptop GPU powered devices will be eagerly anticipated by gamers and enthusiasts who require the greatest power with a certain level of portability. Early benchmark leaks have pointed to the RTX 4090 laptop offering performance of up to
RTX 3090 desktop
levels, and the RTX 4080 laptop being a match for the RTX 3080 desktop.
Remember, both these new RTX 40 GPUs are going to be running within device designs which will limit them to approximately 150W at most. The graphics power budget is incredibly variable, though. While the RTX 4090 laptop GPU with 9728 CUDA cores can be configured as low as 80W, the RTX 4080 laptop GPU may be constrained to just 60W in some designs. As always, keep an eye on this part of the spec when shopping for your laptop for an extra indication of the GPU's performance.
Of course, some full-fat configurations will be priced pretty high, if not at
shocking levels
, so it might be most interesting to see what is offered at the touted $1999 entry price.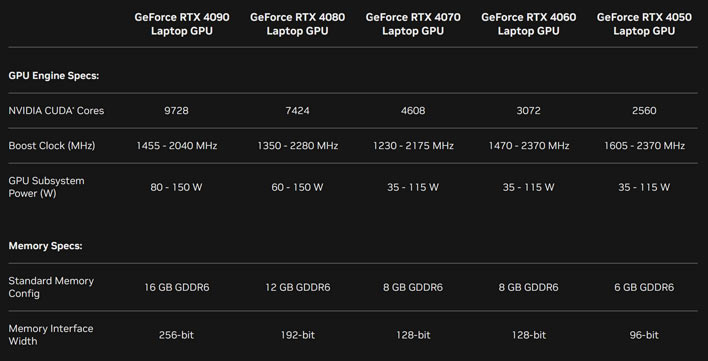 If your budget or sensibilities don't stretch to a GeForce RTX 4090 or RTX 4080 laptop, you may remember that NVIDIA has also revealed tech specs and availability for laptops packing its GeForce RTX 4070, 4060, and 4050. Please ponder over our launch news article for a full
specs comparison and discussion
. Also be aware that the lower-tier Ada Lovelace laptops will be priced from $999, and be available from February 22. If NVIDIA follows the same pattern as with the higher-end laptops, pre-sales of these devices should start on February 15.
Before we go, it is worth mentioning that we still don't have a release schedule for the desktop versions of the
GeForce RTX 4070
, 4060, and 4050. Some estimates for the launch of more mainstream and affordable desktop Ada Lovelace architecture graphics cards have put the release window as far back as Computex 2023 in late-May to early-June.