Gaming Laptop Retailer Reveals Shocking Price For NVIDIA's Mobile GeForce RTX 4090 GPU
European systems builder XMG has revealed pre-order configuration and pricing options for its NEO 16 (E23) gaming laptop. This powerful portable system comes with a multitude of GeForce RTX 40 series GPU options, and XMG has been gracious enough to illustrate what each step up the GPU upgrade path will cost you. The base configuration is equipped with what will be a capable GeForce RTX 4060 Laptop GPU, but you will have to fork out another €1,687, or about $1800 USD, to spec a mobile GeForce RTX 4090. This is quite a differential for the upgrading of a single component, and it even makes Apple's iDevice storage upgrade price gouging look modest.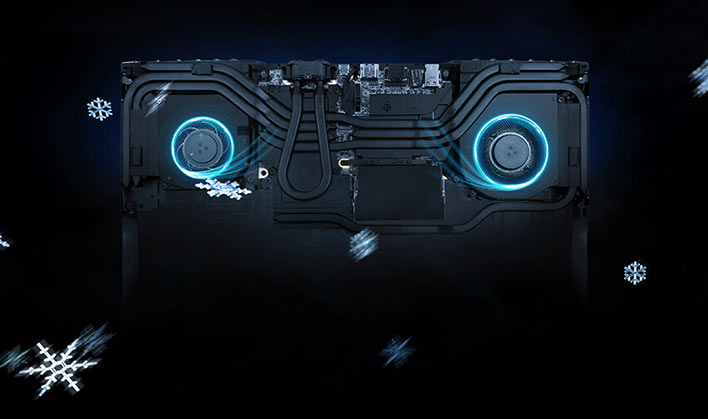 PC enthusiasts are getting used to seeing
sky-high prices
associated with NVIDIA's Ada Lovelace architecture GPUs. This is certainly the case with add-in-cards for desktops, like the RTX 4090, 4080 and RTX
4070 Ti
models, partly thanks to a trend set in during the cryptomining craze. We are now seeing that NVIDIA and its partners are aiming to pull-off a similar premium pricing strategy with the soon-to-be released
RTX 40 series GPU packing laptops
.
16.0-inch IPS | 2560×1600 pixels | 240Hz
NVIDIA GeForce RTX 4060 | 8GB
Intel Core i9-13900HX | up to 5.4GHz
16GB DDR5-4800 | 500GB M.2 SSD
XMG has this most affordable model up for pre-sale at €2,199 ($2,370), and in Europe consumer pricing includes 20% sales tax.


How much more expensive are the more powerful RTX 40 GPU options over the standard RTX 4060? For clarity, please check the bullet points below with additional US dollar equivalents plus percentage increases shown from base. Again, remember these prices include 20% sales tax.

NVIDIA GeForce RTX 4070: +€375 (+$405), +17%
NVIDIA GeForce RTX 4080: +€1,050 (+$1,131), +48%
NVIDIA GeForce RTX 4090: +€1,687 (+$1,817), +77%
Mech. keyboard with Cherry MX: +€125 (+$135), +6%
The keyboard upgrade looks like a bargain in comparison to the other choices. Obviously, XMG sees this new NEO 16 model as too high a base spec to offer an RTX 4050 option. Without further reference, we will assume for now that other laptop vendors will be scaling pricing similarly across their different GPU configurations.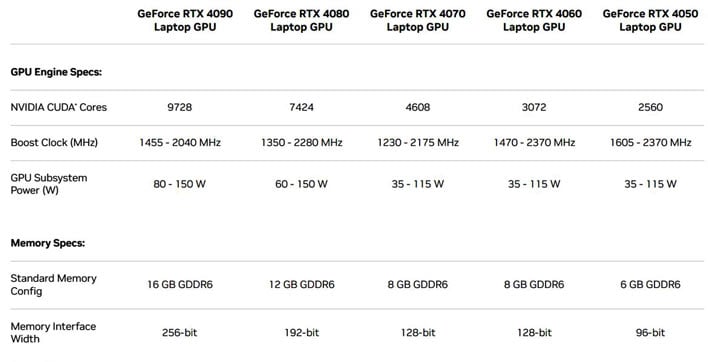 At its recent launch of the
RTX 40 Mobile GPUs
during CES 2023, NVIDIA claimed that the new Ada Lovelace architecture GPUs for laptops offer the "biggest generational leap ever." At this point, we can't judge whether the extra price for the higher-end RTX 40 laptop GPUs is worth it, at least not until we have some machines in for testing. Ultimately, only customers can decide the value of these upgrades for their specific needs. We won't have independent tests of these laptops until next month (Feb 8 for GeForce RTX 4050, 4060, and 4070 / Feb 22 for the RTX 4080 and 4090). Please stay tuned.