Intel Expands XeSS Super Resolution Support To This List Of Over 50 Games
Whatever you think about
Intel's Arc graphics cards
, you have to acknowledge that the proliferation of advanced upscaling technologies is largely a good thing. XeSS is an upscaler with similar performance to AMD's FSR2 and NVIDIA's DLSS, and it works on any vendor's recent graphics processor, albeit best on Intel's own Arc GPUs. Intel just announced that XeSS has hit the 50-game milestone, and a fair few of them are pretty popular titles.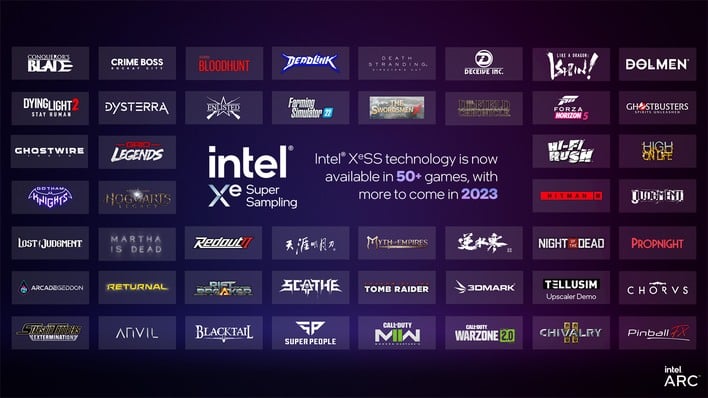 The list includes games like
Call of Duty: Modern Warfare 2, Like a Dragon: Isshin, Cyberpunk 2077, Hogwarts Legacy, Returnal, Ghostwire: Tokyo, Starship Troopers: Extermination, Dying Light 2: Stay Human
, and lots of other big names. The biggest new-game announcement for XeSS this week is
Diablo IV
—Blizzard's
fastest-selling title of all time
—but it's not stopping there, of course.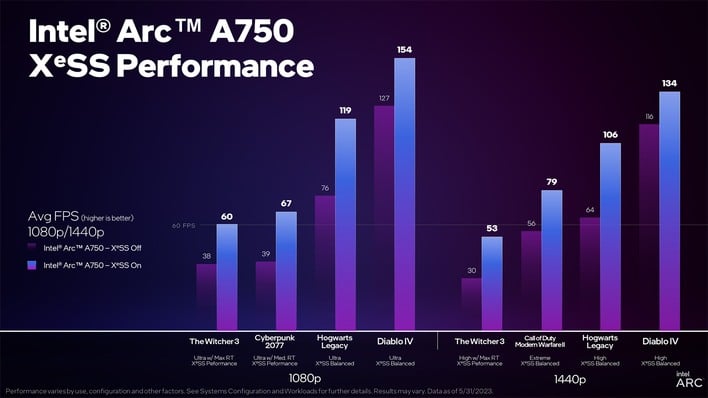 In its announcement, Intel demonstrates the benefits of XeSS on both the budget-priced Arc A380 as well as the excellent-value Arc A750. On the A750, XeSS takes demanding titles like
The Witcher 3
(with its
fancy new ray-tracing update
) and
Cyberpunk 2077
from being somewhat marginal to downright playable.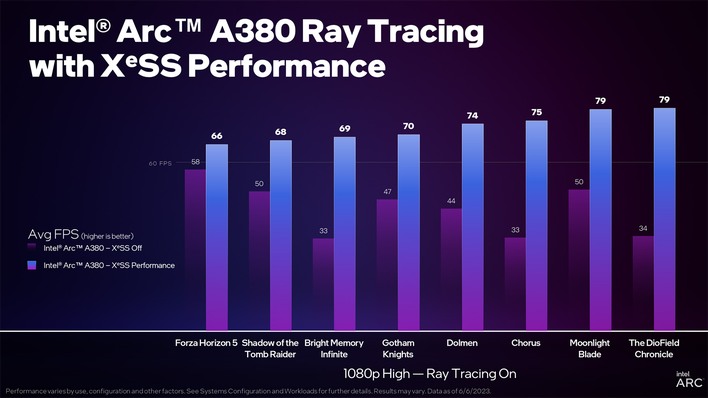 Meanwhile, on the
lowly Arc A380
, Intel demonstrates that XeSS can allow it to play some games with ray-tracing enabled. That's very impressive for an entry-level GPU with just 6GB of video RAM onboard. Ray-tracing incurs not only a big GPU compute performance hit but also requires a significant chunk of extra video RAM, so that's probably why Intel didn't list games like
Cyberpunk 2077
, where ray-tracing requires lots of memory.