Diablo IV Is Blizzard's Fastest Selling Game And You Can Win A Themed GeForce RTX 4080
It wouldn't have been unreasonable for Activision-Blizzard's board to be worried about the prospects of
Diablo IV
. After all,
Diablo III
wasn't exactly well-received by the fanbase initially, and while
Diablo Immortal
has been a financial success
, buzz on the title has been largely negative. Likewise, reactions to
Diablo IV
's beta and pre-release content were somewhat mixed.
Well, as it happens, there was no cause for alarm because
Diablo IV
has quickly set a record as Blizzard's fastest-selling game of all time. In
a press release
, Blizzard announced that in the first four days,
Diablo IV
has been played
for over 93 million hours, which is over 10,000 years. Interestingly, Blizzard stops short of saying just how many copies it sold, but it does say that
Diablo IV
was the most-preordered Blizzard game of all time, too.
If you've been enjoying
Diablo IV
you've probably noticed that it can be surprisingly heavy when you turn up all the settings—and it hasn't even gotten its ray-tracing patch yet. Sure, you can use upscaling—the game supports Intel's XeSS and AMD's FSR 2.1 in addition to
NVIDIA's DLSS upscaling and frame generation
—but you also could simply upgrade your graphics card.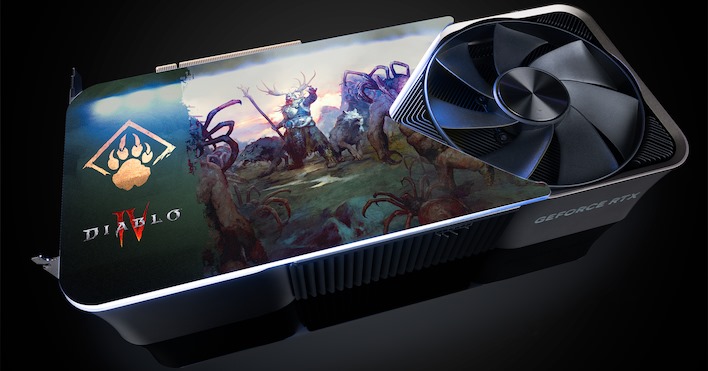 For folks of that mind, you might be able to snag a free GeForce RTX 4080 card straight from NVIDIA. This one's fancy, too—it's a Founders Edition card, but it comes with a two-of-a-kind
Diablo IV
backplate. Two, because NVIDIA's giving away two cards, at least according to
its contest rules
.
How do you enter? All you have to do is follow NVIDIA's Twitter account, and then "like/comment/tag/share posts according to prompts." Well, the prompt here is to simply like
the tweet announcing the contest
, and then reply to it with the hashtag #DiabloRTX. That apparently enters you to win. All entries must be received by June 20th, and the winners will be picked on July 31st.