Alleged Intel CPU Roadmap Leak Nails Coffin Shut On Desktop Meteor Lake-S Processor
A new report suggests that Intel is already killing off one of its desktop Meteor Lake dies featuring six P-cores and eight E-cores. The report leaked an Intel 2022-2026 Roadmap update, blocking all the information in it with the exception of a single line of text, noting the cancellation of this CPU model. We are not sure why Intel is canceling this Meteor Lake model specifically, but it could be related to any number of different reasons.
Meteor Lake-S is reportedly Intel's next generation of desktop processors, based on the new Meteor Lake architecture. Some of the key highlights of this architecture include a tile-based design, the addition of a second efficiency core, and the use of Intel's more efficient Intel 4 EUV process. Current rumors estimate that desktop Meteor Lake processors will feature core counts as
high as 16
, with a mix of three core clusters, P-cores, E-cores, and
LP-E-cores
.
The ironic part is that we don't know when or if Meteor Lake will be coming to desktop at all. The rumor mill has been churning out quite a handful of
different outcomes
for Intel's upcoming architectures, including a supposed Raptor Lake refresh that will be a refresh of Intel's current 13th-gen chips this year, the possibility of Meteor Lake CPUs being launched this year as well, and the possibility of Meteor Lake being canceled for desktop altogether in favor of a mobile-exclusive launch instead. (Akin to the GeForce GTX 800M series debut.)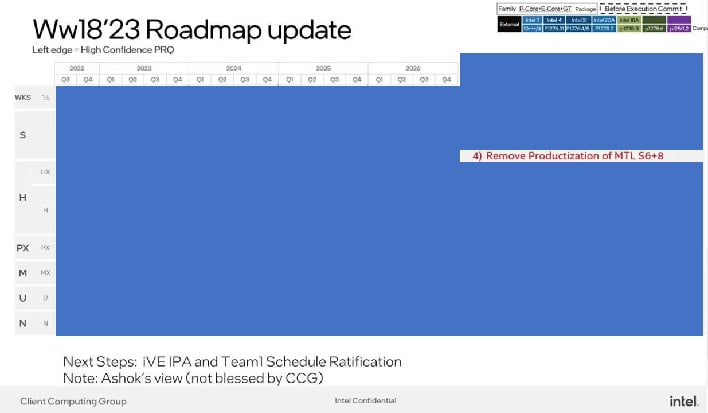 Either way, if it does come out or it doesn't, there are two plausible explanations for Intel's roadmap update. One is that this six P-core eight E-core die cancellation is just part of the Meteor Lake cancellation as a whole on desktop, or the die could might have been cancelled in favor of a better die featuring a superior P-core and E-core configuration.
With the addition of three sets of cores now on Intel's future platforms, there are a lot of ways to split the number of cores on a variety of different models. For instance, the canceled die could get replaced with a die featuring 8 P cores and 8 E cores, or perhaps another with 6-P cores, 8 E-cores, and 2 LP-E cores. Depending on how many LP-E cores a CPU can have, the number of configurations at Intel's disposal is almost limitless.
In any case, Intel usually cancels products for a good reason, and if Meteor Lake-S is coming to the market, we can expect Intel will provide a superior solution to the
die it is canceling
. It also doesn't stop Intel from just disabling a few cores on a bigger die to make a six P-core eight E-core part anyways.