New Intel GPU Driver Boosts Arc A750 To Sack GeForce RTX 3060 In Madden 24
The NFL season is just around the corner and so is the release of
Madden 24
with some exciting upgrades, including smarter AI for more realistic player behavior, niftier passing and catching, and more. To get ready for the release, Intel has made available a new Arc graphics driver—versions 31.0.101.4644 WHQL—that, among other things, aims to push the Arc A750 past the
GeForce RTX 3060 12GB
.
Those are both sub-$300 graphics cards, which makes them proper rivals for the virtual gridiron. According to Intel, the latest Arc GPU driver gives the A750 a performance advantage with the added benefit of being a better overall value proposition (it's the less expensive card out of the two).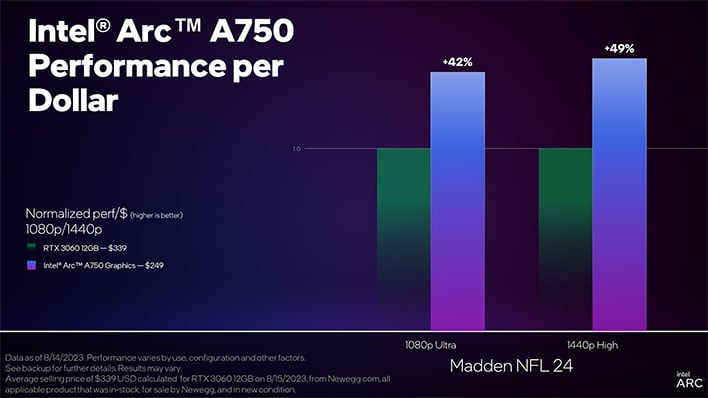 Source: Intel

"The Intel Arc A750 is the running back you want on your team, running Madden NFL 24 at 87 FPS at 1440p with High settings. That's 10% faster than the NVIDIA RTX 3060. Now factor in the cap-friendly price of the Intel Arc A750—$249—and that gives you 49% more performance per dollar," Intel states in a blog post.
Comparing performance per dollar has been Intel's battle cry since it debuted the Arc GPU series. We saw this up close in personal in our
Arc A770 and A750 LE review
, with those cards arriving at a time when the GPU market was in a bit of turmoil—a shortage and inflated prices by marketplace sellers and scalpers created a favorable environment for Intel swoop in and save the day.
It didn't work out quite that neatly (GPUs are plentiful again), but Intel's Arc GPUs did address an important market segment. They still do, and thanks to continued driver releases by Intel's engineers,
performance has improved
since those cards debuted, including in
older titles
.
Intel's
Madden 24
performance claims aside, the Arc A750 is a strong value play for gamers on a budget—you can find the Arc A750 LE for
$219.99 on Amazon
. Meanwhile, this MSI GeForce RTX 3060 12GB for
$279.99 on Amazon
is one of the cheaper 12GB models, while the 8GB SKU
starts at around $249.99
. Those are good options for the money too.
The latest Arc driver also introduces optimizations for Wayfinder and, perhaps most intriguing, it upgrades the firmware on some Arc graphics cards.
"This latest version brings stability improvements, better fan behavior, bug fixes, and better compatibility with HDMI connections,"
Intel says
.
We're actually in the midst of testing Intel's updated firmware and associated performance claims so stay tuned for that article. In the meantime, if you already own an Arc graphics card, you can fire up the Arc Control Center to grab the latest driver or head to Intel's
Arc GPU driver page
to install it manually.