Intel Core i9-11900K CPU's Groovy Retail Box Leaks, Core i5-11600K Makes Benchmark Debut
Intel is getting ready to launch Rocket Lake to the retail space in just a few weeks (end of March), at which point we will finally have some concrete answers for the most burning questions—
Rocket Lake pricing
, performance, and all that jazz. As we wait, some last-minute leaks are trickling in, including a benchmark entry for the upcoming Core i5-11600K, and what appears to be official press renderings for Rocket Lake's funky retail packaging.
Let's start with the benchmark leak, shall we? Geekbench is the popular hangout for unreleased processors, and that is where the
Core i5-11600K
has made an early appearance. According to the listing, it is a 6-core/12-thread chip with a 3.9GHz base clock and 4.9GHz turbo frequency. It also wields 12MB of L3 cache.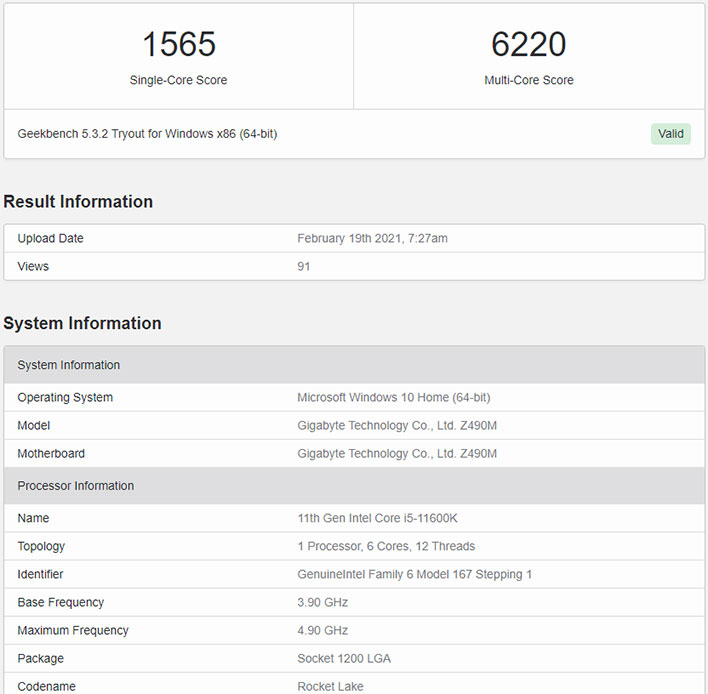 Source: Geekbench
The benchmark entry indicates it was installed in a Gigabyte Z490M motherboard with 16GB of DDR4-2133 RAM. It's not yet clear how memory speeds will affect Rocket Lake (AMD processors have benefited more from faster RAM up to this point), but DDR4-2133 is rather slow. It's also worth nothing that Intel's 500-series chipset could potentially squeeze some additional performance out of Rocket Lake.
That said, the Core i5-11600K in this instance posted a single-core of 1,565. It is an uninspiring result that puts it below the average single-core scores of AMD's entire Ryzen 5000 series of desktop CPUs. Here's a partial list of average scores....
Ryzen 9 5950X: 1,692
Ryzen 7 5800X: 1,675
Ryzen 9 5900X: 1,669
Ryzen 5 5600X: 1615
***Leaked Core i7-11600K: 1,565***
Core i9-10900K: 1,409
Core i9-9900KS: 1,377
Ryzen 9 3900XT: 1,323
It also posted a ho-hum score of 6,220 for the multi-core test. To put that into perspective, the avearage multi-core score for AMD's 6-core/12-thread Ryzen 5 5600X is 8,156.
Past Rocket Lake-S leaks have been more encouraging than this one, so there is no need to sound the alarm. That said, we will of course wait until we have had a chance to test and benchmark finalized silicon ourselves, before making any judgements, good or bad.
Intel Rocket Lake-S Retail Packaging Leaks
In other semi-related news, it seems Intel's penchant for unique retail packaging is carrying over to its 11th Gen Core processors, at least for the Core i9 model(s). Have a look...
The revised 'Core' logo branding is on full display, but as for the shape of the box, it is certainly different from your typical rectangle packaging. It looks like it is ready to sashay into the retail space with attitude. The packaging is also unique enough that some buyers may end up putting it on a shelf or someplace else where it will be on display. That's assuming Amazon doesn't wreck them by shipping them in
padded envelopes
.
You can also see into the packaging on both sides, it seems. As for the other retail packages, it looks as though everything below Intel's flagship offering will ship in a standard squarish box.