Intel Core i7-14700KF 20-Core CPU Flirts With 6GHz In Leaked Benchmark
A Geekbench score which appears to have been run by a system packing an Intel 14th Gen Core '
Raptor Lake Refresh
' CPU has been spotted online. The headlining Core i7-14700KF processor is particularly interesting, as the i7-14700 products are expected to deliver the most meaningful upgrades over current gen parts. Moreover, the purported Intel Core i7-14700KF plugged into this Z790 Aorus Master X based PC system ran at nearly 6GHz during the benchmark testing.
Seasoned Geekbench data miner Benchleaks uncovered this benchmark result and commented that the unreleased processor ran at a "Min/Max/Avg: 5467/5985/5902MHz." These are good clocks for an i7 series chip, and the resulting benchmark results weren't disappointing either.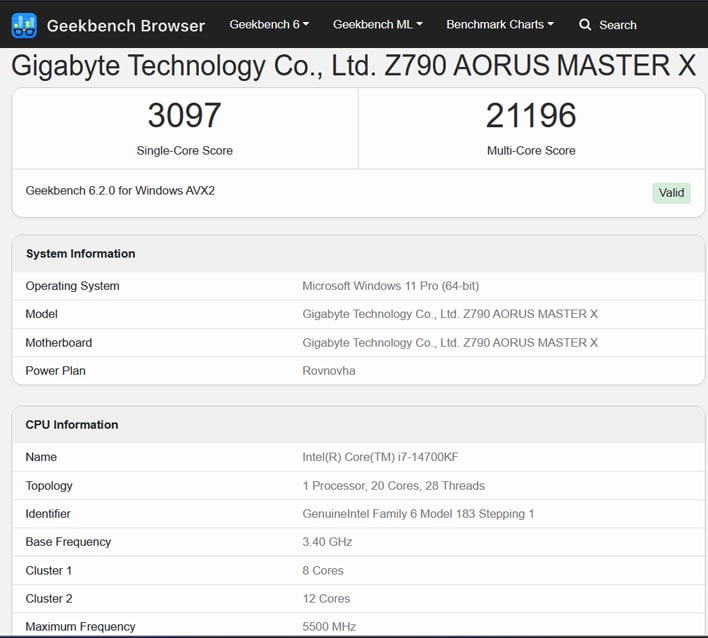 In the screenshot above, you can see the supposed
Core i7-14700KF
20-Core CPU from Intel scored 3097 in the single-threaded (1T) tests and 21196 in multithreaded (nT) tests. The Geekbench 6.2 1T score of 3097 puts the new Core i7 chip's performance at the same level as the previous gen flagship Core i9 in the benchmark's official charts. Being specific, the sample Core i7-14700KF scored 3097, and an average
Core i9-13900KS
score is 3092, according to Geekbench.
Multithreaded test results aren't so breathtaking, but it very easily beats its direct ancestor. Again providing you a specific comparison, the sample Core i7-14700KF scored 21196 in nT tests, but the Core i7-13700KF could only muster 17459. Meanwhile, the Core i9-13900KS scores 21712 in Geekbench nT tests.
The high clocks of the Intel Core i7-14700KF in this test, unearthed by
Benchleaks
, are welcome. However, we have a feeling that the chip might have been overclocked on the high-end Z790 Aorus Master X motherboard. The Geekbench database entry
reports
the boost clock is 5500MHz, but digging within the benchmark data files shows that the performance cores sometimes reach up to 5985MHz. It is pretty reasonable to assume someone has been taking the 14700KF for a run to see how fast it will go, as K-family chips are designed to be overclocked.
Intel is reportedly considering a noticeable
price rise
for the Raptor Lake Refresh chips. The only upcoming chip we know with a physical core configuration difference is the 14700-line. Thus, we hope this model and the rest of the 14th Gen can perhaps excite us with noticeable clock speed bumps, with some
reaching beyond 6GHz
.
All should be revealed at the Intel Raptor Lake Refresh launch event in mid-October.