Retail Listings Seemingly Reveal Intel 14th Gen Raptor Lake Refresh CPU Pricing
A retailer in Canada has posted listings for Intel's not-yet-released 14th Gen Core '
Raptor Lake Refresh
' processors, which are a refresh of its 13th Gen 'Raptor Lake' CPUs. There's not a whole lot out there in terms of official details, but unofficially, the crop of retail listings hint at what pricing will look like when Intel's next-gen CPUs finally land.
One thing to bear in mind is that Intel has not yet announced its next-gen CPU lineup. That being the case, any early pricing details shouldn't be taken as being set in stone. However, it's possible that Intel will officially reveal its 14th Gen lineup during its Intel Innovation event next week, the timing of which suggests that the early retail listings are likely at least in the neighborhood of what to expect.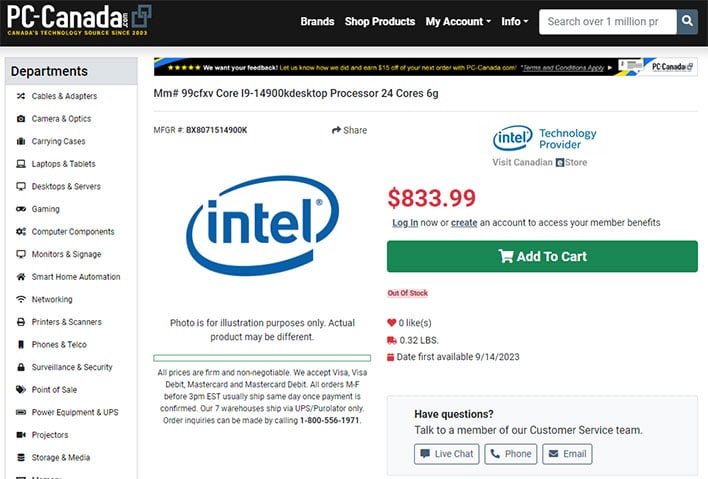 So, what are we looking? At least half a dozen SKUs have been published at PC-Canada, the most expensive of which is the
Core i9-14900K
. The retailer has it listed for $833.99 CAD. That's around 3% higher than the same retailer's list price for the Core i9-13900K.
The price converts to around $616.77 in US currency. To put that into perspective, Amazon has the Core i9-13900K marked down to
$551.99
, which is down from its $629.99 list price.
Obviously it's problematic to draw any conclusions from comparing pricing from one retailer to another, especially when there are two (or more) currencies involved. The larger takeaway is that if the Canadian retailer's early listing is accurate, the Core i9-14900K will command a slightly higher price than the Core i9-13900K it replaces, before any 13th Gen price drops, anyway.
Here's how pricing looks at the rest of the early 14th Gen listings, along with the percentage increase over the 13th Gen models they're replacing ...
Core i9-14900K: $833.99 CAD (~$616.77 USD) - +3.1%
Core i7-14700K: $597.99 CAD (~$442.24 USD) - +2.4%
Core i5-14600K: $453.99 CAD (~$442.24 USD) - +3.9%


Core i9-14900KF: $795.99 CAD (~$588.67 USD) - +2.3%
Core i7-14700KF: $559.99 CAD (~$414.14 USD) - +3.9%
Core i5-14600KF: $415.99 CAD (~$307.64 USD) - +3.2%
The retailer lists both "K" (unlocked multiplier) and "KF" (unlocked multiplier + disabled graphics) variants. Prices for the 14th Gen parts at the time of this writing are 2.4% to 3.9% higher than their 13th Gen counterparts. it's possible that these are just placeholders, though these look more like actual prices to us.
For the most part, it looks like the premium over 13th Gen will net users faster clocks and, by extension, better out-of-box performance. The Core i7-14700K and Core i7-14700KF are the exceptions, as the
early listings
are line with previous leaks suggesting Intel is switching to an 8+12 (P-core + E-core) configuration with 33MB of L3 cache, compared to 8+8 and 30MB for the Core i7-13900K/KF.