Intel Comet Lake-S Desktop CPU Pricing Leaks Online, Should AMD Be Worried?
We getting increasingly close to the launch of Intel's 10th generation Core desktop processors based on its
Comet Lake-S architecture
, as evidenced by the types of
leaks that are emerging
. There have been leaked photos of actual CPUs, and now some overseas retail stores have posted product listings with pricing information.
Comet Lake-S is another iteration of Intel's 14-nanometer node. Intel continues to refine its 14nm manufacturing, and Comet Lake-S will bring more cores and faster speeds to the mainstream desktop category. Meanwhile, AMD is sitting pretty at 7nm with its latest generation Ryzen 3000 series CPUs based on its
Zen 2 architecture
.
Pricing will be key in how Comet Lake-S is received on the desktop. Perhaps giving us a potential glimpse of what to expect, Twitter user and frequent leaker
@momomo_us
highlighted some pricing info from a couple of Czech and Slovakian retailers.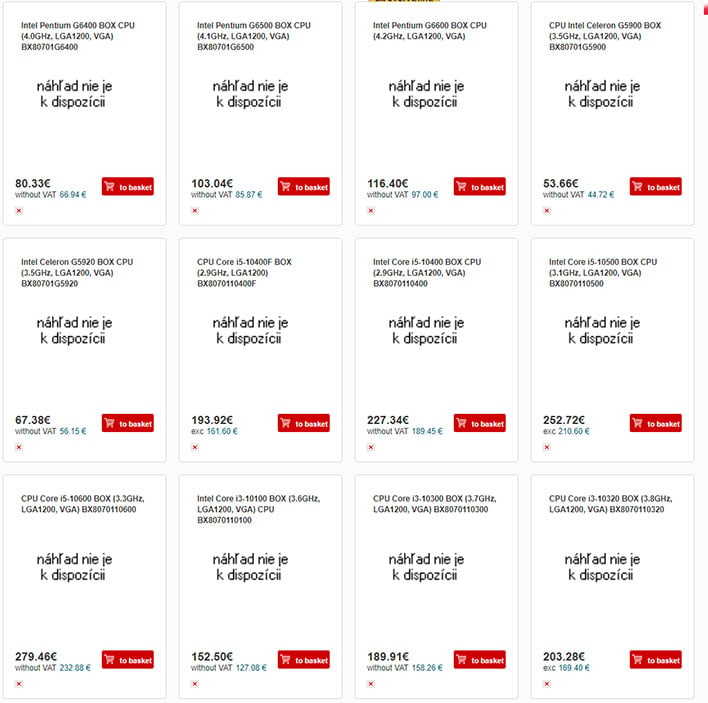 Take all this with a grain of salt because (A) it's essentially a leak, considering Comet Lake-S CPUs have not yet launched, and (B) pricing can vary by region. That said, here's what we are looking at, based on the latest leaks...
Intel Core i5-10600: €279 (~$303)
Intel Core i5-10500: €253 (~$275)
Intel Core i5-10400: €227 (~$246)
Intel Core i5-10400F: €194 (~$210)
Intel Core i5-10320: €203 (~$220)
Intel Core i5-10300: €190 (~$206)
Intel Core i5-10100: €153 (~$166)
Intel Pentium G6600: €116 (~$126)
Intel Pentium G6500: €103 (~$112)
Intel Pentium G6400: €80 (~$87)
Should
AMD
be concerned? Let's look at the fastest chip leaked, the Core i5-10600. It wields 6 cores and 12 threads, with a 3.3GHz base clock, 4.3GHz boost clock, and 12MB of L3 cache. Past leaks also peg it as having a 65W TDP.
The closest competitors would be AMD's Ryzen 5 3600 and
Ryzen 5 3600X
. Both are 6-core/12-thread parts as well, and both have a 65W TDP. The Ryzen 5 3600 is clocked at 3.6GHz to 4.2GHz, while the Ryzen 5 3600X is clocked at 3.8GHz to 4.4GHz.
So yeah, AMD doesn't need to break a sweat, if these prices are remotely accurate. But therein lies the rub—while interesting, we can't make any kind of determination based on leaked pricing, particularly from obscure vendors. Our hunch is we will see better pricing when Comet Lake-S launches (the Core i5-9600K can be bought for
$219.99 from Best Buy
, via Google Shopping), but we'll have to wait and see.