This Tiny Intel Arc A310 GPU Is Hilariously Dwarfed In RTX 3090 Ti Compare Photo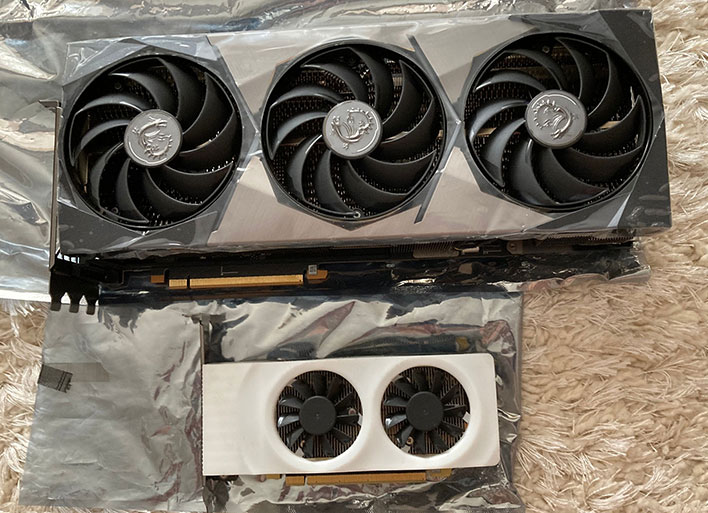 Sat next to a triple fan, triple slot NVIDIA GeForce RTX 3090 Ti design, we get a superb and somewhat comical comparison to what is supposedly an Arc A310. It is dwarfed, like a Chihuahua next to a Great Dane. Of course, it isn't only in physical prowess that the GeForce dominates, it needs its hulking cooler shroud and fan array as this GPU eats up to 450W, nine times the peak power consumption of the little Arc A310. It is probably best to leave comparisons there, as these cards are obviously in vastly divergent classes.
Those that were disappointed with the initial Intel Arc A380 graphics cards benchmarks and tests we have seen so far, aren't very likely to be interested in this cut down version of the same ACM-G11 GPU, with half the Xe cores enabled, less VRAM, on a smaller bus – basically less of everything. However, it will come in cheaper, and there are rumors it may sneak under the magic $100 retail mark. We don't know when / if this will hit retail in the US, however.
The pictures above come via the co-founder of Russian language tech YouTube channel Pro Hi-Tech, Ilya Korneychuk. In a social media posting Korneychuk credited Alexey Nikolaychuk, developer of MSI Afterburner, as the photographer.

Top Image: Purported Intel Arc A310 (Credit: Alexey Nikolaychuk)