Intel Alder Lake-S Engineering Sample Benchmarked With DDR5 4800 Memory
We are all eager to see what kind of performance impact the adoption of
DDR5 memory
will bring to the table when it arrives on consumers platforms later this year. In anticipation of the DDR5 era beginning in earnest, a company called Longsys has provided some preliminary benchmarking figures for one of its DDR5 memory kits, when paired up with an Alder Lake-S testbed.
Intel's upcoming
Alder Lake platform
figures to be the first mainstream hardware to bring DDR5 into the fold. AMD is also expected to embrace DDR5 memory with
Zen 4
, which could arrive around the same time or shortly after Alder Lake. Either way, both AMD and Intel are planning to leverage DDR5 memory in future platforms.
Logsys is a company in China that specializes in memory and storage products. As a teaser, it benchmarked what appears to be a 32GB DDR5-6400 memory kit down-clocked to 4,800MHz. The rated timings are rather loose at 40-40-40-77. DDR5 memory kits in general will sport higher timings than what we are used to seeing with DDR4, though it's not clear if these specific timings are indicative of what to expect as a whole, or are the result of an early prototype being tested on an unreleased CPU platform.
Either way, the performance figures look pretty good in the early going...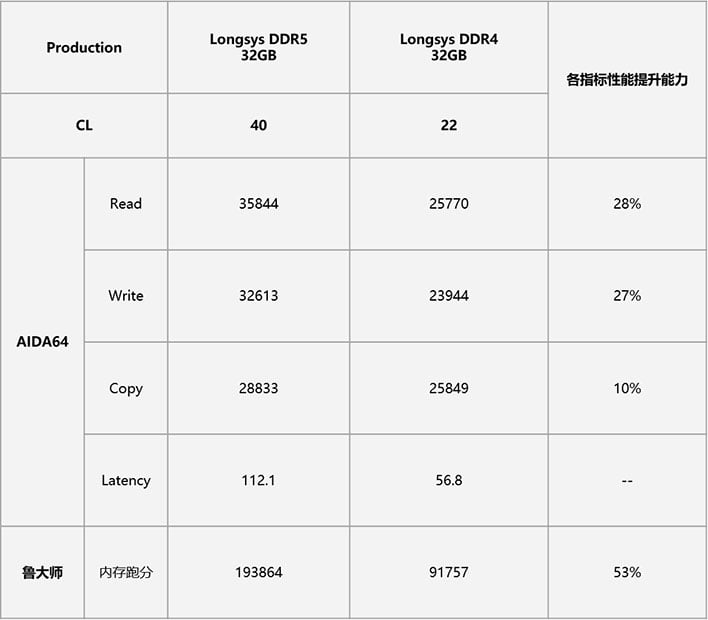 Source: Longsys via MyDrivers
Longsys benchmarked the kit in AIDA64, with read testing checking in at 35,844MB/s, write testing at 32,613MB/s, copy testing at 28,333MB/s, and latency testing a 112.1ns. As a point of comparison, the company also benchmarked a 32GB DDR4-3200 memory kit, and recorded those results as well. In each case (save for latency), the DDR5 kit performed markedly better.
As you can see in the chart above, the DDR5 kit posted 28 percent better reads and 27 percent better writes. It also copied data 10 percent faster.
Latency took a big hit, though, with the DDR5 kit being almost twice as high as the DDR4 kit (with latency, lower scores are better). Perhaps the gap will shrink when Alder Lake and Zen 4 roll into view, and DDR5 matures.
We also have to keep in mind that the motherboard is an early model as well, with Alder Lake still being several months off in the distance. That said, the read, write, and copy metrics look pretty good so far, and will likely improve between now and when actual DDR5 platforms arrive.