HP's Z Workstations Bring The Fury With Up To 56 Intel Xeon Cores And RTX A6000 Graphics
HP has announced the Z by HP Performance Desktops, which are claimed to break new boundaries for creators, engineers and data scientists. Inside the new Z by HP Z4, Z6, Z8, and Z8 Fury desktops you will find the latest
Intel Xeon W
processors and NVIDIA
RTX A6000 GPUs
. Of particular note is the all-new Z8 Fury G5 which can be configured with up to a 56-core Xeon W CPU and quad-NVIDIA RTX A6000 series GPUs.
The Z8 Fury desktop is being pushed into the limelight by HP, with seemingly no expense spared, if you care to check out the lavish promotional film above. The idea is, if you work in the targeted industries spanning media and entertainment, data science, and engineering, you will be able to save time and money by delivering results faster than ever. Furthermore, users will be able to work on larger and more complex projects than ever before, thanks to the bountiful system resources the Z by HP systems can provide.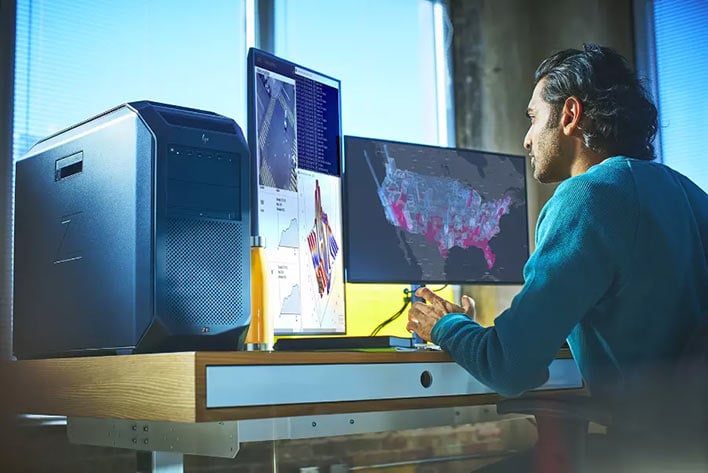 For example, the new single-socket Z8 Fury desktop system offers the following powerful and expansive features:
An Intel Xeon W9 processor with up to 56 cores
Support for up to four NVIDIA RTX A6000 GPUs, or two AMD Radeon Pro W6800 GPUs
Support for up to 2TB of DDR5 RAM
With eight PCIe slots in total and optional 5.25-inch front bays
Support for up to 120TB of storage, including four hot-swap NVMe bays (front access removables), optional ODD
Dual PSUs delivering up to 2250W aggregate or redundant power
A generous front panel and rear I/O selection with 10 USB connectors of various speed/type, two network connectors (up to 10GbE), audio I/O and more.
Tool-less access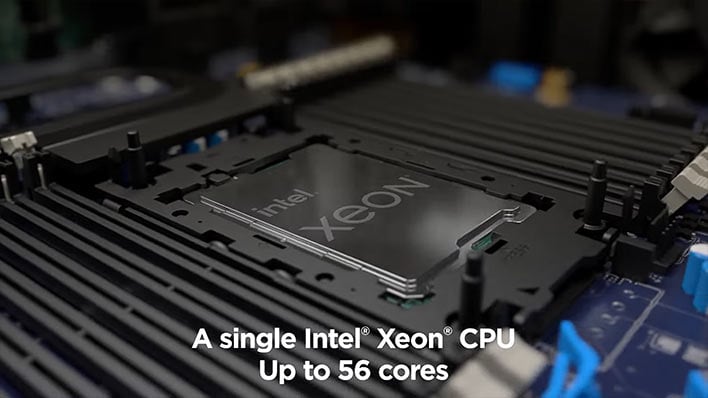 With such powerful components under the hood, the
new Z8 Fury
will need capable cooling. HP seem to have this aspect of the system design covered with
3D vapor chamber
cooling technology, airflow design chassis, plus tunable smart-fans driven by data from 20 temperature sensors.
HP also took the opportunity to remind us of its best-selling workhorse Z4 G5 (up to 24-core CPU, twin RTX A6000 GPUs and 0.5TB RAM), as well as the Z6 G5 (up to 36-core CPU, triple RTX A6000 GPUs, and 1TB DDR5 RAM), and the dual-socket Z8 G5 which can deliver up to 64-cores, twin RTX A6000 GPUs and 1TB of DDR5 RAM.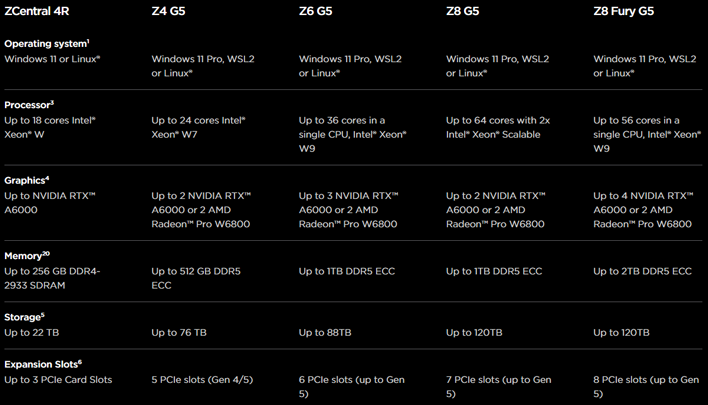 The entire HP Z4, Z6, Z8, Z8 Fury G5 portfolio is available for pre-order now. You are encouraged to contact the relevant business, govt, education or general sales lines – or your preferred HP channel partner - to put your system pre-order(s) in. General availability is planned for this Spring.