Here's How To Enable RGB Lighting Control In Windows 11 Right Now
Despite the fact that Microsoft's
Dynamic RGB
lighting software is still in the testing stage with Windows Insiders, a tool has appeared that allows you to test the new RGB software without signing up for Microsoft's Windows Insider program. The program is easy to use, and it only requires a couple of terminal commands to enable Microsoft's RGB lighting controls in Windows 11.
The tool works on normal builds of Windows 11, but we can't promise that the lighting software will be bug-free, so use it at your own risk. If you're adventurous and want to try it out, head over to
the GitHub repository
to download ViVeTool-v0.3.3.zip. Once you have downloaded ViveTool and extracted it to the folder of your choosing, you'll need to open an elevated (Administrator) Command Prompt window and navigate to the folder where you extracted the files. Once done, enter the following command (minus quotes) to enable the RGB lighting software: "vivetool /enable /id:35262205". Then restart the computer.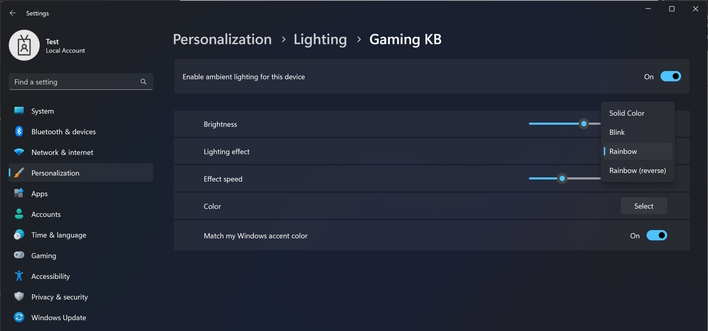 Once you've rebooted, the lighting software should now be accessible in the Personalization tab inside the Windows 11 Settings app. We aren't sure how fully fleshed-out this version of the lighting software is, but there should be a menu that shows you a list of RGB-enabled peripherals and devices that Windows 11 can control. Clicking on each device will in theory allow you to change the RGB brightness, lighting effects, effect color, and effect speed. There should also be an additional setting that allows you to sync the RGB color scheme to your Windows accent color, set by your Windows theme.
We first saw Microsoft's new RGB control software earlier this year, when a Twitter user
leaked
highly detailed screenshots of the software in action. A few months later, Microsoft finally announced its existence officially and confirmed the application would be made available to Windows Insiders that very same month. Sadly, beyond the fact that this new RGB software is being tested inside the Windows Insider Dev and Canary channels right now, Microsoft has not said much else about the application, like a release date.
At least now all users, whether Insider or otherwise, can give Microsoft's new RGB control software
a whirl
to see if it can actually replace most (if not all) of a system's third-party RGB control software as Microsoft hopes it will.