GPU And Motherboard Failure Rates At Swiss PC Store Highlight Most Reliable Brands
If you're not from Switzerland or one of its surrounding states, it's likely enough that you've never heard of Digitec Galaxus. Despite that, the shop bills itself as the largest vendor of PC parts in that mountainous nation, and that makes the numbers that it has decided to publish pretty interesting. In what Digitec claims is a world first, the e-tailer has decided to start
publishing failure rates
and warranty scores for its products.
This information comes our direction by way of a
Reddit post
by /u/GaoHAQ. As it happens, Digitec Galaxus is reporting the failure rate, warranty return rate, and warranty response time of every brand for a given product type on each product page. To be included in the warranty results, the brand has to have moved at least 300 units over the last two years, while return data requires 150 sales over the last year.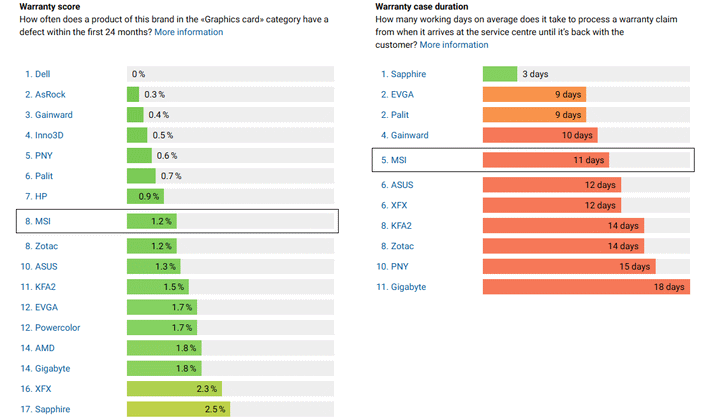 Interestingly, it looks like Dell has never had a GPU warranty return through Digitec. Not many people think of Dell as a GPU vendor, but the company does in fact build and sell its own-branded graphics cards. However, those boards typically use very simple cooling solutions and they
aren't often overclocked
, so that may contribute to the 0% failure rate.
The bottom three vendors for GPU failures are AMD's first-party cards followed by Sapphire and XFX, both AMD-specific brands. That
looks kind of bad
for the red team, but we hasten to note that the failure rate for the very worst vendor on the list, which is XFX, is still only 2.5% within 2 years. So saying, it looks like GPUs are pretty reliable overall.
As far as warranty response time goes, Sapphire takes away an easy win with an impressive three-working-day average time to get the product back to the customer. That's just a third of the time of the next-best vendors, which is a tie between EVGA and Palit at 9 days. Having RMA'd a few GPUs in his time, your author can attest that graphics card RMA times do tend to trend toward two weeks rather than three days.

Looking at the return rate for graphics cards is also interesting, although it doesn't actually mean much. PNY likely has an extremely low return rate thanks to its largest presence being in the
professional graphics cards
market; businesses probably aren't returning workstation GPUs that often. The most-returned GPUs are Palit and ASRock, with both clocking over 12%.

Meanwhile, in motherboards, it looks like the "big four" board vendors are all pretty close in terms of reliability, with MSI having the lowest RMA rate at 2.8% and ASRock coming in just slightly worse at 3.2%. Biostar motherboards are significantly worse, at 4.6%, but the worst of all is actually Supermicro at 4.9%. This is quite surprising given the enterprise focus of that brand.
Biostar does come in first on warranty case duration, with a seemingly-impossible 0 days. If you hover over the little "i" icon there in the graph, the Biostar result is because Digitec Galaxus is able to offer exchanges or refunds on every Biostar warranty claim, resolving them instantly rather than forcing the customer to wait for a manufacturer repair. The worst case here is ASRock, who apparently takes 13 working days on average to service a motherboard warranty claim.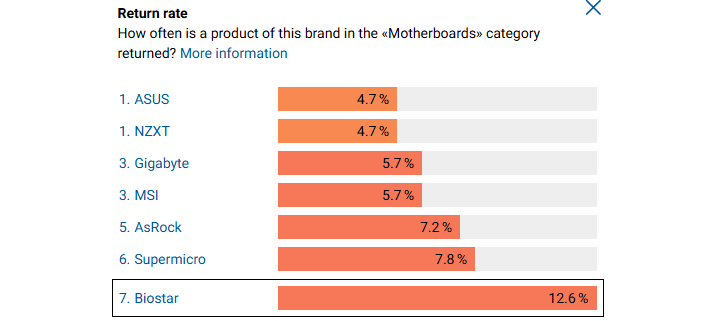 Looking at the return rates for motherboards tells nearly the same story, although ASUS climbs to the top, and newcomer NZXT rides alongside in the #1 spot. There aren't really any surprises here bigger than the reality that even in the best case nearly one in 20 motherboard sales comes back, with more than 1 in 8 Biostar motherboards returning to Digitec.
If you'd like to verify the data yourself, you can head over to
Digitec's website
and view any product page, which should include this data midway down the page a bit. You can also read
Digitec Galaxus' blog post
explaining the rationale behind this decision.