Google Pixel 4a 'Redfin' Rumored To Bring 5G Connectivity To The Masses
Late in December, we got our
first glimpse at the Google Pixel 4a
, which is scheduled to arrive in the Spring to replace the well-received Pixel 3a. Renders of the device shows a smartphone with a punch hole cut-out for the selfie camera up front, a square pod on the back for a single camera, and a center-mounted optical fingerprint sensor.
Today, new information is coming to light regarding the Pixel 4a family, and it will apparently be available in two variants. There seems to be some confusion as to whether there will be an "XL" version of the Pixel 4a made available this year, but some sleuthing by XDA-Developers has discovered references to a 5G variant.
According to the report, there are references in ASOP for a device codenamed redfin. Redfin is using a sm7250 chipset, which is Qualcomm's internal name for the Snapdragon 765 Mobile Platform. Snapdragon 765 is Qualcomm's first fully integrated 5G SoC thanks to its integrated Snapdragon X52 modem. If this report is indeed accurate, it would mean that Google's mid-range Pixel 4a family would gain 5G connectivity before the expected flagship Pixel 5/Pixel 5 XL that will launch in the fall with Snapdragon 865.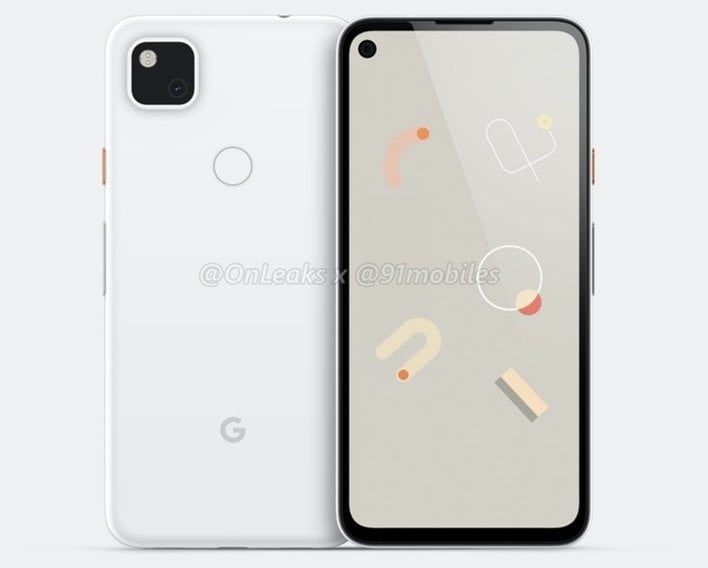 The second device referenced in ASOP is sunfish, which uses sm7150 (aka, Snapdragon 730). This SoC of course features a tried and true integrated 4G LTE modem. According to XDA-Developers, this is most likely the bog-standard Pixel 4a.
The Pixel 3a and Pixel 3a XL turned out to be big sellers for Google thanks to their affordable pricing, decent specs and excellent rear camera. If Google can continue that formula with the Pixel 4a family and throw 5G support into the mix, it could have another big winner on its hands.