Google I/O 2022: How To Watch And What To Expect
Google
CEO Sundar Pichai revealed two months ago that this year's Google I/O event would be coming back live at the Shoreline Ampitheatre, and today is the day it is happening. The annual developer conference is a two-day event (May 11-12) that will be filled with keynotes, hardware announcements, software updates, and more.
Watch The Google I/O 2022 Livestream Right Here
Google I/O 2022 will begin with a keynote discussing how Google is "furthering our mission to organize the world's information and make it universally accessible and useful." That kicks off today, May 11, at 10:00am PT (1:00pm ET). This will be streamed live on Google's YouTube channel (embedded below), so don't worry if you're unable (or unwilling) to attend live.
You can also catch the livestream on the
Google I/O 2022 homepage
if you prefer, but feel free to stay right here with us—we're showered and smelling fresh this fine Wednesday afternoon. There will also be a developer keynote following the main Google keynote.
Google I/O 2022 Schedule And Agenda For Day 1
This is going to be a busy couple of days for Google. Here's a high level overview of the agenda for Days 1 and 2...
Day 1

Google I/O keynote (10:00am PT / 1:00pm ET)
Developer keynote
What's new in Android
The cloud built for developers
What's new in Firebase
What's new in Flutter
AI and machine learning for developers
What's new for the web platform
What's new in AR
What's new in Google Play
What's new in Chrome OS
What's new in Google Home
What's new in Google Pay
What's new in Google Pay Passes
Digittize your passes with the Google Pay API for passes
Day 2 (Starting at 9:00am PT / 12:00pm ET)

A deep dive into optimizing LCP
A Path to a world without passwords
Adding machine learning to your developer toolbox
Africa's booming developer ecosystem
An introduction to MLOps with TFX
Analytics and tools for Google Home projects
Android solutions for seamless sign-in across devices
App quality on Google Play: New features and developer success stories
Asynchronous operations in your UI using Workflows and Firestore
And more...
Google's Day 2 lineup is far too long for us to list here. Suffice to say, Google is squeezing as much as it can into this two-day event.
What To Expect At Google I/O 2022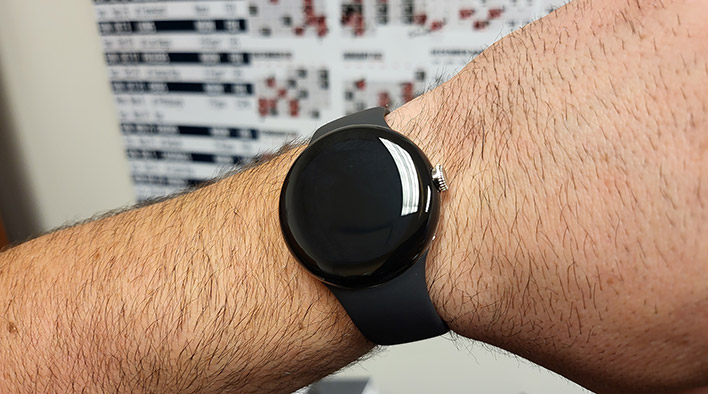 Source: tagtech414 via Reddit
We anticipate a few hardware announcements at Google I/O, including the oft-leaked
Pixel Watch
. This will be Google's first homegrown wearable device, and in a recent leak, it garnered praise for its design and level of comfort.
This is expected to be more of a teaser though, and not a formal launch. If the rumors are right, Google will actually launch its Pixel Watch in October alongside the
Pixel 7 and Pixel 7 Pro
. It's also been suggested the Pixel Watch will feature a rounded design, a proprietary connector for watch bands, and similar sensors as found on
Samsung's Galaxy Watch 4
. Google's expected to offer two size options and multiple different colors for the bands.
There have also been rumblings of a Pixel 6a being in the works. Oddly enough, Google may have tipped its hand in a coloring book that was sent out to its Pixel Superfans group. In the
back of the coloring book
, there's a reference to the Pixel 6a in the index, which doesn't appear in the online version of the same coloring book.
Rumor has it the Pixel 6a will feature a 6.2-inch OLED display, a 12.2MP main camera flanked by a 12MP ultra-wide sensor, an 8MP front camera, and the same Tensor chip as the
Pixel 6 and Pixel 6 Pro
.
We could also see Google unveil a Pixel Buds Pro, and on the software front, more details about
Android 13
(which is already available in beta form) are inevitable.