Gigabyte's New eGPU Packs A Liquid-Cooled GeForce RTX 4090 To Level Up Your Laptop
External GPU enclosures can change the way you think about buying a laptop, as they have the capability to turn a sleek and slim ultrabook into a veritable powerhouse for gaming. That's the pitch, anyway, from Gigabyte and its Aorus RTX 4090 Gaming Box built around NVIDIA's flagship consumer Ada Lovelace graphics card, the
GeForce RTX 4090
.
It's actually an interesting proposition and always has been, though obviously
external GPU enclosures
are not for everyone. The ideal candidate is someone who wants to prioritize portability and battery life by picking a productivity laptop for work and travel, and then use it as a sort of desktop replacement at home. By plugging in an accessory like the Aorus RTX 4090 Gaming Box, gaming at high settings suddenly becomes a viable option on a laptop with an otherwise ill-equipped GPU (especially integrated graphics).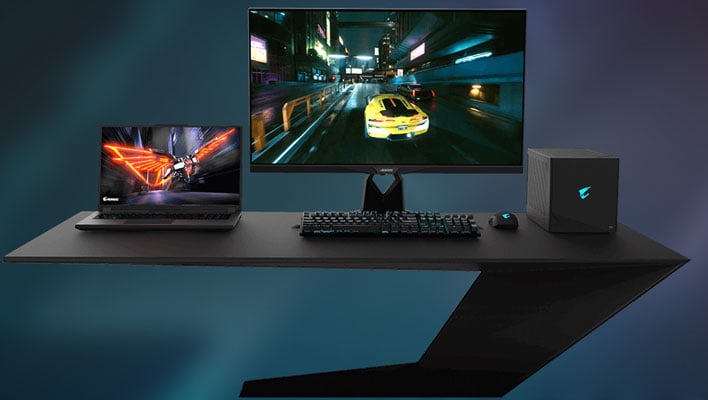 The caveats are that external GPU boxes add a significant cost to the equation, they're not particularly suited for travel, and they endure a
performance penalty
versus the same GPU being soldered to the laptop's motherboard.
Nevertheless, they can significantly enhance a laptop's graphics muscle while also carrying the burden of heat output from the GPU. In this case, there's a GeForce RTX 4090 graphics card tucked inside Gigabyte's external Gaming Box, and it's liquid-cooled to boot.
"The Aorus RTX 4090 Gaming Box is the top-of-the-line water-cooled external graphics box in the market. It enables users to enjoy top-level GeForce RTX 4090 performance with independent high-wattage and stable power supply, while enjoying a quiet and comfortable environment. Aorus has minimized the size of the Gaming Box, taking up minimal desktop space, making it the ideal companion for ultrabooks," Gigabyte explains.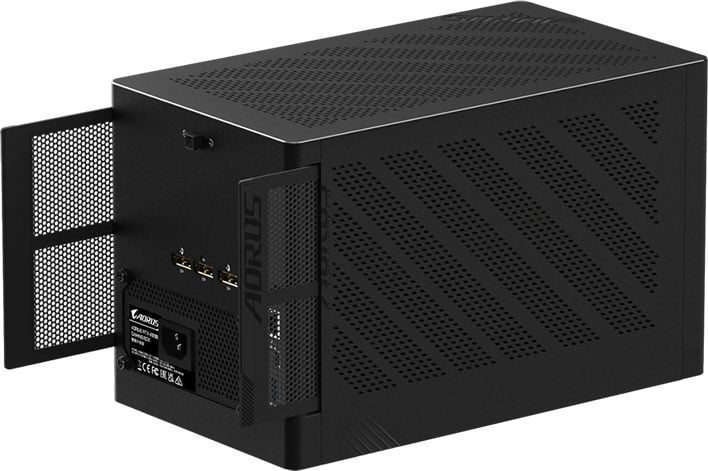 It measures 189 x 302 x 172 millimeters (7.44 x 11.89 x 6.77 inches) and is equipped with an 850W power supply that Gigabyte says is equivalent to the 80 Plus Gold efficiency standard (over 90 percent). The I/O options include a Thunderbolt 3 Type-C port, three USB 3.2 Gen 2 ports (one Type-C and two Type-A), an Ethernet port, three DisplayPort 1.4a outputs, and a single HDMI 2.1a output. It also features RGB lighting and power delivery support for quick charging.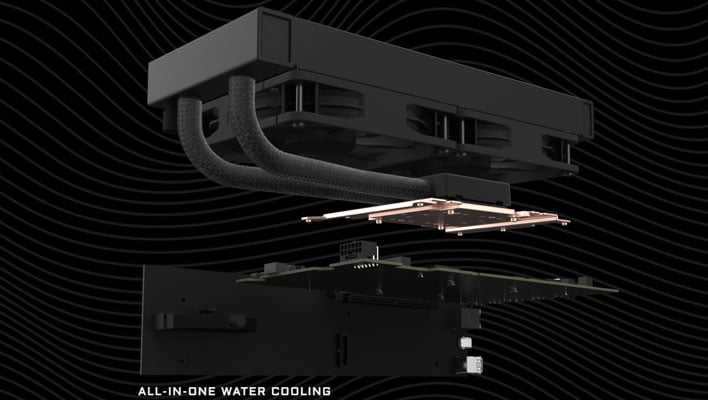 As for cooling, the GeForce RTX 4090 is attached to an all-in-one liquid cooler with a 240mm aluminum radiator outfitted with a pair of 120mm fans. A large copper base dissipates heat from the GPU, VRAM, and MOSFET. There's also ample ventilation on the sides and top to help keeps thermals at bay.
Gigabyte is mum on pricing and availability. However, considering the GeForce RTX 4090 starts at $1,599. we expect the
Aorus RTX 4090 Gaming Box
to find footing somewhere north of two grand.