Gigabyte's Custom AMD Radeon RX 6600 XT Navi 23 Lineup Allegedly Leaks
AMD has not yet announced the
Radeon RX 6600 XT
, which seems like an inevitable addition to its RDNA 2 stack. While not necessarily a foregone conclusion, multiple leaks and rumors leave us with high confidence that the unofficial SKU will become official at some point. And perhaps soon, evidenced by Gigabyte listing a handful of custom Radeon RX 6600 XT cards with the Eurasian Economic Commission (EEC).
The EEC website has historically been a hotbed for unannounced products, probably much to the chagrin of companies like AMD and NVIDIA. It has not been a 100 percent reliable source of unconfirmed product releases, though more often than not, registered products that do not yet officially exist end up panning out.
So, what are we looking at here? Take a gander...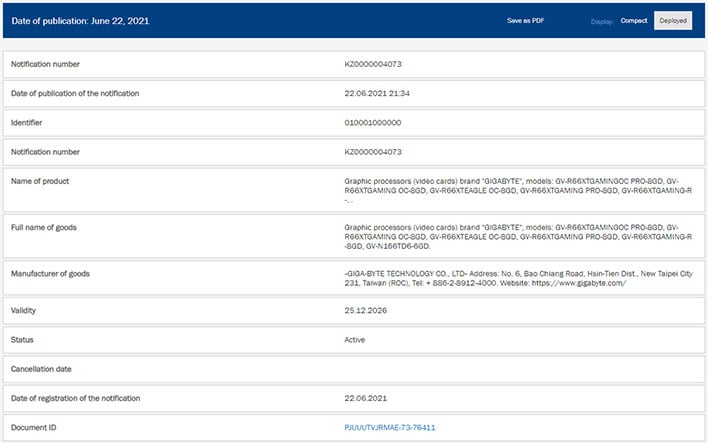 Click to Enlarge (Source: EEC)
Gigabyte lists half a dozen models spread out across its Gaming and Eagle designations, including both stock clocked and factory overclocked models. They include the following...
Gigabyte Radeon RX 6600 XT Gaming OC Pro (GV-R66XTGAMINGOC PRO-8GD)

Gigabyte Radeon RX 6600 XT Gaming OC (GV-R66XTGAMING OC-8GD)

Gigabyte Radeon RX 6600 XT Gaming Pro (GV-R66XTGAMING PRO-8GD)

Gigabyte Radeon RX 6600 XT Gaming (GV-R66XTGAMING-R-8GD)

Gigabyte Radeon RX 6600 XT Eagle OC (GV-R66XTEAGLE OC-8GD)

Gigabyte Radeon RX 6600 XT Eagle (GV-R66XTEAGLE-8GD)
This may or not be a comprehensive list, depending in part on whether Gigabyte decides to launch some models under its Aorus brand as well. One thing that seems clear, though, is that the Radeon RX 6600 XT will feature 8GB of GDDR6 memory. Every SKU Gigabyte has registered with the EEC lists "8GD" as part of the model number.
That aside, previous leaks indicate the Radeon RX 6600 XT will feature
AMD's Navi 23 XT GPU
. It will have 32 compute units, 2,048 stream processors, 128 texture mapping units, 32 render output units, and up to a 2,700MHz boost clock. And as for the memory, it is said to be tied to a 128-bit memory bus for 256GB/s of memory bandwidth. The expectation is that there will also be 64MB of Infinity Cache.
The Radeon RX 6600 XT will squeeze in between two other unreleased cards, those being the Radeon RX 6600 (1,792 stream processors) and Radeon RX 6700 (2,304 stream processors). It could be an interesting addition, depending on how pricing shakes out. Here's the current breakdown...
Radeon RX 6900 XT Liquid Cooled: $1,199
Radeon RX 6900 XT: $999
Radeon RX 6800 XT: $649
Radeon RX 6800: $579
Radeon RX 6700 XT: $479
Radeon RX 6700: ???
Radeon RX 6600 XT: ???
Radeon RX 6600: ???
As for competing cards,
NVIDIA's GeForce RTX 3060 Ti
is priced at $399 and the non-Ti model at $329. Obviously everything is out of whack right now because of the GPU shortage, but in terms of MSRPs, that is what we are looking at.