Here's When You Might Be Able To Buy A GeForce RTX 4070
NVIDIA is slowly rolling forward with its plans to release lower-tier Ada Lovelace architecture graphics cards to the masses. The next RTX 40 Series product to exit gestation looks set to be the
GeForce RTX 4070
(non Ti model). According to a purported GeForce Desktop Embargo document leaked by
VideoCardz
, the RTX 4070 will be "on-shelf" sometime in April.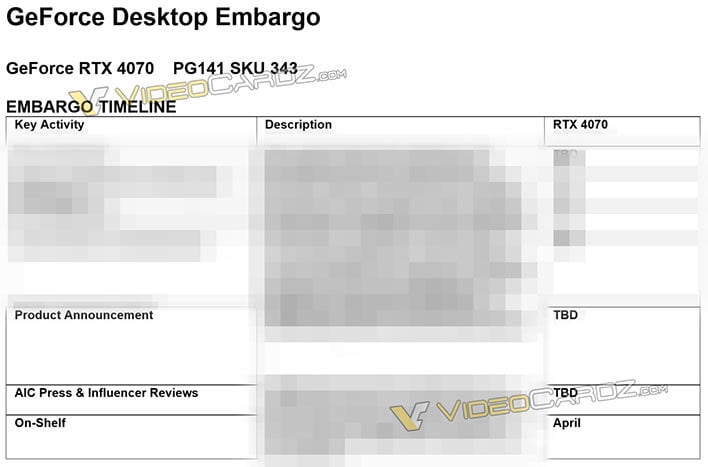 The April estimate is still vague, but better than the state of complete darkness which existed prior to this leak. If you look at the embargo document, you will also observe that NVIDIA isn't very certain about other key dates; like the product announcement (TBD), and when press and influencer reviews can be published (TBD). The source also is firm in making the point that schedules change, and NVIDIA embargoes might be particularly susceptible to adjustment.
With the subject of the release date out of the way, another patch of shifting sand appears to be in PCB / GPU variants. Leakers like
Kopite7kimi
have previously noted permutations of three different PCB designs and two different GPUs – all thought to be versions of the RTX 4070. These are:
PG141-SKU343 RTX 4070 Reference Edition AD104-250-A1
PG141-SKU344 RTX 4070 Founders Edition AD104-250-A1
PG141-SKU345 RTX 4070 Reference Edition AD104-251-A1
We don't know why there are these three versions, but could speculate that – until release – the design is by definition a work-in-progress. Even after release, card designs can be updated for budgetary, supply chain, or product mix purposes.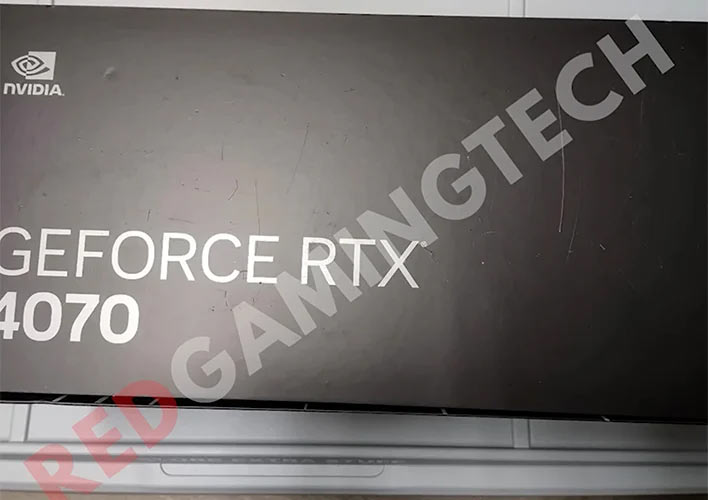 Probably one of the most important aspects of any pre-release GeForce RTX 4070 news will concern how the specs are shaping up. There appears to be nothing new on this front, and our previous coverage of RTX 4070 specs still stands. In other words, we
expect the RTX 4070
to feature 5,888 CUDA cores operating at 1,920–2,475MHz alongside 12GB of GDDR6X memory on a 192-bit bus, for an effective 29 FP32 TFLOPs. Contrast those specs with the
RTX 4070 Ti
model, which features 7,680 CUDA cores, and faster base/boost clocks, but the same memory subsystem, for 40 FP32 TFLOPs.
Another PC hardware leaker with a great track record has observed the
VideoCardz
prediction of RTX 4070 availability in April, and added a sprinkle of flavor enhancer. Harukaze5719
doesn't dispute
the April availability date, but flags up the three-day NVIDIA GTC event in March as where the RTX 4070 non-Ti is going to come into public view.