GeForce RTX 3060 Ti With GDDR6X Upgrade Edges Past OC'd GDDR6 Model In Benchmarks
NVIDIA's refreshed GeForce RTX 3060 Ti model, with the spec boosted by the
provision of faster GDDR6X
memory chips, has appeared online in its first review. Polish tech site
ITHardware
got the scoop, after acquiring a KFA2 GeForce RTX 3060 Ti GDDR6X 1-Click OC model. However, in the extensive set of tests it has run, with the ASUS GeForce RTX 3060 Ti TUF GAMING OC as the key comparison, the new contender was only 1 or 2% faster overall.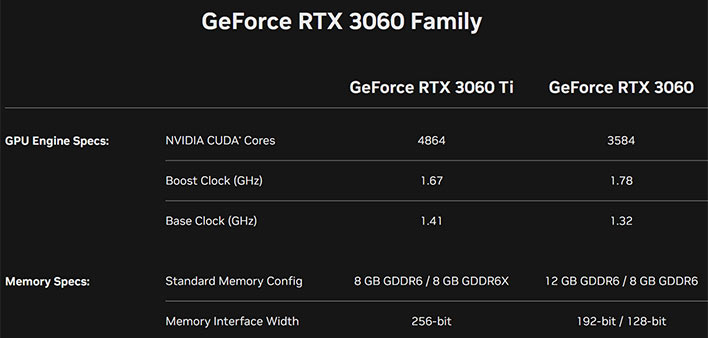 We reported on the RTX 3060 Ti with 8GB of GDDR6X going official back in October last year, with a follow-up report a month later discussing claims that the familiar 8GB GDDR6 model would be
phased out
in favor of the boosted bandwidth design. Thus, we have previously discussed the new 19Gbps GDDR6X model's increased bandwidth of 608GB/s, which is quite an uplift compared to the 448GB/s of the
14Gbps GDDR6 version of the card
. We also noted that this bandwidth benefit would only really show itself in games and applications where memory bandwidth was a limiting factor on the performance of the previous design.
With the same GPU core specs, it might not be very surprising that these two cards are so close in performance, but by intuition one would expect the significantly faster memory to be more telling. The ASUS TUF factory overclocked competitor isn't the best comparison, though, as it has >5% faster GPU clock compared to reference (and to the new KFA2 model as reviewed). The Polish site did some manual overclocking of the KFA2, for stable GPU core clocks up to about 2,000MHz, but it demonstrated the ASUS TUF could still be its equal given the same hand-tuned GPU and memory overclocking efforts in two games:
Dying Light 2
and
The Medium
.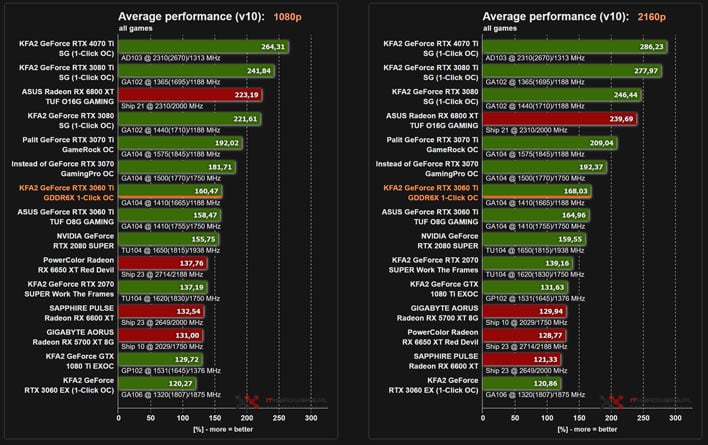 Overall, then, the first independent third party tests of the new GeForce RTX 3060 Ti with GDDR6X are something of a disappointment. If these models are going to completely replace the GDDR6 models, as industry rumors suggest, and the pricing isn't adversely affected, then we guess PC enthusiasts can't grumble.

Remember, though, that this first review is just that, a first review of one sample—so subsequent reviews of other partner cards might show greater performance gains. For example, we know that ASUS is preparing a triple fan TUF OC GDDR6X model, which would have made a better balanced comparison. In the ITHardware review, you can see that the ASUS TUF model has much better thermal dissipation than the non-overclocked KFA when put under load.
Last but not least, these new GDDR6X cards will consume 225W under load, which is about 10% higher than their GDDR6 brethren. Some folk will care about this
power
consumption uplift, especially if there are little or no demonstrable benefits of the faster VRAM.