Dell's Concept Ori, Concept Duo Embrace Futuristic Folding And Dual-Display Designs
The
Alienware Concept UFO
wasn't the only wild design on display from Dell this week at CES 2020. The company also let loose two additional concepts that are seemingly closer to being actual production devices than the admittedly cool Concept UFO.
The two new entries are called the Concept Ori and Concept Duo, and the most intriguing is the former. Concept Ori looks similar in design to the Lenovo ThinkPad X1 Fold that we told you about yesterday, and features a folding 13.3-inch QHD+ OLED display. The display is made of plastic and is one continuous piece that folds right in the middle.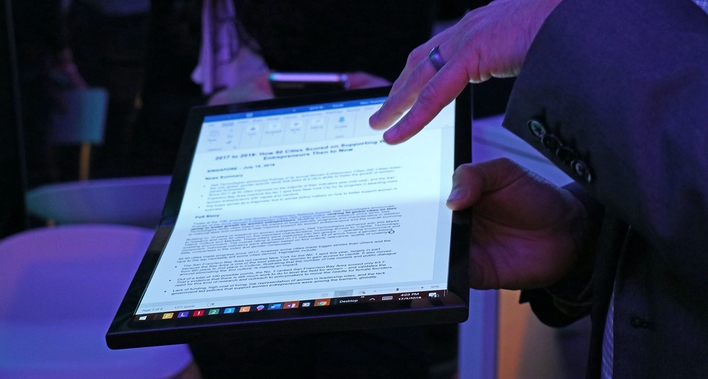 When folded, Concept Ori is highly portable, making it easier to fit into a bag or a purse. However, the prototype that we saw still had a rather visible crease in the display when fully unfolded. We'd hope that such maladies would be ironed out if Dell fully intends to bring such a device to the consumer market.
With the Concept Duo, Dell is more on well-traveled ground with a device that has dual displays. Instead of a single display and a bottom keyboard deck, the latter has been replaced with a second display. In this case, both panels are 13.4-inch FHD units. As you might expect with previous production dual-display portages that we've seen, you can use each display independently which would come in handy for multitasking operations, or you can use it as one big continuous display. The latter would be useful when propping the PC up to playback a movie, for example.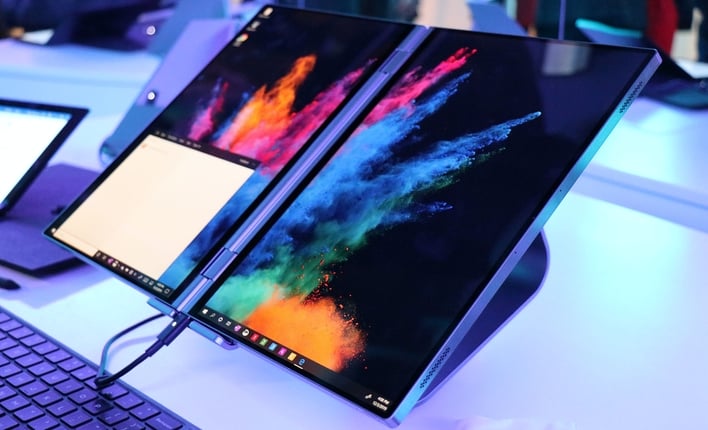 At this time, both the Concept Ori and Concept Duo are prototype devices -- hence their names. There's no guarantee that either will go into production, but it might actually be worth it to Dell to release either (or both) as a sort of "halo" product. Microsoft already has its Windows 10X operating system on the way, which would make devices like this more feasible to use in the real world. So Microsoft definitely feels that there's a market out there for these types of devices – just look at the upcoming Surface Neo.
Sound off in the comments section about the Concept Ori and Concept Duo. Do either of these devices look like something that you'd pay a premium for over a traditional laptop or tablet?