Alienware Concept UFO Invades Nintendo Switch-Style Gaming With PC Master Race Assimilation
Handheld gaming is something that many of us take for granted these days, be it with portable console or a quick
Fortnite
session with our smartphones. So why couldn't we have that same experience with fully-fledged PC games, albeit with more powerful hardware under the hood than what's fueling your smartphone?.
That's a question that the folks at Dell's Alienware division asked, and the result is the Concept UFO prototype, which looks like a chunkier version of the Nintendo Switch with a more premium aluminum-clad chassis. The Concept UFO consists of the main unit which contains the display, and two Joy-Con style controllers that attach on either side of the main unit with a magnetic rail system. There's even a kickstand for propping the device up on a table. With the kickstand extended, the two controllers can be joined together with an accessory to function as one big wireless gamepad (also like the Nintendo Switch).
The main unit consists of an 8-inch display, but Dell is being mum on the exact hardware inside the Concept UFO. However, we'd reckon that all of the games that we saw running on the handheld machine were running above 30FPS.
Like the "standard" Nintendo Switch, the Concept UFO can be docked via a USB-C cable to allow you to game on a large monitor or television. Naturally, the Concept UFO is running the Windows 10 operating system, but Alienware has layered a simple software interface on top solely for navigating through your game library.
At this time, Dell isn't committed to bringing the Concept UFO to production... yet. However, it is asking for feedback from the gaming community to gauge interest in producing something similar down the road. We could definitely imagine a further refinement of this design powered by, let's say, a 10nm Intel Tiger Lake processor and a thumpin' Xe-based GPU. That could make for a power-efficient and cooling-running system that would make the Switch look like an underpowered toy.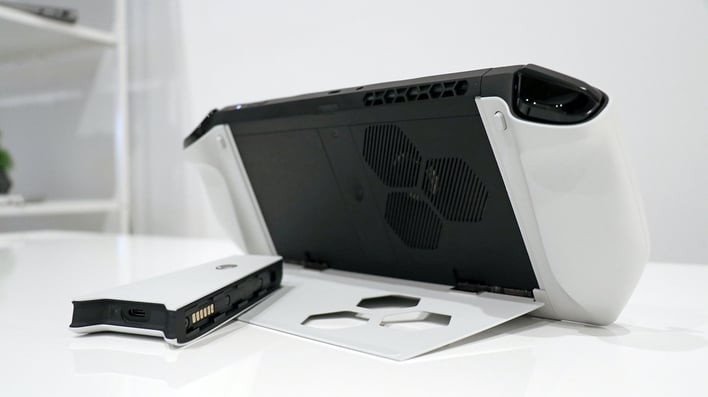 However, any entry from Alienware would be far more expensive than the $199 starting point for the Nintendo Switch Lite or even the $299 price point for the standard Switch. We could definitely see something like that this selling for closer to $1,000, but that's all speculation on our part at this point.
Regardless of how things pan out with a potential production version of the Concept UFO, we have to commend the folks at Dell/Alienware for actually developing such an intriguing device in the first place. Tell us your thoughts on the Alienware Concept UFO in the comments section below.