Intel's Core i9-13980HX Usurps AMD's Ryzen 9 7845HX For This CPU Benchmark Throne
If you looked at that headline and thought, "I didn't even know either of those CPUs were out yet," don't be distressed, because they aren't. While both the
Core i9-13980HX
and
Ryzen 9 7845HX
have been announced by their respective manufacturers, you can't actually
buy a laptop
with either processor yet. Despite that, both chips are present in the Passmark database, which means you can see them ranked on the company's website.
It wasn't even a week ago that
we reported on
the Ryzen 9 7845HX showing up at the very top of Passmark's laptop CPU performance chart. Its performance absolutely decimated everything else on the chart, beating Intel's Core i9-12900HX by some 45%, Apple's M2 Max by 78%, and AMD's own Ryzen 9 6900HX by an incredible 90%. To some degree, that's not totally surprising given that it's really a desktop CPU in laptop clothing.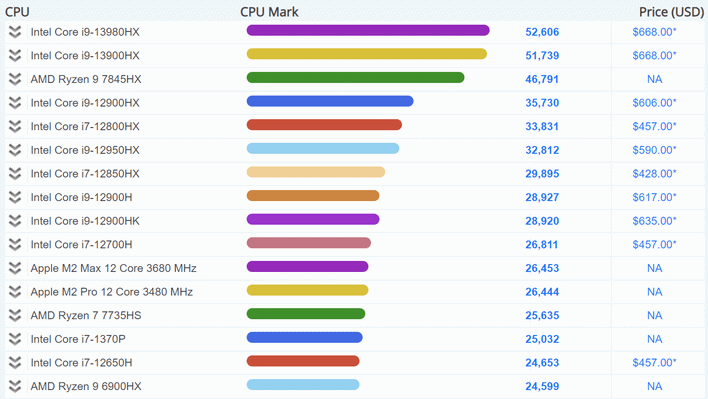 The same can be said for Intel's Core i9-13980HX, of course. That chip is based on the same 24-core Raptor Lake silicon that goes into the company's screaming-fast Core i9-13900KS, and as a result, it could be both power-thirsty and quite warm—characteristics as likely to apply to the Ryzen 9 7845HX.
Regardless of its practicality as a portable CPU, there's no denying that the Core i9-13980HX just snatched the top spot in Passmark away from AMD's CPU. In fact, it outpaces the Zen 4 part by a fair margin, scoring 54,483 points in the Passmark CPUMark test. That puts it ahead of the Ryzen 9 7845HX by some 16%—particularly impressive in light of the fact that these new CPUs (including AMD's) are basically in a league of their own as far as this benchmark goes.
If we wanted to be cheeky, we could point out that a 24-core CPU beating a 16-core CPU by just 16% is actually rather poor. After all, Passmark's CPU Mark test is (like most synthetic multi-threaded CPU compute tests) unrealistically-parallel when compared to typical real-world workloads. Historically, it has favored CPUs with strong multi-core integer math performance, which is why for a long time
CPUBenchmark.net
claimed that the AMD FX-8350 was faster than the Core i7-3770K.
Passmark has improved the benchmark since those days, and it correlates fairly closely with performance in similar multi-threaded tasks, like Cinebench. So saying, if you're keen to do rendering workloads on
a laptop machine
, you might want to keep an eye out for a 24-core Intel CPU. We'd probably wait for reviews of such systems to see what power consumption and battery life are like first, though.