ASUS UK Is Paying Cash Up To £300 For Old GeForce Trade-Ins To RTX 40, Is The US Next?
For gamers living in the UK, recently ended auctions on eBay reveal that you can score in the range of around £175 to £250 for a GeForce GTX 1080 Ti. However, you could skip the hassle and fees of an auction and trade it into to ASUS and receive £130 in cash back when also buying a
GeForce RTX 40 series
graphics card, if you're so inclined. In fact, depending on the GPU you're trading in, ASUS will pay you up to £300 (equivalent to around $361 in US currency).
Trade-in amounts obviously vary by GPU with the lowest amount offered being £65 for a
GeForce GTX 1650
. Those cards typically sell for around £75 to £90 on eBay, so after factoring in fees and commission, you'd net about the same.
What's also neat about this program is you don't have to buy a GeForce RTX 40 series GPU direct from ASUS. You do, however, have to purchase a qualifying model from a participating vendor, which includes ASUS UK, AWD-IT, Amazon UK, Box, CCL, Currys, Ebuyer, Novatech, Overclockers, and Scan. This at least gives you a bit of flexibility to compare pricing and, if applicable, take advantage of any deals these retailers might be offering.
The qualifying purchase period runs from February 3 to March 17, 2023. If you meet the requirements, you can then trade in your old card in "full working condition" to ASUS and receive cash back via bank transfer. Here's the list of qualifying GeForce RTX 40 series GPUs...
ROG Strix RTX 4080 16GB: ROG-STRIX-RTX4080-16G-GAMING (SKU 90YV0IC1-M0NA00)
ROG Strix RTX 4080 16GB OC: ROG-STRIX-RTX4080-O16G-GAMING (SKU 90YV0IC0-M0NA00)
ROG Strix 4080 16GB White: ROG-STRIX-RTX4080-16G-WHITE (SKU 90YV0IC4-M0NA00)
ROG Strix RTX 4080 16GB White OC: ROG-STRIX-RTX4080-O16G-WHITE (SKU 90YV0IC3-M0NA00)
ROG Strix 4070 Ti 12GB: ROG-STRIX-RTX4070TI-12G-GAMING (SKU 90YV0II1-M0NA00)
ROG Strix RTX 4070 Ti 12GB OC:: ROG-STRIX-RTX4070TI-O12G-GAMING (SKU 90YV0II0-M0NA00)
TUF Gaming RTX 4080 16GB OC: TUF-RTX4080-O16G-GAMING (SKU 90YV0IB0-M0NA00)
TUF Gaming RTX 4070 Ti 12GB OC: TUF-RTX4070TI-O12G-GAMING (SKU 90YV0IJ0-M0NA00)
NVIDIA's flagship
GeForce RTX 4090
is not part of the promotion, though ASUS does include both stock- clocked and overclocked versions of the
GeForce RTX 4080
and
GeForce RTX 4070 Ti
. There's also a couple of TUF edition cards, in addition to the half dozen ROG Strix models.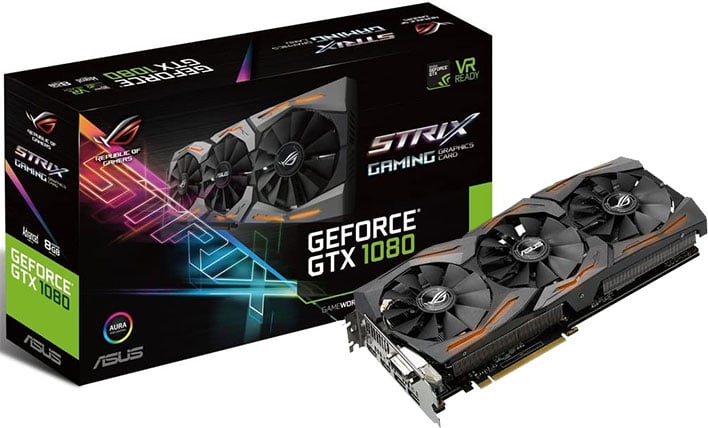 Score up to £300 for your old GPU with a trade-in program from ASUS (GTX 1080 shown above fetches £100)
The list of eligible GPUs you can trade in is much longer spanning 34 models across several generations of AMD and NVIDIA graphics cards. Eligible cards include the Radeon RX Vega 64 (£150), Radeon RX 5500 (£50), GeForce RTX 3060 Ti (£230), and GeForce RTX 1080 (£100), to name just a few of them.
All of the details (including every included GPU) can be found on the
ASUS Trade-In portal
. One of the things to note is that you'll need to show proof of purchase for your new card, which can take the form of a screenshot or scanned copy of your invoice, or even an order confirmation email. Shipping your old card won't eat into your trade amount either, as once your claim is approved ASUS will send you a prepaid shipping label.
Overall this looks like a decent program with a bit of flexibility. The downsides are that the cash back offers are less than what you'd likely fetch through a private sale, and you're limited to just eight SKUs for your upgraded GPU, all from ASUS of course. But if you're eligible and are itching for an upgrade, it's a option worth looking into. Here's hoping this program expands to the US and other territories.