ASRock Radeon RX 7900 XTX Aqua Extreme OC BIOS Update Redlines The GPU Clock
ASRock has delivered a pleasing BIOS update for owners (and prospective buyers) of its Radeon RX 7900 XTX Aqua Extreme OC graphics card. After applying this update, ready to download immediately, owners will experience a further performance boost with this already overclocked ('OC')
liquid cooled
product.
In a press release today, ASRock says that the BIOS update will "offer users [a] better gaming experience." Its custom liquid loop version of the
Radeon RX 7900 XTX
should deliver an approximate 13.5% performance enhancement in 3DMark Time Spy, according to first-party testing, when compared to a reference model from AMD or other AMD AIBs.

To make clear the upgrade on offer, we looked at the launch clocks of the ASRock Radeon RX 7900 XTX Aqua Extreme OC, and out of the box the GPU would boost to 2,680MHz. Post BIOS update, users will instead experience a GPU clock which boosts to 2,935MHz. The before and after BIOS update delta is 255MHz.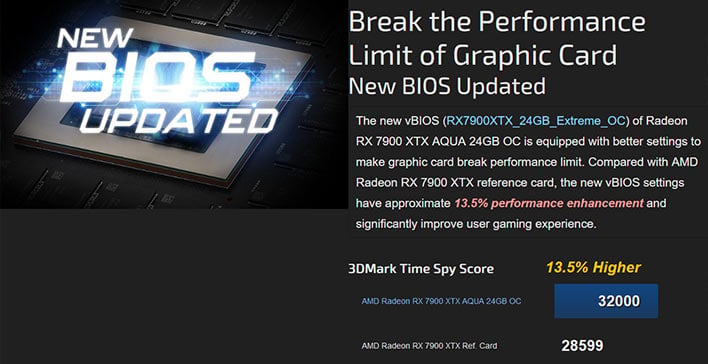 Some other things you might want to know about the before / after BIOS update testing is that ASRock says the latest
AMD Radeon driver 23.5.1
(release date 2023/5/25) was used. Moreover, with the latest BIOS, the recommended PSU for a system packing an ASRock Radeon RX 7900 XTX Aqua Extreme OC has climbed to a 1,000-watt unit with 80 Plus Gold certification.
ASRock's Radeon RX 7900 XTX Aqua 24GB OC was already a desirable GPU with its fast clock speeds, Super Alloy design, 22 power phases, lashings of VRAM, stylish liquid cooling block with copper base and microchannel design, plus Polychrome Sync lighting.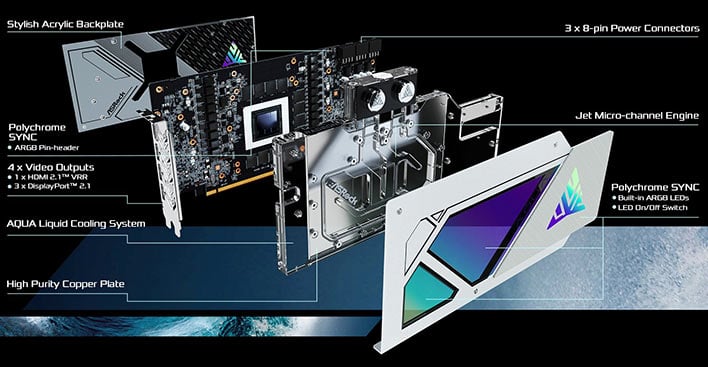 If you already own an ASRock Radeon RX 7900 XTX Aqua 24GB OC,
it is required
that you upgrade to the Radeon 23.5.1 driver before the BIOS update attempt. We would also recommend holding back a few days and keeping an eye on forums for unforeseen consequences (i.e. bugs or cooling issues) that might be precipitated by the combined BIOS and driver changes. Overall, though, it is good to see product updating strategies like this, rather than the usual (but also welcome) bug and security fixes.