Planning To Play The Lord Of The Rings: Gollum? Download These GPU Drivers First
Intel, AMD, and NVIDIA have all released new graphics drivers with support for the new action-adventure game The Lord of the Rings: Gollum. The game takes place during the events of the movie Lord of the Rings: The Fellowship of the Ring, following Gollum on his journey to find The One Ring. The game is an action-adventure title featuring story-driven stealth gameplay.
NVIDIA's new driver was released
yesterday
, in conjunction with the new
RTX 4060 Ti 8GB
release. The new driver is known as version 532.03, and features support for NVIDIA's new mid-range GPU, as well as game-ready support for
The Lord of the Rings: Gollum
, two new 1080P G-Sync Compatible monitors, and more.
According to NVIDIA benchmarks, the new update provides up to 170 FPS on an RTX 4090 in The Lord of the Rings: Gollum, running at 4K max settings with RT enabled and DLSS + DLSS 3 frame generation turned on. The new driver update adds new AI optimizations for developers, that improve the training time of AI networks and improves deployment times on Windows 11 systems sporting RTX GPUs. The new update also includes two bug fixes, including stability improvements in Age of Wonders 4, and a NVIDIA Ansel & Freestyle functionality fix for Bus Simulator 21.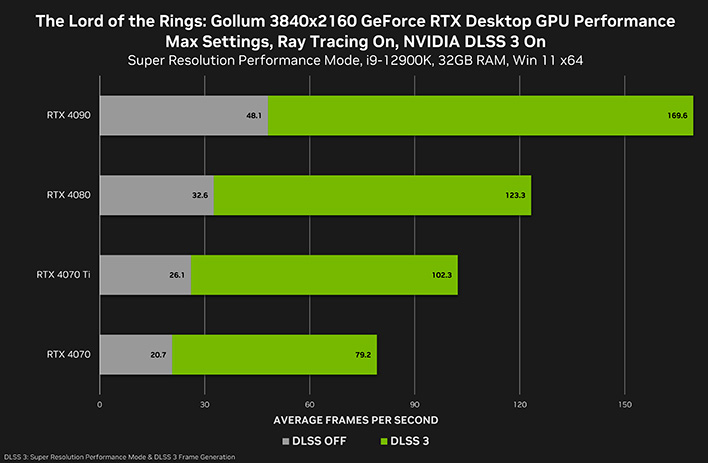 AMD's driver update, Adrenalin Edition
23.5.1
, is team red's counterpart, featuring support for
The Lord of the Rings: Gollum
with up to a 16% increase in performance on RX 7900 series GPUs, and up to 12% increase in performance on RX 6000 series GPUs. AMD also listed several bug fixes in this new patch, including a driver timeout and application crash fix for DaVinci Resolve Studio, display corruption fix when "alt tabbing" on some
AMD GPUs
like the RX 6700 XT, a memory usage fix in
The Last of Us Part 1
during shader compilation, and a fix for intermittent crashing when playing
Call of Duty: Modern Warfare 2
on some AMD GPU such as the RX 580.
AMD also added one important note to this latest driver patch, noting that factory reset has been temporarily disabled as a precautionary measure to address isolated installation issues reported surrounding PC upgrades. If affected, users can use the AMD Cleanup Utility as a temporary workaround.
Intel's latest driver is version
31.0.101.4369
— aimed at Intel Arc and Iris Xe Graphics solutions — also features support for the new
Gollum
game. But unlike NVIDIA and AMD's drivers, Intel has also stuffed two more game ready updates into its driver, including support for
The Outlast Trials
and support for the early access version of
Starship Troopers: Extermination
.
Intel says its latest driver update provides up to 11% performance uplift in
The Lord of the Rings: Gollum
at 1440P high settings, and up to 4% at 1080P with epic settings. In the game
The Outlast Trials
, Intel GPU owners can expect up to a 65% uplift at 1080P ultra settings and a 52% performance uplift at 1440P high settings. In
Minecraft Bedrock
, Intel's driver update provides up to a 30% uplift at 1080P with RT enabled using 8 RT chunks, 34% at 1440P, and 28% back at 1080P but with 24 RT chunks.