ASRock's Blazing Quad M.2 Card Runs Four PCIe 5.0 SSDs For Supercharged PC Storage
ASRock's new Blazing Quad M.2 card is the newest in
its series of
Quad M.2 cards, starting with the PCIe 3.0 "Ultra" and continuing with the
PCIe 4.0 "Hyper" card
. The latest version supports four M.2 SSDs up to 110mm in length, and it can run all four at the peak PCIe 5.0 x4 rate of 16 GB/sec—assuming your host CPU actually has 64GB of data to blast across the bus, anyway.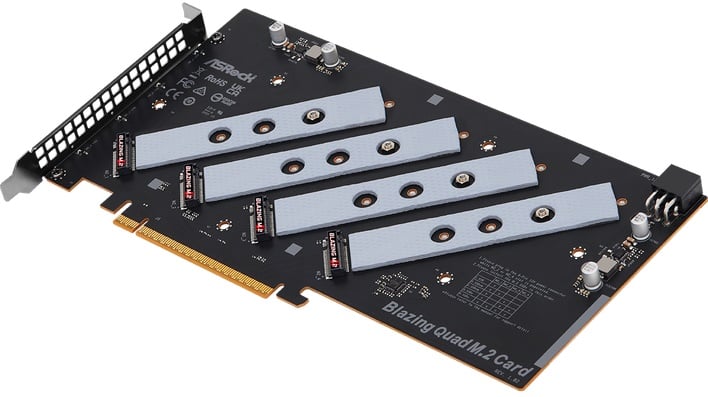 This speed is achieved through PCIe bifurcation. In other words, there's no processor onboard this card; it's just a plate full of wires and connectors. Because of that, your motherboard has to support PCIe bifurcation for its primary slot, but that's a pretty common feature these days, at least on higher-end motherboards. Obviously, this card makes the most sense in
HEDT systems
with scads of spare PCIe lanes.
Just as
Phison cautioned
awhile back, PCIe 5.0 SSDs are power-thirsty and run hot compared to prior generations, so ASRock's new Blazing Quad M.2 card has thermal pads for both the bottom and top of your M.2 SSDs. It also includes a 6-pin PCIe power connector because the 75W power delivery of a PCIe x16 slot may not be enough to support four
PCIe 5.0 SSDs
going full throttle. The card also has a pair of small fans to cool off the toasty drives.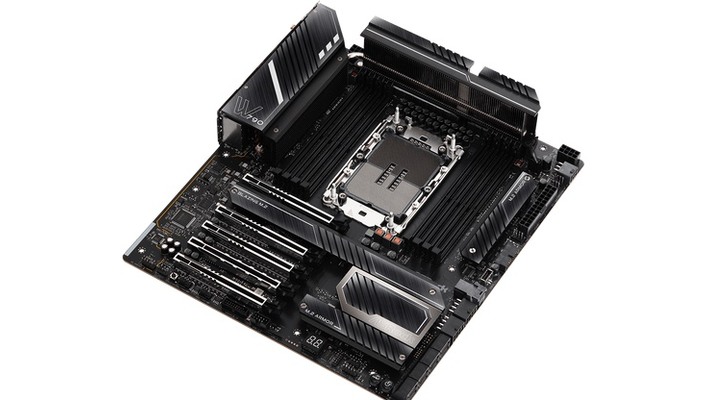 The ASRock W790-WS motherboard includes the Blazing Quad M.2 card.

If you want one of these, the easiest way to get one is to buy a motherboard that includes it. For now, that's limited to the new
W790-WS
motherboard for Intel's new
4th-gen Xeon W processors
that just came out, but it might find its way to other models. You'll also be able to buy it separately, but ASRock hasn't supplied pricing or availability information for it yet.