Apple Watch Series 9 And Watch Ultra 2 Unveiled With Magic New Gesture Control
The latest Apple event, dubbed "
Wonderlust
," has come and gone, bestowing us with a slate of new devices. You can catch all the details on the
new iPhones over here
, but they were not the only stars of the show. Apple also introduced its Watch Series 9 and Watch Ultra 2 revisions and detailed some smart new capabilities they offer.
New Apple Watch Hardware Overview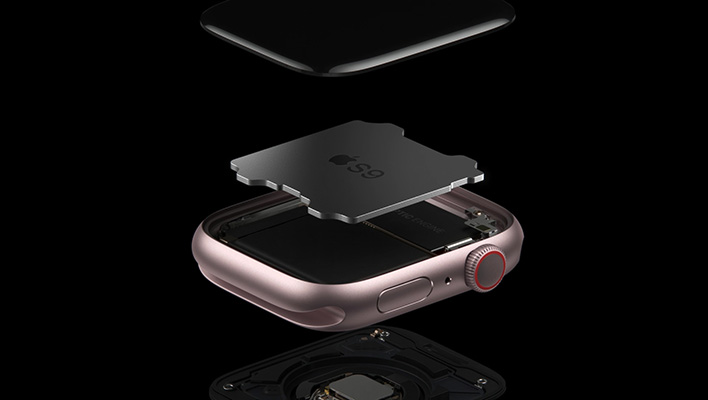 First, we'll give the hardware a quick overview. The Apple Watch Series 9 and Apple Watch Ultra 2 both sport the S9 SiP, a dual-core Apple Silicon CPU paired with a four-core
Neural Engine
. Apple says the new CPU features 5.6 billion transistors that represents a 60% increase from the S8, and should translate to a more responsive experience. The Neural Engine upgrade allows the watch to process more commands right on the device, ensuring it can still be useful even when a Wi-Fi or cellular network is unavailable.
A second generation Ultra Wideband chip gives the watches another way to communicate with other devices seamlessly. This can include controlling a
HomePod smart speaker
wirelessly, or enhancing the Find My experience by pinpointing your iPhone's location and guiding you right to it. As you approach the lost device, it further provides haptic feedback and chirps in addition to the virtual indicator so you can't miss it.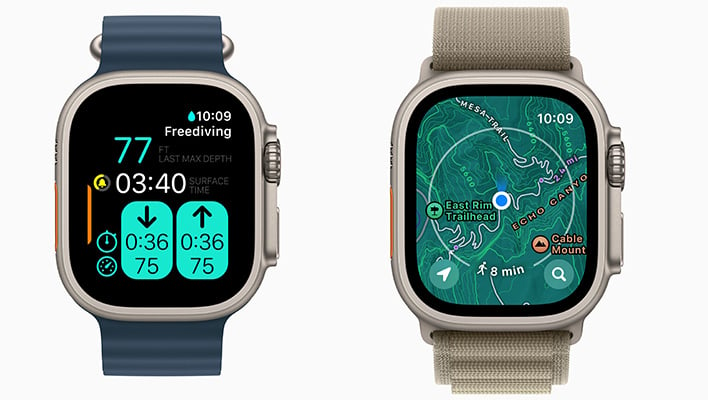 Connectivity is rounded out with Bluetooth connectivity and an optional cellular (LTE) configuration. While both offer GPS, the Watch Ultra 2 goes a step beyond with "Precision dual-frequency GPS" which ought to make it more reliable option in the back country, particularly when paired with the Compass app and new topographical maps for over 9000 national and regional US parks.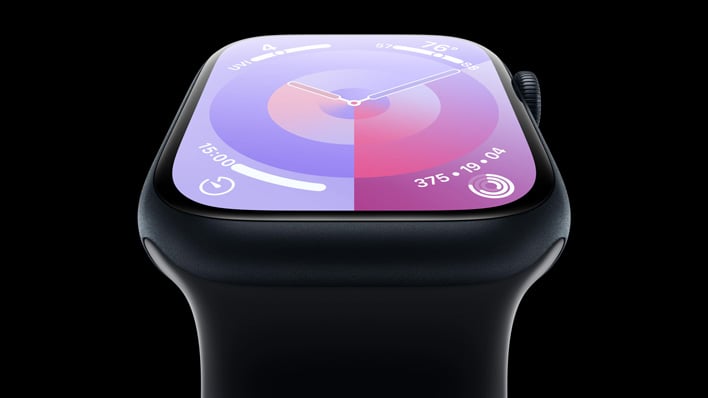 Both Watches feature brighter displays than their predecessors. The Series 9 can achieve a maximum brightness of 2000 nits (double the Series 8), while the Ultra 2 can reach an eye-searing 3000 nits to combat harsh lighting situations. It isn't all about brightness, though. Either model can dim down to just 1 nit in low-lighting scenarios, allowing users to enable the always-on Retina display without worrying about it being distracting or zapping battery life.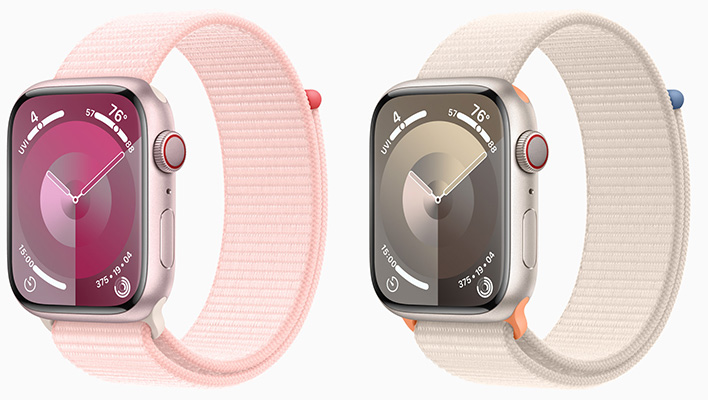 The Series 9 is available in either 45mm or 41mm options with a choice of aluminum or stainless steel casing. Apple boasts that pairing a Series 9 with aluminum case with any of its Sport Loop bands yields a "carbon neutral" product thanks to a 78% reduction in carbon footprint and investments in carbon offsets. Its sleek design is only interrupted by a side button and Digital Crown for control.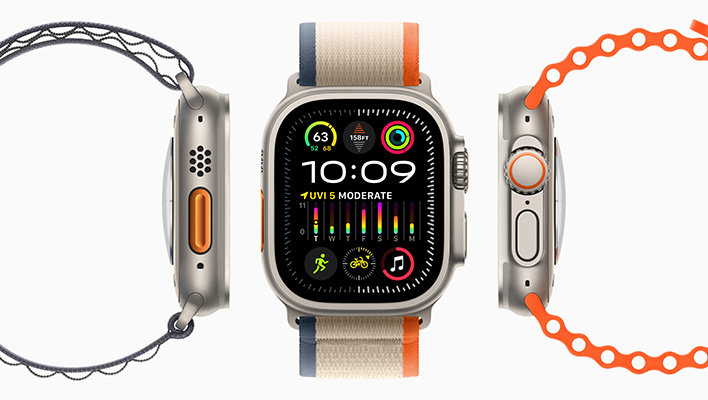 The Watch Ultra 2 is only available as a 49mm watch face with a titanium case. For the environmentally conscious, pairing it with either the Alpine Loop or Trail Loop bands will similarly give carbon neutral results. The Ultra 2 has a more rugged design that protects the Digital Crown from getting snagged and makes the side button easier to press while wearing gloves. It also adds an Action Button on the left side that can trigger a variety of additional functions. Where the Series 9 features 50m water resistance, the Ultra 2 extends to 100m and is suitable for high-speed water sports including recreational dives up to 40m.
Double Tap Is The New Magic Apple Feature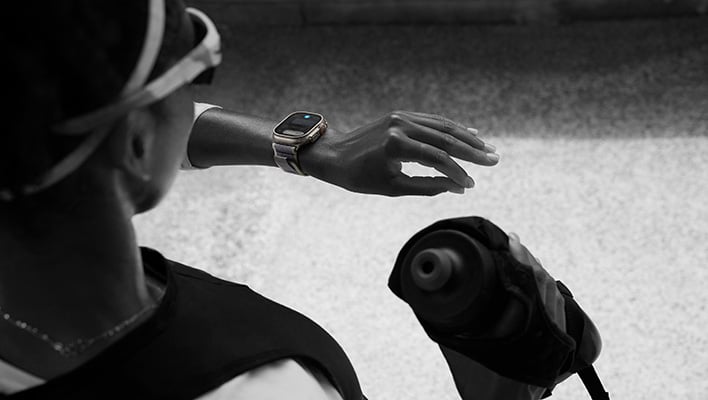 Of course, it wouldn't be an Apple event without some magic. For the watches, this comes in the form of a Double Tap gesture. When "your other hand is occupied," you can double-tap the index finger and thumb of your watch-wearing hand together which will perform an array of contextually relevant options. Apple lists pausing and playing music, answering a call, stopping a timer, or responding to a message notification as a few examples. It tracks a combination of motion and changes to your blood flow with machine learning to identify the gesture and filter out false positives. This feature will be available "next month."
Other Features And Availability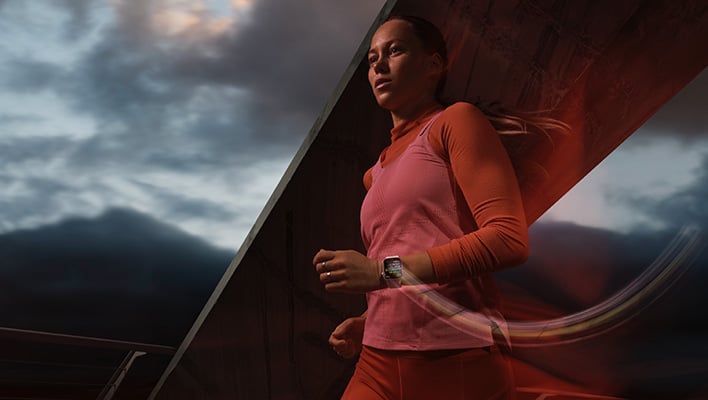 Apple also spent a good amount of time marketing the Watch's safety features. Both can leverage the
Emergency SOS satellite service
to notify first-responders even when cellular coverage is unavailable, including international emergency calling. Both also monitor for falls and crashes to trigger Emergency SOS in the event you are unconscious or unable to reach your device. The Ultra 2 again goes a step beyond by enabling an 86-decibel Siren that it says can be heard from up to 600 feet (180 meters) away and allows for a temporary doubling of flashlight brightness by turning the Digital Crown.
Health tracking options are supported across either offering. These include the Blood Oxygen and ECG apps, and will also notify the user if it detects high or low heart rates, irregular heart rhythms, or "low cardio fitness." The sensors can also pick up body temperature (not for medical use) and help women track monthly cycles, including retrospective ovulation estimates. The Series 9 features typical battery life up to 18 hours, but this can double to 36 hours in low power mode. 36 hours is the baseline for the Ultra 2, and its low power mode again doubles to 72 hours. Both watches offer fast charging to minimize downtime.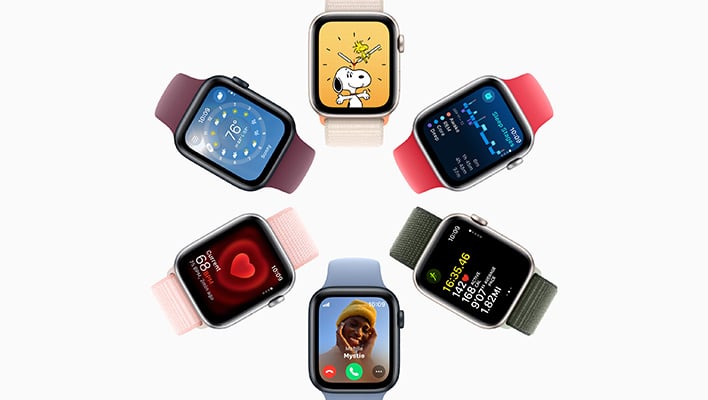 Both the Series 9 and Ultra 2 can be
ordered today
with availability beginning Friday, September 22nd. Apple will also offer the Apple Watch SE (2nd Gen) alongside them for a more budget-friendly option. The cellular variants are supported on AT&T, Verizon, and T-Mobile networks. Starting prices break down as follows:
Apple Watch Series 9 41mm Aluminum (GPS): $399
Apple Watch Series 9 41mm Aluminum (Cellular+GPS): $499
Apple Watch Series 9 41mm Stainless Steel (Cellular+GPS): $699
Apple Watch Series 9 45mm Aluminum (GPS): $429
Apple Watch Series 9 45mm Aluminum (Cellular+GPS): $529
Apple Watch Series 9 45mm Stainless Steel (Cellular+GPS): $749
Apple Watch Ultra 2 49mm Titanium (Cellular+GPS): $799
Apple Watch SE 40mm Aluminum (GPS): $249
Apple Watch SE 40mm Aluminum (Cellular+GPS): $299
Apple Watch SE 44mm Aluminum (GPS): $279
Apple Watch SE 44mm Aluminum (Cellular+GPS): $329