Apple Unveils The M2 Ultra, A Monster Chip With 24 CPU Cores And Up To 76 GPU Cores
It's fair to say that Apple doesn't have any regrets about pivoting from Intel's x86 silicon to pursue its own Arm-based designs. Apple announced the
bold move in June 2020
, and now three years later at WWDC 2023, the Cupertino outfit is introducing the M2 Ultra, the "largest and most capable chip Apple has ever created." In fact, it's essentially twice as large as the M2 Max.
The reason for that is because Apple is leveraging its UltraFusion technology to connect the dies of two
M2 Max
chips to effectively double the performance. It's the same thing Apple did with the previous generation M1 Ultra, which itself connected a pair of M1 Max chips in the same package using its UltraFusion die-to-die interconnect wizardry.
Apple's M2 Ultra is built on a second-generation 5-nanometer process. It packs 134 billion transistors, which is 20 million more than the
M1 Ultra
, and it features a unified memory architecture with a whopping 192GB of memory capacity. That's a 50 percent jump versus the M1 Ultra. It also boasts 800GB/s of memory bandwidth, which as you might expect is 2X the amount of a single M1 Max die.
"M2 Ultra delivers astonishing performance and capabilities for our pro users' most demanding workflows, while maintaining Apple silicon's industry-leading power efficiency," said Johny Srouji, Apple's senior vice president of Hardware Technologies. "With huge performance gains in the CPU, GPU, and Neural Engine, combined with massive memory bandwidth in a single SoC, M2 Ultra is the world's most powerful chip ever created for a personal computer."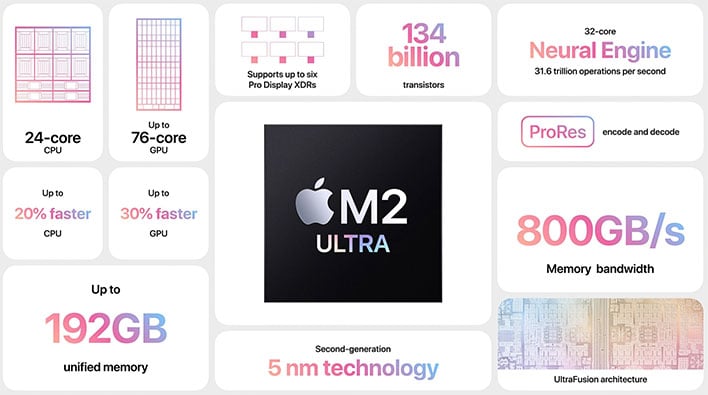 According to Apple, the M2 Ultra's CPU is 20 percent faster than the M1 Ultra. Meanwhile, its larger GPU is up to 30 percent faster, and it has a Neural Engine that's up to 40 percent faster, Apple says. There's also a media engine that Apple claims is twice as capable for the M2 Max for ProRes acceleration.
What about latency from smashing two dies together? The UltraFusion interconnect features a custom-built packaging technology with an interposer that attaches the dies with more than 10,000 signals. Using Apple's figures, this provides over 2.5TB/s of "low-latency" interprocessor bandwidth. And of course software continues to recognize the package as a single chip, as opposed to dual chips mashed together.
The nuts and bolts of the design consists of a 24-core CPU comprised of 16 high-performance cores and 8 high-efficiency cores. This is paired with up to a 76-core GPU (60 cores is the other option). And the Neural Engine wields 32 cores, delivering 31.6 trillion operations per second—that makes it 40 percent faster than the M1 Ultra.
Apple is offering the
M2 Ultra
in its refreshed Mac Studio and Mac Pro systems, both of which are available to order today and will ship next week.