Apple's $3,499 Vision Pro Headset Expected To Ship 200K Units In 2024, Are You Buying One?
As many expected, Apple finally and officially entered the realm of mixed reality with the unveiling of its
Vision Pro
headset during WWDC 2023 this week. And also as anticipated, it's not cheap by any stretch of the imagination—there's a clip going around of mild groans as Apple revealed the headset's $3,499 price tag. Despite the semi-sticker shock, Apple is forecast for ship 200,000 Vision Pro headsets next year.
That figure comes from TrendForce, a market research and intelligence firm with a pulse on various product segments, including IC production, memory technologies (DRAM and NAND flash), display panels, and an assortment of consumer electronics (smartphones, tablets, laptops, wearables, and so forth).
According to TrendForce, the Vision Pro is "poised to revolutionize the AR/VR market with its sleek design and high-performance capabilities." Indeed, what we've seen from a distance during the
WWDC
unveiling certainly looks polished and ready for prime time. It's still an HMD (head mounted display), which not everyone is ready to embrace. But Apple deserves credit for designing what appears to be a rather comfortable headset.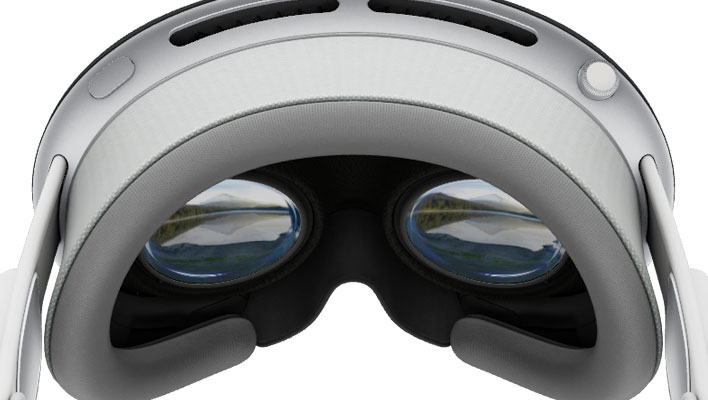 The Vision Pro features a 3D knitted, breathable headband that expands and easily detaches. It's also adjustable for a precise fit. Other notable amenities include a digital crown to control the level of immersion, support for Spatial Audio, and an array of advanced sensors to accommodate hand gestures (among other things).
It's relatively powerful as well, with the combination of M2 (though not the
M2 Ultra
) and R1 silicon to drive the custom micro-OLED display system, which delivers 23 million pixels. It's an advanced kit for sure, more so than the Quest 2 or even the upcoming
Quest 3
.
That's all reflected in the price, though, and then some. While the Vision Pro commands $3,499, the Quest 3 will start at $499 and the Quest 2 just dropped to $299. There are also concerns about the short 2-hour battery life.
"The market's response will heavily depend on the subsequent introduction of consumer-oriented Apple Vision models and the ability of Apple to offer enticing everyday functionalities that will drive the rapid growth of the AR market as a whole," TrendForce states.
One thing to consider, however, is that the Vision Pro is not really a consumer product. Like the approach Microsoft took with HoloLens, the Vision Pro takes aim at developers and enterprise customers. Hence the price, which incidentally is the same as the
HoloLens 2
.
That's not to say those will be the only customers. As our own Chris Goetting hilariously stated during a recent staff discussion on the topic, "I can't wait to see first-class full of creepy digital eyes staring back at me as I make my way to economy on my next flight."

Time will tell if Apple really is able to
ship 200,000 Vision Pro headsets
in 2024, as TrendForce forecasts. If it does, it will be off to a promising start to a still-emerging product category.