Apple Debuts iOS 17 With Live Voicemail, Sonoma Widgets And A Slew Of New Features
The highlight of Apple's keynote at the Worldwide Developer Conference yesterday was definitely
Vision Pro and visionOS
. However, the iPhone maker also has a whole slate of new operating systems on the horizon, and went to great trouble to demonstrate a whole host of new features. Yearly iterations are nothing new, but one change in particular has this iPhone user pretty excited.
iOS 17 - Bringing Back the 90s
Millennials and Generation Xers such as this author remember seeing an unknown number on the caller ID, letting the phone go to the machine, and listening to the message as it came in live. This was by far the best thing about the 1990s that had since disappeared. With the advent of the cellular phone, callers had to leave a voicemail with the carrier and wait for a notification to be delivered to the phone. iOS 17 will change that for iPhone users; Apple has run its own visual voicemail service for iPhones rather than relying on carriers to receive messages, and finally iPhone users get something very cool: Live Voicemail.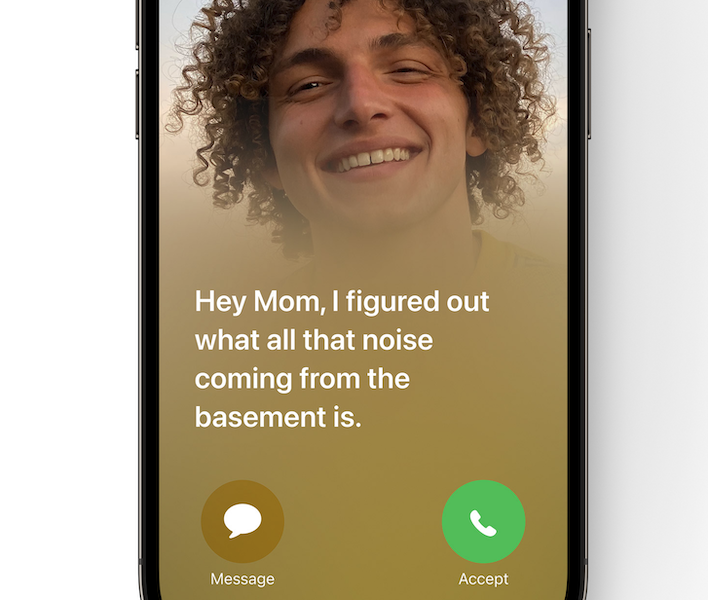 Using on-device machine learning and voice recognition, Live Voicemail will automatically and instantly transcribe a message as it's being left. The recipient can decide to pick up the phone and answer mid-way through the message if it's someone they want to talk to. This will come in handy when unknown but still important people call, since the person receiving the call might want to talk to prospective employers, doctor's offices, and their kids' schools. As old a feature as this is, it's a wonder that it's taken this long to bring it back. It's genuinely useful, too, so we hope that other voice communication providers pick up on it.
Other communication tools get updates, too. Messages gains swipe-to-reply functionality where conversation threads can be created with a flick of the finger. Matching
Google Messages' ability
to react with any emoji, iPhone users will get to do the same with stickers, and will be able to turn any image or video into a sticker as well. Messages also gets new location sharing functionality and automatic voice message transcription. FaceTime will finally allow callers to leave video messages for their recipient when there's no answer, and the Apple-only video calling app will make its Apple TV debut this fall.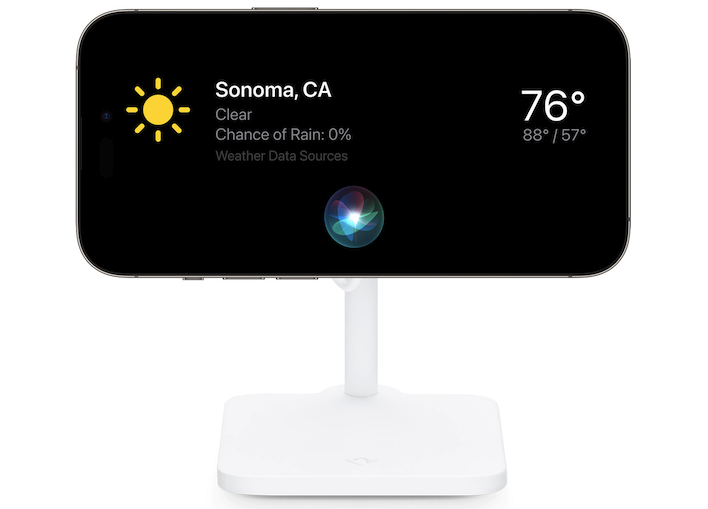 The last really useful addition to iOS 17 is StandBy mode. When an iPhone is on a MagSafe-compatible charger and oriented horizontally, full-screen widgets will appear. These widgets include an interface for controlling music apps, a calendar and event list, status updates from an upcoming delivery from services like Uber Eats, or an alarm clock to name a few. The alarm clock is particularly interesting in that it uses the on-device ambient light sensor to dim and turn red in the dark, which can evoke memories of digital alarm clocks from back in the day. 90s nostalgia abounds.
There's a ton of other new features in iOS 17, too many to list, in fact. We will list a few, though: enhanced autocorrect in the system keyboard, auto-filled security codes sent to Mail (Messages has worked this way for a long time, incidentally), and new drawing tools for Freeform are all coming to iOS 17 this fall. The new operating system will run on basically every iPhone from the last four years, all the way back to 2019's iPhone XS and iPhone XR and the 2020
second-generation iPhone SE
and later.
macOS 14 Sonoma - Widgets, Widgets everywhere
There's a word for the new features on macOS 14 Sonoma, and that word is "widgets." Rather than hide widgets behind the Notification Center panel, as Apple has done on macOS Ventura and earlier, widgets go right on the desktop. Users can plaster as many widgets as they want all over the screen, limited only by display real estate. That sounds pretty dopey at first, but as always, Apple found a slick-looking use case.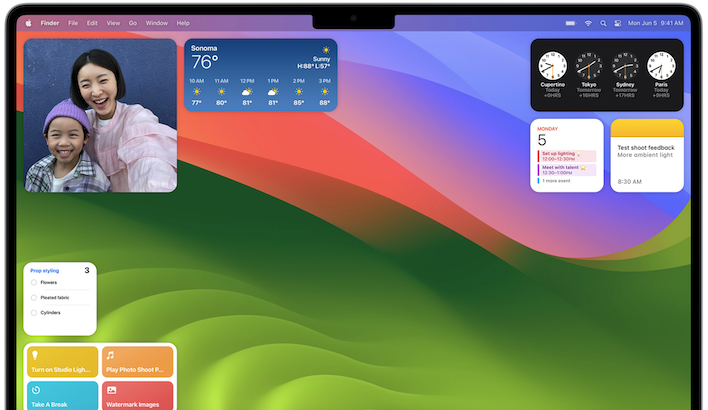 The Shortcuts widget on the desktop can display a list of automation workflows, and users can drag a selection of files to that shortcut to process them. The company's demo showed off doing just that with some images, which applied a filter from a photo editing app and dropped them into an email ready to send with a single drag-and-drop function. So there's at least one use case. iPhone and Mac users can even install widgets from their favorite iOS apps on their Mac via Continuity without actually downloading the app to the Mac.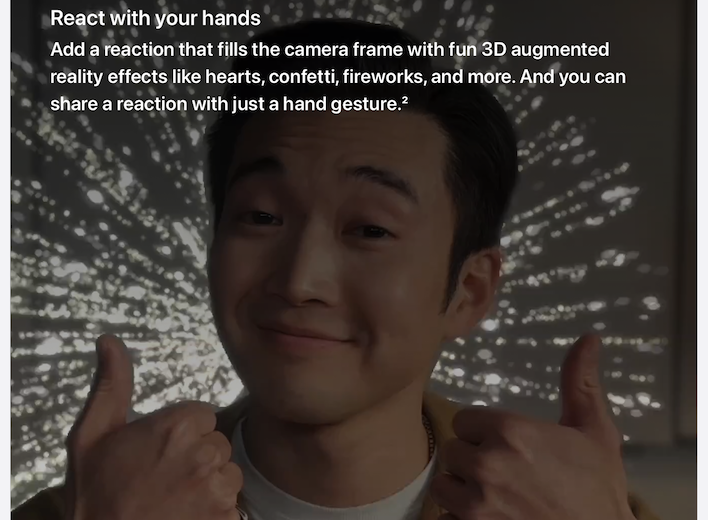 The other really fun update for macOS 14 Sonoma is for video communication apps. The operating system is gaining a new Presenter Overlay in which the user can select one of several layouts to put either shared content or the presenter in focus. Apple says that it will work with any video conferencing software out of the box, which probably means that it's presented by the OS to the application as some kind of virtual camera. Video conferencing apps also gain gesture reactions that play effects when the camera sees you're invoking one. For example, two thumbs up sets off fireworks. It's the kind of silly, over the top but human-focused expression functionality (much like using any image as a sticker) that Apple seems to be using as its theme for the year.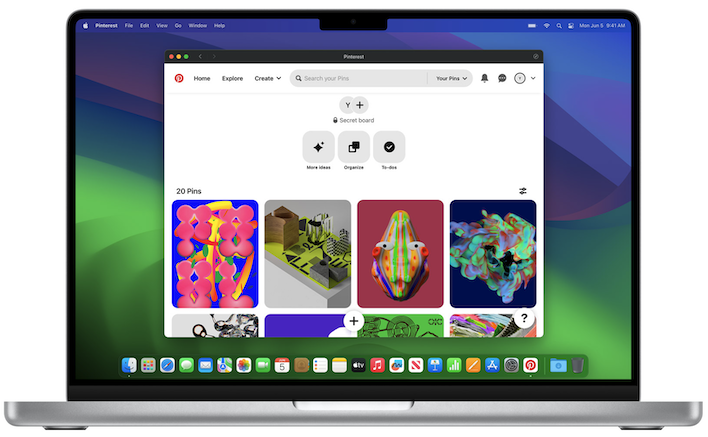 Other "innovations" in Sonoma include multiple profiles in Safari, so users can keep their work and personal lives separate, and adding shortcuts to web applications to the macOS Dock just like any other application. iOS, Android, and even multiple browsers like Chrome and Firefox have supported progressive web apps as separate applications for years now, so this is just Apple playing catch-up. PDFs gain auto-fill, like web browsers have had for years, too.
One truly innovative feature that Safari users will probably appreciate is additional locks on private browsing that automatically sanitize tracking tags out of Private Browser windows and locking those Private windows when they're in the background. You'll need to use Touch ID or a password to unlock them again. Safari also allows users to share a subset of their passwords with trusted users, too.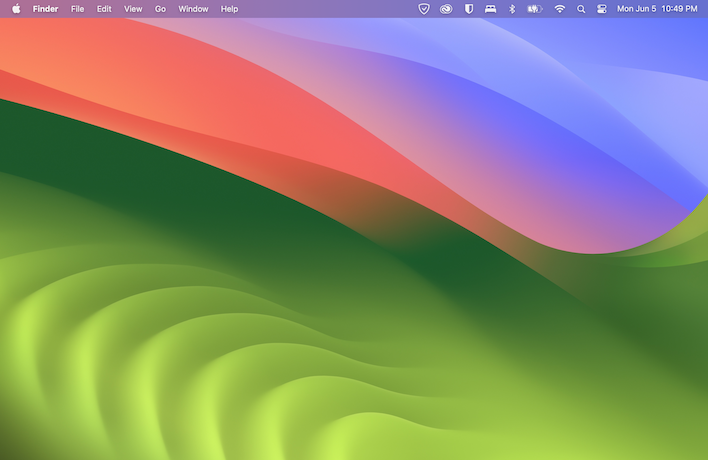 Also, the Sonoma Valley imagery and Apple's oddball curvy abstract wallpaper style combined with an interesting choice of color makes the macOS Graphic wallpaper from the macOS 14 Sonoma beta remind us of Windows XP's default Bliss background. The green grass, the blue sky. You can see it, too, right?
When macOS Sonoma launches this fall, it'll be the first version of macOS to launch since the completion of the x86 to Apple Silicon transition. However, Intel users won't be left out in the cold, as 2017's iMac Pro and every Mac introduced in 2018 and later will be supported. That's a slightly unsettling support range, but it's not that different than
Windows 11's system requirements
, which officially cut off the Ryzen 1000 series and 7th generation and earlier Intel Core processors, all of which are from 2017 as well.
iPadOS - Catching Up with iPhone
iOS 16 brought a handful of "new" features straight out of Android 4.0 Ice Cream Sandwich. Lock Screen widgets, customizable fonts, and an overall emphasis on making the device's interface look just how you want it are something that Android phone owners have enjoyed for more than a decade, but they're a new thing for Apple. They're so new, in fact, that they didn't make their way to the iPad, and only made some limited headway on the Apple Watch last fall. Finally, after yet another revolution of the Earth, iPadOS 17 brings the same features to Apple's 8 to 12.9-inch screens.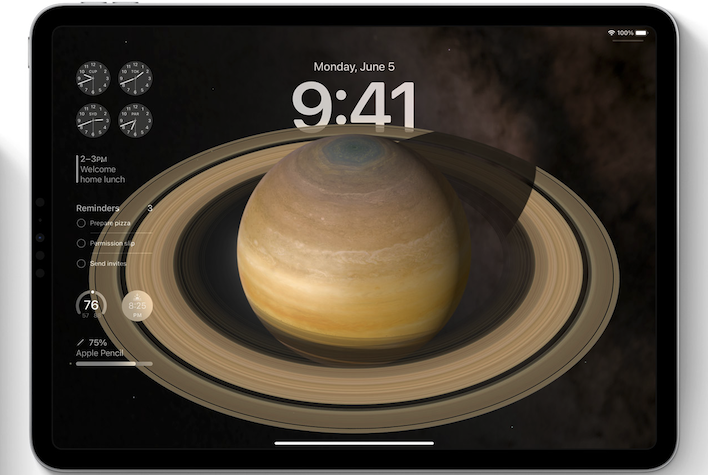 There's more to iPadOS than just that. It's also catching up to the iPhone in that it's bringing the Health app to the big(ger) screen. This, like the Calculator app that Apple just refused to put on the iPad for years, is a bit of a head-scratcher. Why would you not show this information to iPad users? Other iPhone features coming to iPad include the Messages, FaceTime, and stickers updates from iOS 17.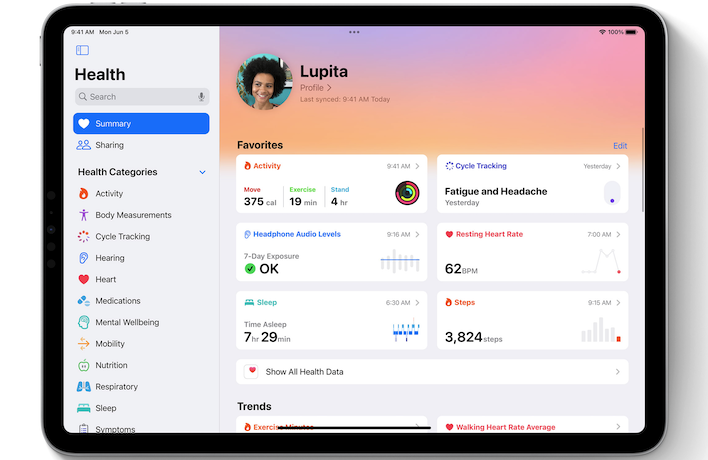 Easily the most fascinating demo for iPadOS was live collaboration. Two iPad users sat side-by-side, looking at the same document, and seeing each other's edits in near-real time. Even in the demo, the updates took a small fraction of a second to appear on the other iPad, but that's extremely impressive. Mark up, edit, add photos, and more to documents together using Apple's multi-user editing tools.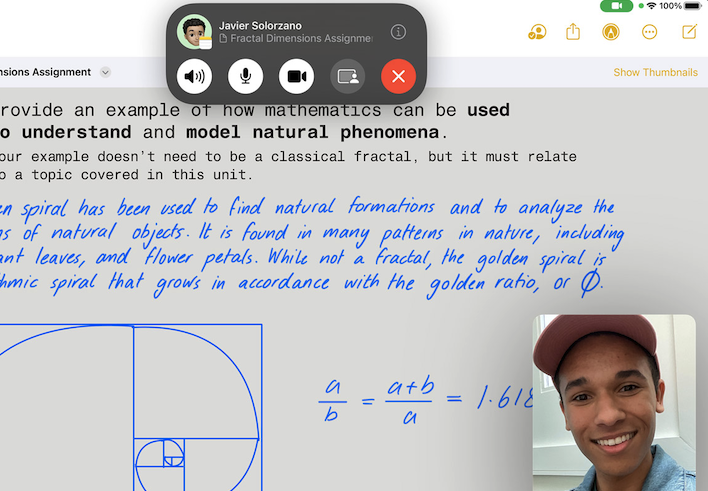 Just like with iOS and macOS, there are a ton of new features in iPadOS 17 and there's no way to cover them all. That includes more flexible layouts for Stage Manager scenes, on-device intelligence to help you pick which AirPlay target you want (a feature that will be on iOS and macOS as well), new AI-driven sensitive content warnings (also on other Apple OSes), and a bunch more. iPadOS 17 will run on iPads from 2018, including the 6th generation iPad, 2nd gen iPad Pro, 5th gen iPad mini, and 3rd gen iPad Air.
watchOS 10 - Still No Third Party Faces
We don't get why Apple won't let developers just make their own watch faces. It's not like the tools to build them are non-existent; Apple builds plenty of them and releases them at times of randomness and whimsy. Instead, we get cosmetic facelifts for most of the system apps, from Health to Weather get re-skinning updates. Even apps nobody uses like Stocks (on an Apple Watch? Really?) get a face lift instead of third-party watch faces.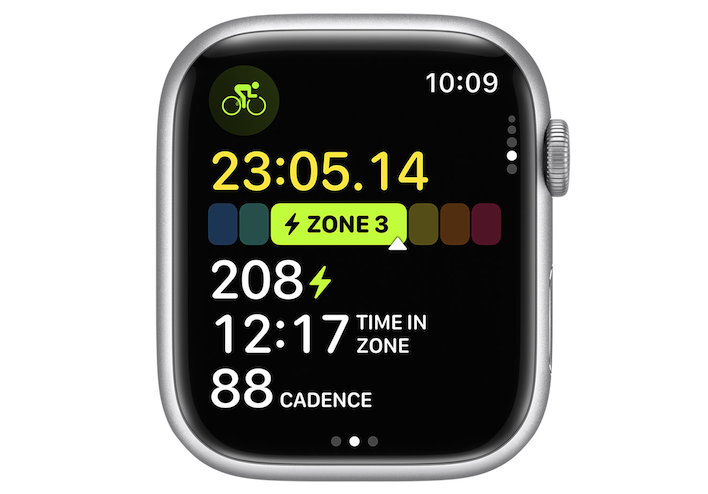 There are genuinely useful updates this time around, though. As always, the Health and Activity apps are a big focus for Apple. In watchOS 10, activity tracking gets power zones for heart rate tracking. This is especially useful to runners and cyclists who want to focus on keeping a steady heart rate more than anything else. Hiking enthusiasts will also get new presentation modes and additional data in the compass app, which should help them find their way more easily. The Apple Watch even gets topographical maps. The Apple Watch screen might be tiny, but it's got some mighty functionality within.
As important as physical health is, the Apple Watch has always had a strong focus on mental health and self care. New in watchOS 10 are reflection and journaling options, where you can keep track of how you're feeling throughout the day. This can help owners keep track of what's happening throughout the day and how they feel about it, allowing them to start to make some correlative observations. Maybe your days always go better when you get at least 40 minutes of exercise, and maybe you always feel mopey when your crazy ex texts you. In hindsight that might be obvious, but now you'll have anec-data to help you back that up.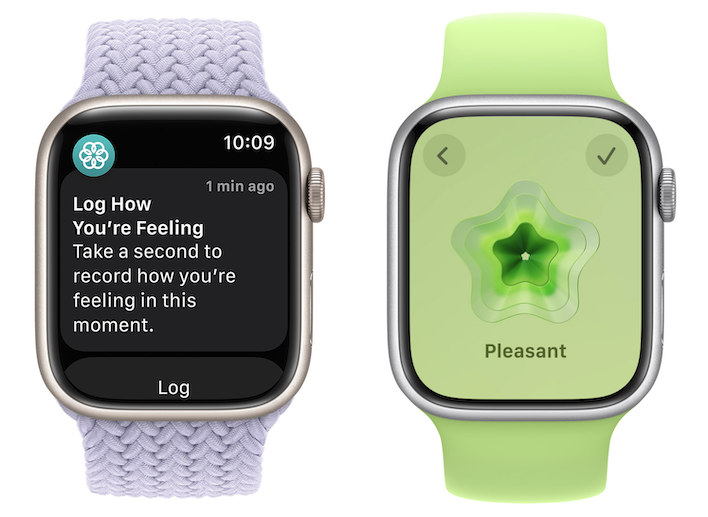 Another outside-the-box feature set will help parents track their children's risk for myopia, or nearsightedness. One of the factors that can help reduce a risk of eye strain is spending time outdoors. The ambient light sensor on the Apple Watch can help parents see how much time their kids are spending outdoors, and can encourage them to get outside more often. A little natural Vitamin D would probably do us all a bit of good, but now you can track it.
Just like all the other operating systems, watchOS is getting more new features than you can shake a stick at, including new workout APIs that let apps find rapid changes in acceleration and movement in the sensors of the watch, offline maps, video and audio message playback directly on the Apple Watch, and medication reminders. watchOS 10 is coming to all Apple Watches from Series 4 and later, including the Apple Watch SE and
Apple Watch Ultra
sometime this fall.