Apple's 2020 iPad Pro Leaks In New Renders With iPhone 11 Pro-Style Triple Cameras
Apple
's iPhone 11 Pro family ushered in the era of triple-camera iOS devices, and it looks as though the company is looking to extend that functionality to its workhorse iPad Pro family. Thanks to new renders by way of
OnLeaks
, we're getting a look at the design of the next-generation professional tablets.
From the front, not much appears to have changed compared to the current-generation 11-inch and 12.9-inch iPad Pro tablets. That means that we're looking at a minimalist design with relatively thin bezels all around. And unlike the iPhone family, there is enough bezel available to house the Face ID hardware so that there is no unsightly notch to ruin the viewing experience. Speaking of Face ID, we'd expect that the ability to use Face ID to unlock the tablet from any orientation will carry on with the next-generation, albeit with faster recognition times.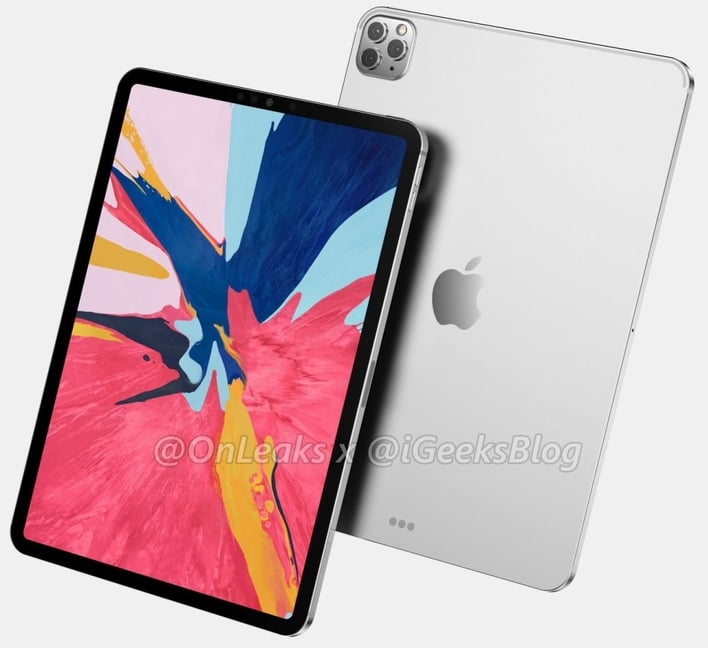 Moving to the back is where we see the biggest changes. In place of the single camera found on the current iPad Pro models, the new renders show a triple-camera setup similar in design to the iPhone 11 Pro and iPad 11 Pro Max. Given OnLeaks' track record when it comes to Apple leaks -- most recently with the iPhone 11 lineup before it was officially released -- there could be a lot of truth to this latest leak.
One other detail claimed in the new report is that the 11-inch iPad Pro will carry on with its familiar aluminum unibody chassis. However, the larger 12.9-inch iPad Pro is said to adopt a glass back panel making it more akin to the iPhone 11 Pro smartphones. This seems like a curious addition to us as there is no particular functional reason why the iPad Pro would need a glass back, and the device is far too large and unwieldy to be used on a wireless charger. It would also make for an expensive repair if dropped.
With that being said, depending on when these new iPad Pros launch, they could be powered by either A13 Bionic or A14 Bionic SoCs. And given the starting price of the iPad Pro ($799 for the 11-inch model), we hope that Apple bumps up the base storage of the tablets from 64GB to 128GB. There is still no word on when these devices will officially launch.