Behind The Scenes Building An All-AMD Ryzen 9 7950X3D MG-1 Gaming PC At Maingear
We had another chance to visit our friends at Maingear and build a custom gaming PC decked out with high-end hardware, including AMD's top-of-the-line
Ryzen 9 7950X3D
CPU. This is the first time we've done so since the boutique builder
partnered with Michael "shroud" Grzesiek
, a top streamer who joined the fray last November as a co-owner. If you're wondering if anything has changed in terms of build quality and the overall Maingear experience, we can happily confirm that Maingear's roots as an enthusiast-oriented PC builder are firmly intact.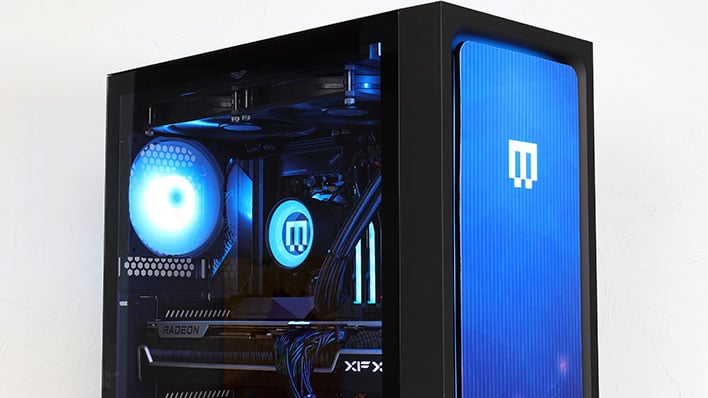 What
has
changed is the logo, inspired by Space Invaders and it's delightfully retro 8-bit styling (for you old-school gamers out there), as well as the introduction of the
MG-1 mid-tower desktop series
that Maingear and shroud had been working on for the past year-plus. The MG-1 joins Maingear's Rush, Turbo, and R1 gaming desktops and is available in a whole bunch of pre-configured and customizable configurations to suit various budgets.
Pairing AMD's Ryzen 9 7950X3D 3D V-Cache CPU With A Radeon RX 7900 XTX In The MG-1
For our build, we decided to go all-out with the latest and greatest hardware from AMD, pairing its flagship 3D V-cache processor based on Zen 4 with a
Radeon RX 7900 XTX
graphics card based on RDNA 3 and outfitted with a generous
24GB of VRAM
.
Here's a full parts list of our custom build...
While it's impossible to truly future-proof a PC, this is a no-holds-barred config with copious horsepower from top to bottom and it should last several years before punching a ticket on the struggle bus. And of course, this system is fully upgradeable without any proprietary restrictions—these are all off-the-shelf parts based on standard form factors. Likewise, building on top of AMD's socket AM5 platform with DDR5 memory and going with a 1,200W power supply gives this config legs.
HotHardware
founder and editor-in-chief Dave Altavilla and managing editor Marco Chiapetta teamed up with Brent Fisher, Maingear's marketing manager who's not afraid to get his hands dirty, to assemble this bad boy.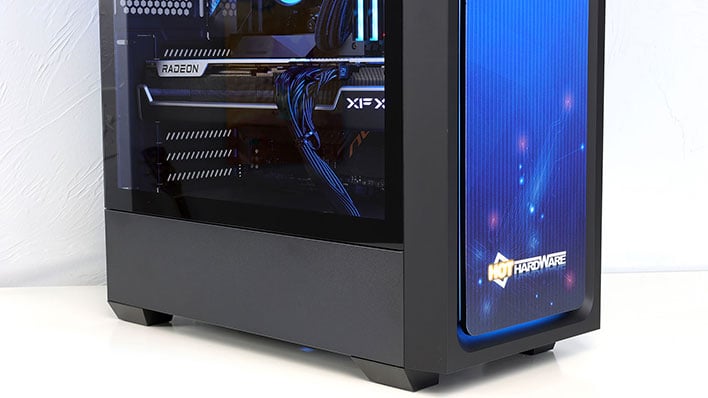 The finished product is as clean and beautiful as it is fast (scroll down for benchmarks). Check out that custom front panel with our logo on the bottom. These remove and snap on with ease, and they look absolutely gorgeous with a tasteful implementation of RGB lighting to accent the front panel, be it the stock one or a custom graphic like the one on our build.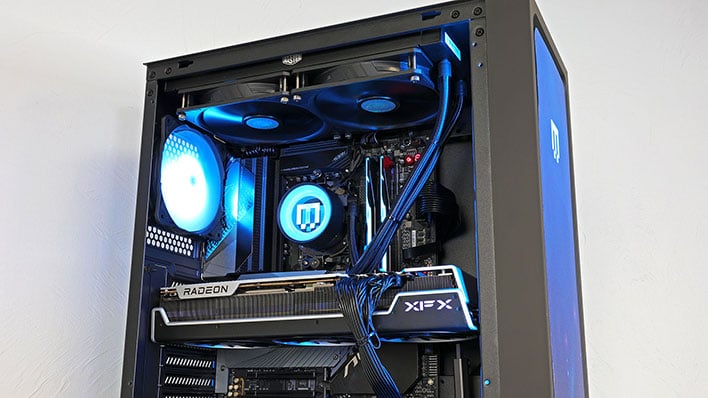 As always, Maingear's cable management is nothing short of immaculate in the MG-1. This is one of the many perks of shopping from a boutique builder like Maingear—cables and wires get neatly routed out of the way to avoid obstructing airflow and for a show-worthy view of the interior. It's not just the main section of the build either, as the backside of the motherboard looks pristine as well.
Let's move on to the benchmarks...
Benchmarking Our Custom Maingear MG-1 Gaming Desktop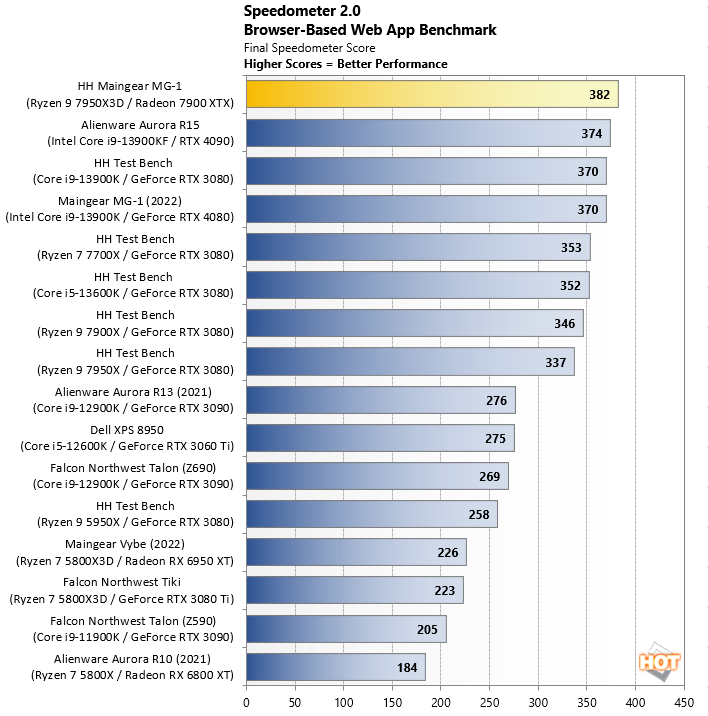 We like to kick things off with Speedometer 2.0, a browser benchmark suite that uses a wide array of latency and throughput tests to evaluate web performance. Our custom MG-1 config didn't disappoint. This benchmark typically aligns with CPU responsiveness in lighter web rendering tasks, and here we see the MG-1 with its Ryzen 9 7950X3D CPU dart to the front of the pack overtaking the
Alienware Aurora R15
and other configs with Intel's Core i9-13900K/KF.
Cinebench R32 Rendering Benchmark
Cinebench is a rendering performance test based on Maxon's Cinema 4D, which is a 3D rendering and animation tool suite used by animation houses and producers like Sony Animation and many others. It's very demanding on system processor resources, and it can utilize any number of threads, which make it an excellent gauge of computational throughput. This is a multi-threaded, multi-processor aware benchmark that renders and animates 3D scenes and tracks the length of the entire process. The rate at which each test system was able to render the entire scene is represented in the graph below.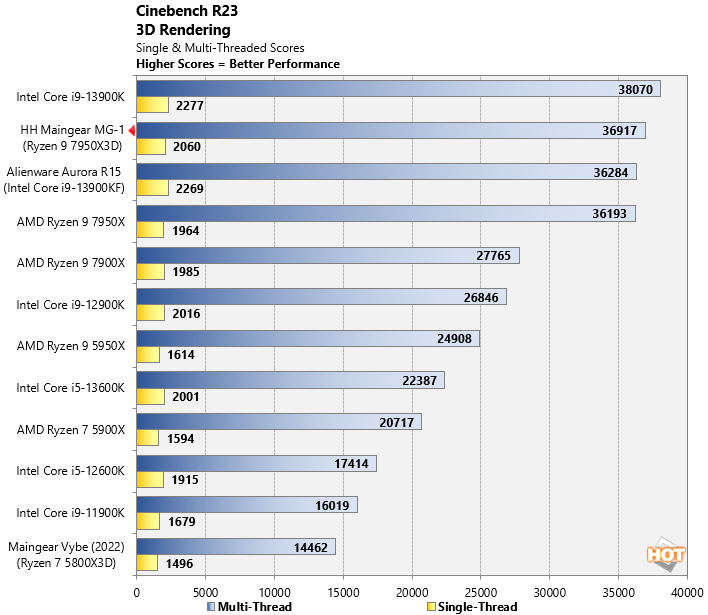 Consistent to what we've seen before, the Ryzen 9 7950X3D wasn't quite able to overtake the Core i9-13900K though it did come within striking distance. More so than the regular Ryzen 9 7950X when we reviewed it. These are strong single-core and multi-core scores from the MG-1.
Blender 3D Rendering Benchmark
Blender is a free and open-source 3D creation suite that can handle everything from modeling, rigging, and animation to simulation, rendering, compositing and motion tracking. It has a purpose-built benchmarking tool that includes three pre-built scenes to render out while tracking the time it takes to completely render each scene.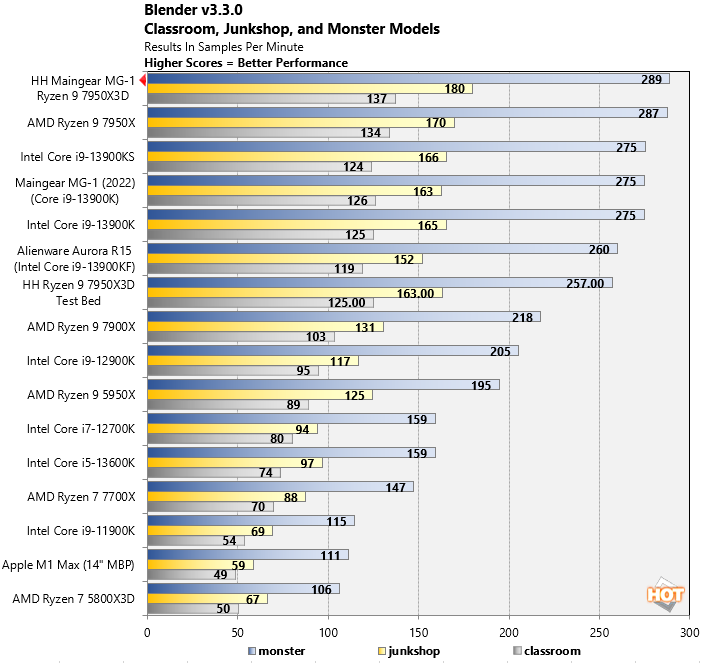 In 3D Blender the MG-1 managed to reclaim the top spot with the highest scores in all three tests. That's not surprising giving the number of cores and threads the Ryzen 9 7950X3D can throw at these types of workloads, and what we've seen from the Zen 4 architecture. This also indicates that Maingear's cooling scheme in the MG-1 is doing its job with aplomb.
PCMark 10 System Productivity And Content Creation Benchmark
PCMark 10 uses a mix of real-world applications and simulated workloads to establish how well a given system performs productivity tasks, including image and video editing, web browsing, and OpenOffice document editing. These scores appear to be more neatly clustered than some comparison sets, but we should still note that the systems are sorted by their overall PCMark score, which is the fourth (gray) bar in each cluster.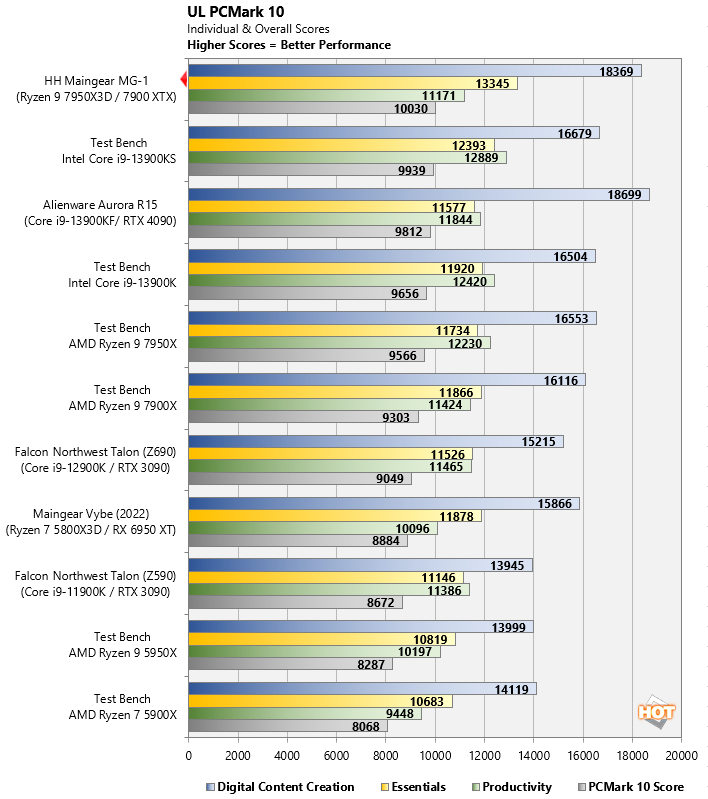 The Maingear MG-1 showed out in PCMark 10 as well, posting the top overall and Essentials scores, the second-highest Digital Content Creation score, and a strong Productivity score. This configuration is billed as a gaming PC (and rightfully so), but it can also handle itself in non-gamiing workloads with its combination of a Ryzen 9 7950X3D CPU, Radeon RX 7900 XTX GPU, and 64GB of DDR5-6000 RAM.
3DMark Time Spy DirectX 12 Benchmark
As usual, we'll start off our 3D benchmarking with 3DMark. If you're somehow unfamiliar, 3DMark is a synthetic game-like benchmark for assessing gaming graphics (GPU) and physics (CPU) performance. This tool has a wide variety of tests and demos that target various types of graphics workloads, to give a better picture of how a system will handle real games. We used the Time Spy benchmark, 3DMark's DirectX 12 test. This test has multiple presets, but the standard Time Spy test is plenty taxing.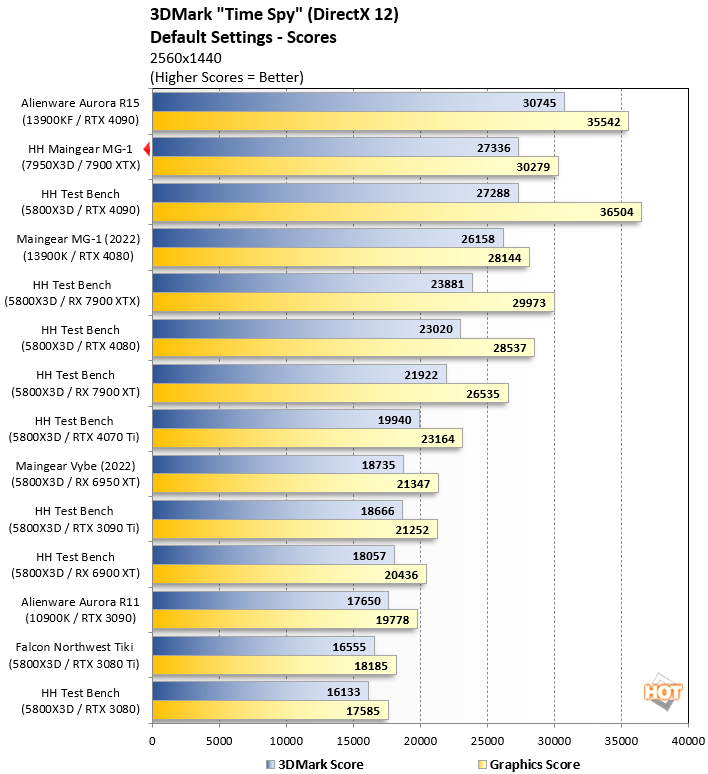 Here we get a first look at the MG-1 system's graphics prowess, and it doesn't disappoint. It climbed to the No. 2 spot when sorting by overall scores and posted an even better Graphics score that only trails the
GeForce RTX 4090
as represented in the Alienware rig (also an option in the MG-1, by the way).
3DMark Port Royal DirectX Ray Tracing Benchmark
Port Royal was released as an update to UL's popular 3DMark suite. It is designed to test real-time ray tracing performance of graphics cards that support Microsoft DirectX Raytracing, or DXR. Although DXR is technically compatible with all DX12-class GPUs, the graphics card must have drivers that enable support for the feature.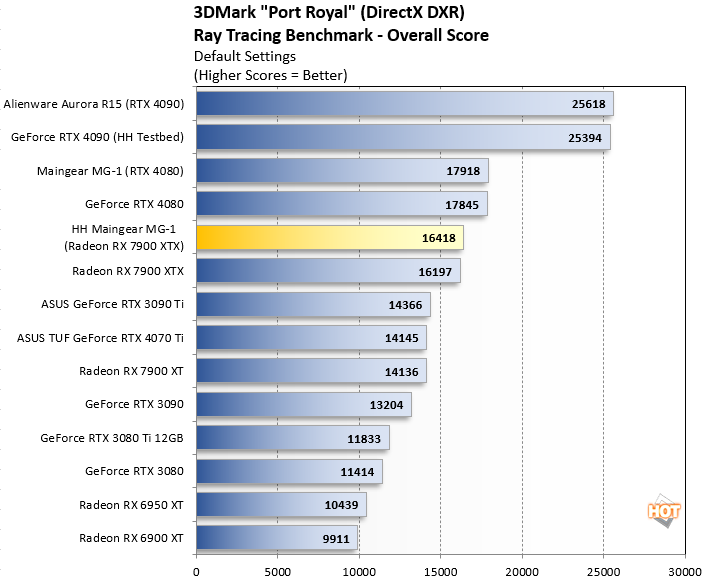 This 3DMark test gives takes a specific focus on ray tracing performance. As configured, Maingear's custom rig inched ahead of the score we obtained in our standalone Radeon RX 7900 XTX review, landing right where we would expect it to (ahead of the GeForce RTX 3090 Ti and GeForce RTX 4070 Ti, and below the GeForce RTX 4080 and 4090).
Final Fantasy XIV Endwalker Benchmark
Final Fantasy XIV: Endwalker
launched at the end of 2021, and as usual, Square-Enix updated its free character creator and benchmark tool. The free utility checks in at approximately a 2.21GB download. It will test your PC's ability to run the game at various settings and presents a final result with an overall rating upon its conclusion. We tested Final Fantasy XIV: Endwalker in 4K UHD, with maximum image quality settings.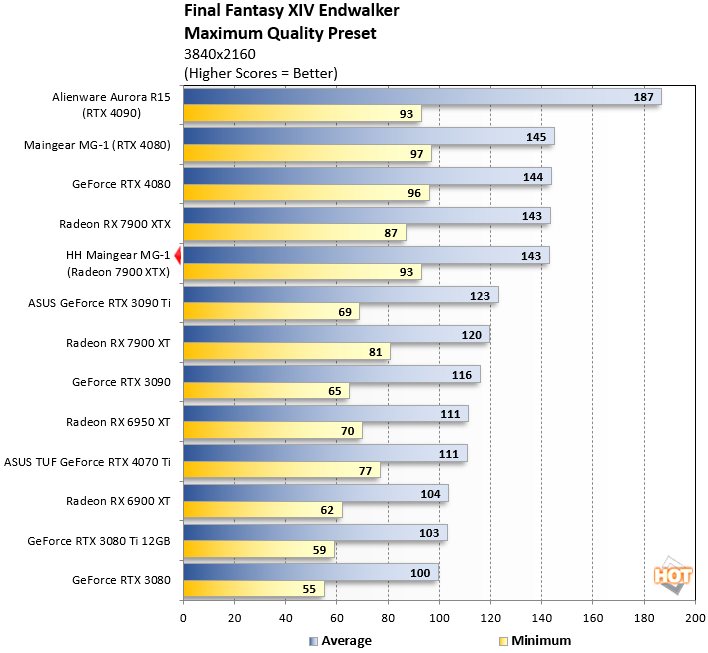 Pivoting over to actual games, the MG-1 as we have it configured averaged 143 frames per second in
Final Fantasy XIV: Endwalker
, positioning it near the top of the pack. Only 1-2 frames per second separate this setup from numbers we've pulled from the GeForce RTX 4080, including one that was also part of a separate MG-1 config.
Marvel's Guardians of the Galaxy Benchmark
Marvel's Guardians of the Galaxy
is an action-adventure game where you play as Star-Lord and lead the rest of the Guardians from mission to mission. The game's minimum requirements call for a Radeon RX 570 or GeForce GTX 1060-class GPU, but it also supports some of the latest graphics technologies, including DXR and DLSS.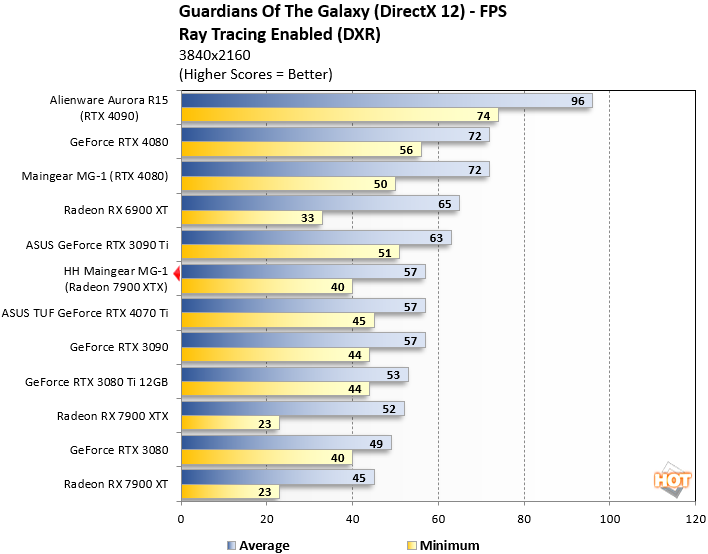 Here we get another look at ray tracing performance but this time in an actual game. Compared to when we posted our standalone review of the Radeon RX 7900 XTX, we're seeing a better average (57 versus 52 frames per second) and a big jump in the minimum frames (51 versus 23 frames per second). We can mostly chalk those up to a stronger CPU for gaming—Ryzen 9 7950X3D versus the Ryzen 7 5800X3D. That said, the MG-1 didn't quite catch up to the Radeon RX 6900 XT score we recorded, indicating that AMD still has some tweaking to do on the driver side.
F1 22 Formula 1 Racing Benchmark
F1 2022
is Codemasters' latest Formula One racing simulation, and like previous version of the game, it sports impressive visuals. This latest addition to the franchise supports DirectX 12 with ray tracing, and it incorporates support for a number of AMD and NVIDIA technologies (like FSR 2.2 and DLSS Frame Generation). We tested the game with its Ultra High graphics preset, with ray-tracing and TAA enabled.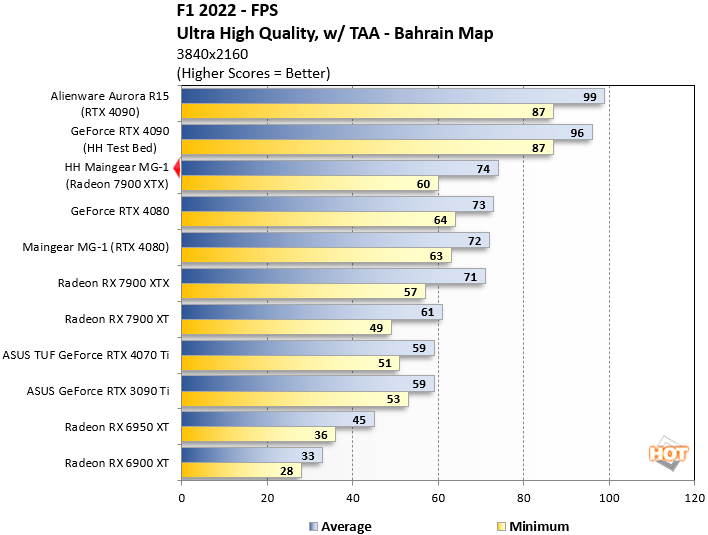 In
F1 22
, the MG-1 again muscled its way towards the front with even better average and minimum framerates than what we recorded from our standalone Radeon RX 7900 XTX review. Part of that can likely be attributed to driver optimizations, but it also means that Maingear's system is firing on all cylinders.
Maingear's MG-1 Is Fast, Clean And Ready To Customize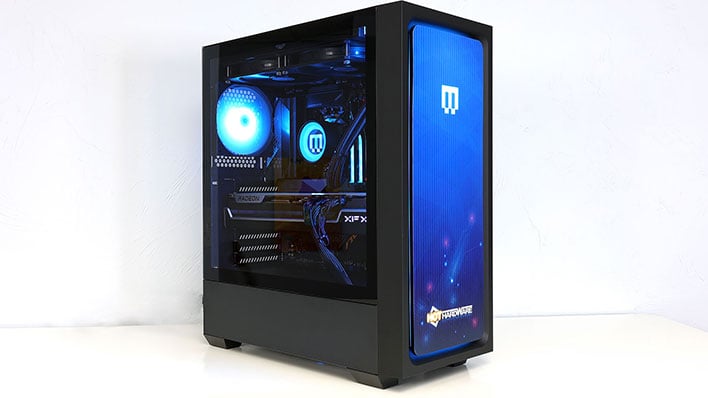 We already reviewed the MG-1 earlier this year so we knew what to expect, and this updated build based on AMD hardware didn't disappoint. If you have any hesitations about buying from Maingear now that it's partnered with shroud, our recommendation is to cast them away because the boutique builder hasn't lost its edge.
Our custom MG-1 build based on AMD's Zen 4 and RDNA 3 hardware performed as we expected and even better in some cases, with high scores pretty much across the board. It's clean throughout, including behind the motherboard tray where it can be all-too-tempting to just shove excess wiring out of sight. As we saw from Maingear before it teamed up with shroud, the boutique builder simply doesn't take shortcuts.
We hope you enjoyed our inside look at Maingear's facility and the all-AMD system we put together under the MG-1 banner. If you want to configure one yourself, head over to the
MG-1 product page
check out Maingear's 3D customization tool. Also let us know what you think the comments section below!