AMD Radeon RX 5600 XT Gets Official With GeForce GTX 1660 Ti Dominating Performance
Unless you've been living under a rock, you probably already knew that AMD was set to launch the
Radeon RX 5600 XT this week at CES
. We've seen leaked specs, board shots, and retail boxes, and today AMD has officially launched the Radeon RX 5600 XT.
The official specs are largely in line with the previous leaks, with the RDNA/Navi-based Radeon RX 5600 XT featuring 36 compute units and 2304 stream processors to deliver 7.19 TFLOPs compute performance. Cards will come equipped with 6GB GDDR6 memory (192-bit bus) and total board power is listed at 150 watts. At this time, AMD is quoting game and boost clocks of 1375MHz and 1560MHz respectively.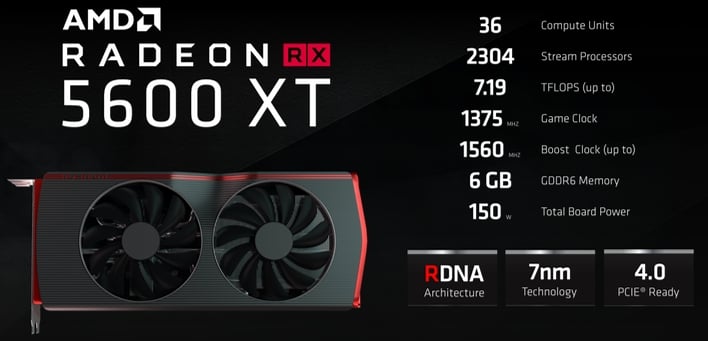 Compared to the elderly Radeon RX 590, AMD says that the Radeon RX 5600 XT offers a 2x uplift in performance-per-watt. AMD is billing the card as "The Ultimate 1080p Gaming GPU" and living up to that title, the Radeon RX 5600 XT is said to deliver over 120 FPS in popular games like Fortnite and Apex Legends.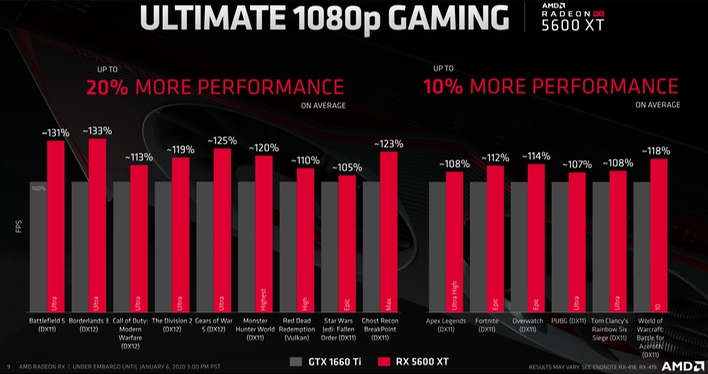 But what everyone wants to know, of course, is how the card will compare to NVIDIA's GeForce GTX Turing family of graphics cards. Based on AMD's own benchmarks, it claims that the Radeon RX 5600 XT is on average 20 percent faster than the GeForce GTX 1660 Ti and up to 33 percent faster in some gaming benchmarks.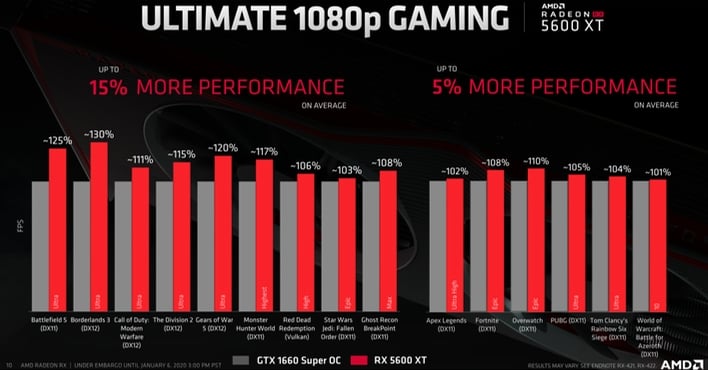 In addition, compared to the GeForce GTX 1660 Super, AMD is promising a maximum performance advantage of 30 percent, and an average performance uplift of 15 percent. These are all of course via AMD-curated benchmarks, so we'll have to wait until we have the cards on our lab to test out these claims first-hand. But we like what we're seeing so far.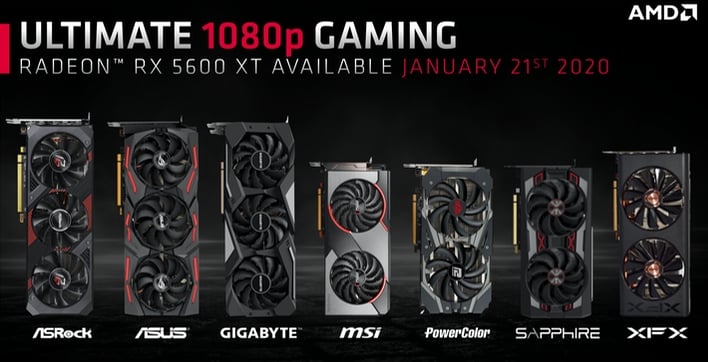 According to AMD, the Radeon RX 5600 XT has been designed to meet the performance needs of 60 percent of the gaming market, and it's priced to move. The card will be priced at $279, which puts it on even footing with the GeForce GTX 1660 Ti, while providing superior performance. The card will officially go on sale January 21st, which is roughly two weeks away.