AMD Debuts EPYC 8004 Series CPUs For Power-Efficient Intelligent Edge Solutions
Once upon a time,
AMD's Opteron processors
allowed it to make significant inroads into the server market. The compnay lost ground in the Bulldozer years, though, and with EPYC, AMD had to prove that it could reliably deliver competitive processors on time. We're now into the fourth generation of EPYC processors, and the company has definitely done that by this point and has made huge strides gaining share.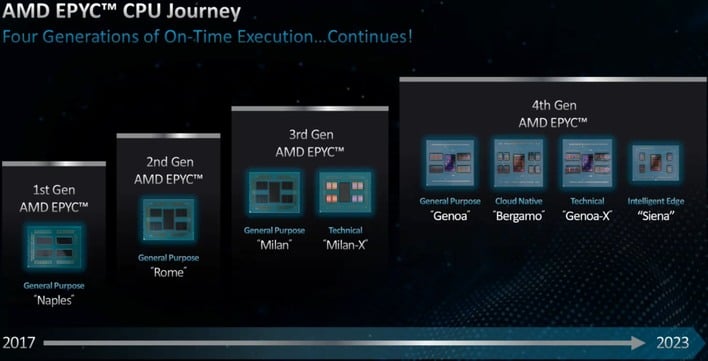 Server processors are not a one-size-fits-all, however. AMD started to diversify its server offerings in the previous generation with Milan-X, which utilized 3D V-Cache to create CPUs with up to 804 megabytes of CPU cache in a single socket. This generation, the company already has
three types of of EPYC
CPUs: Genoa for general purpose, Bergamo for cloud applications, and Genoa-X for apps that benefit from big caches.
Today AMD increases that number to four, because the company just launched the latest EPYC parts codenamed Siena, and more properly called the EPYC 8004 Series CPUs. These chips are quite different from all of the previous EPYC processors, as they're optimized
not for maximum performance
, but for optimal efficiency. That means lower TDPs, leading to lower heat output and reduced energy consumption. That's not to say Siena is underpowered, mind you.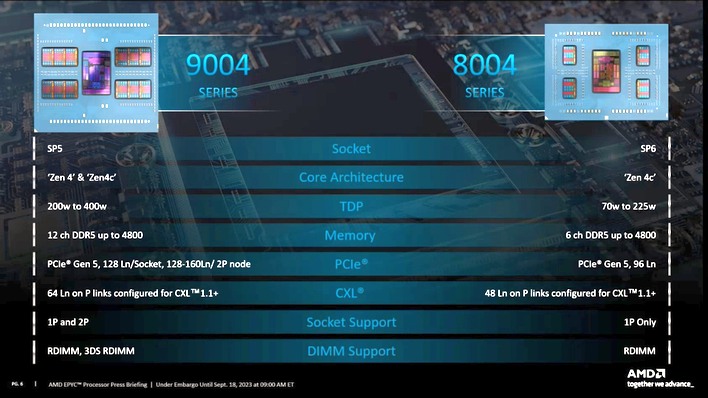 This handy slide from AMD goes over the differences between Genoa and Siena. These are smaller processors physically, and they use a new SP6 socket. They top out at 64 CPU cores, but these cores are Zen 4C instead of Zen 4. In case
you've missed the memo
, Zen 4C has half the L3 cache per core of Zen 4 and is nearly twice as dense but is otherwise effectively unchanged. This allows AMD to fit 16 CPU cores on a single CCD; that's twice as many as a regular Zen 4 CCD.
Other major changes from extant EPYC CPUs to Siena are that this new EPYC variant only supports six-channel memory instead of twelve-channel, and has reduced high-speed I/O, with "only" 96 lanes of PCIe 5.0 or 48 lanes of CXL connectivity. These chips will only be available in 1P configurations, too; no dual-socket servers here. You'll also be slightly limited in terms of memory capacity compared to a standard EPYC CPU.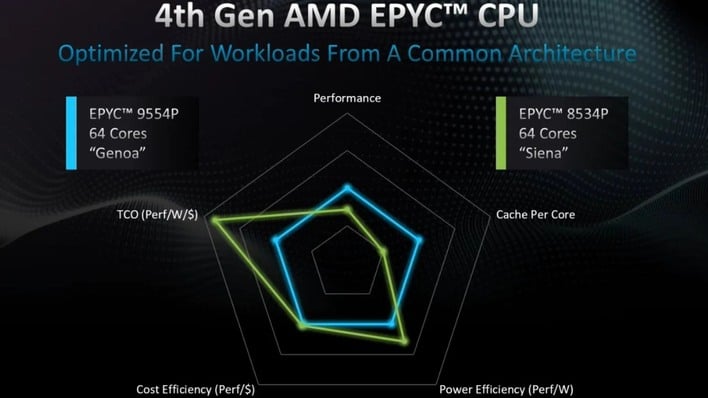 So, what do you get with all of those changes? Well, according to AMD, considerably-improved total cost of ownership compared to Genoa. The company says that Siena will, on average, not perform quite as well as Genoa, but it offers quite a bit better power efficiency at the same price, meaning that you end up spending the same in the short term and less in the long term—as long as Siena fits your workload.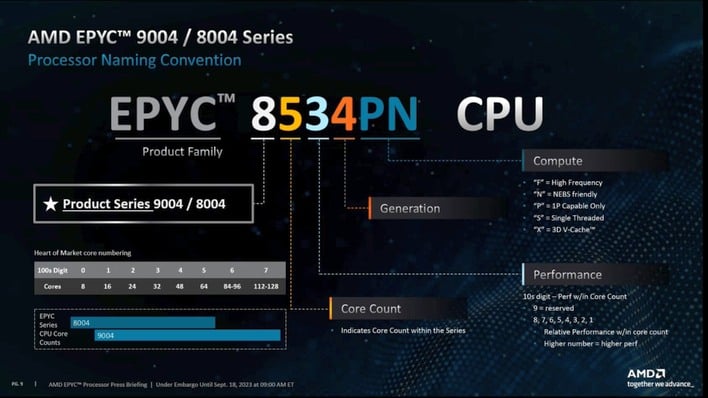 If you'd like to know exactly what any given EPYC processor's capabilities are, well, it's all encoded into the model number. Just like with AMD's mobile Ryzen processors, the company has offered up a decoder ring (in the form of the slide above) to help prospective customers know what they're looking at. It's actually pretty similar to that series' naming, and we wouldn't be surprised if a similar system comes to AMD's desktop CPUs.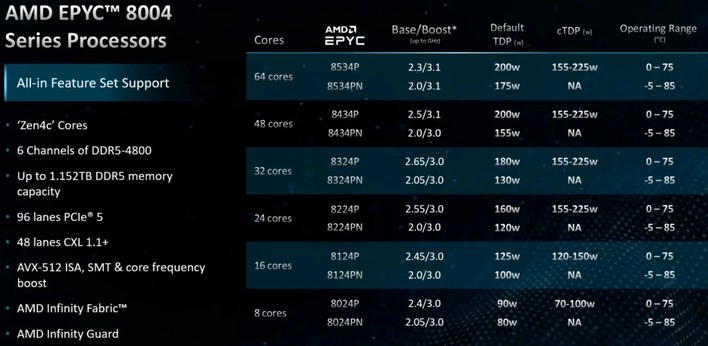 Here's the full list of EPYC 8004 Series 'Siena' CPUs, ranging from the 64-core EPYC 8534P all the way down to the eight-core 8024P. Interestingly, the "N" models are tuned for considerably lower power consumption to help them be NEBS-friendly. If you're not familiar, NEBS is Network Equipment Building System, and it's a set of design guidelines applied to telecommunications equipment.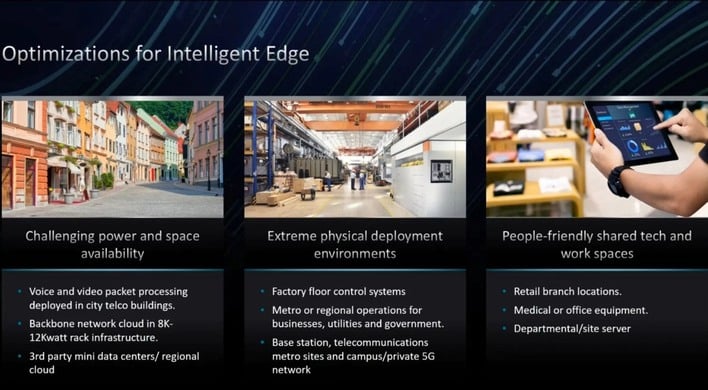 Indeed, that's the real goal of EPYC Siena: making EPYC better suited for the "
Intelligent Edge
". This refers to telecommunications, "regional cloud", mini-datacenters, factory floor control systems, campus networks, and installations in retail stores, medical offices and so on. AMD says that Siena is meant for places with physical constraints, whether they be power, space, or cooling limits.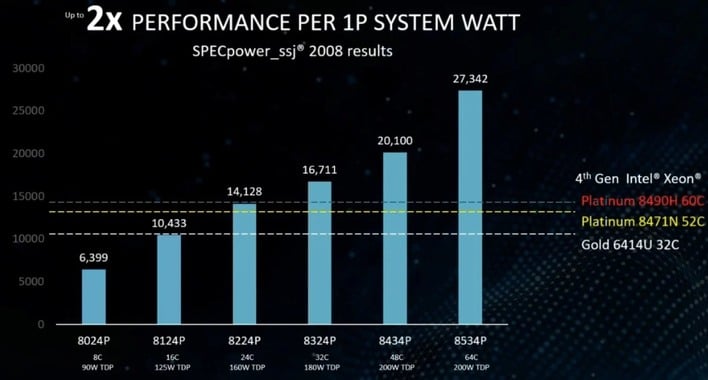 Unsurprisingly, AMD offers up some benchmarks to prove out its power efficiency claims. This chart compares the EPYC Siena series against a few current-generation Intel Xeon products. This is
Sapphire Rapids
, if you aren't sure. The EPYC parts readily outperform the Xeons core-for-core in AMD's testing, but the actual point of this chart is that the Xeon chips in question have higher TDPs of 250W, 300W, and 350W for the 6414U, 8471N, and 8490H, respectively.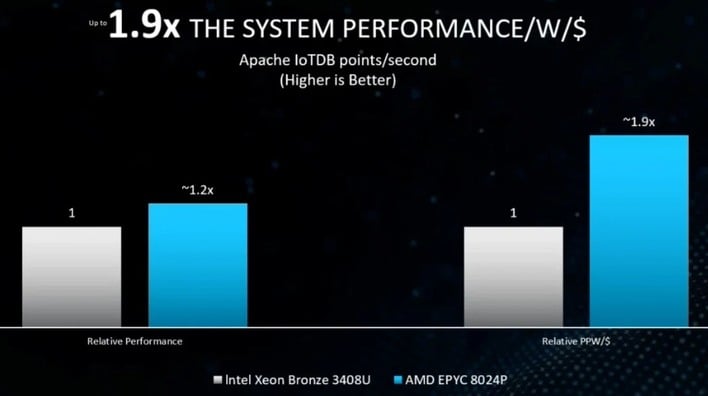 AMD also claims that its eight-core EPYC 8024P can deliver about 20% better performance than Intel's eight-core Xeon Bronze 3408U. Given the 125W TDP of the Intel chip and the 70-100W configurable TDP of AMD's CPU, it's no real surprise that AMD claims a 90% performance-per-watt advantage in this Apache IoTDB benchmark, which measures performance in time-series databases based on Java for big data environments.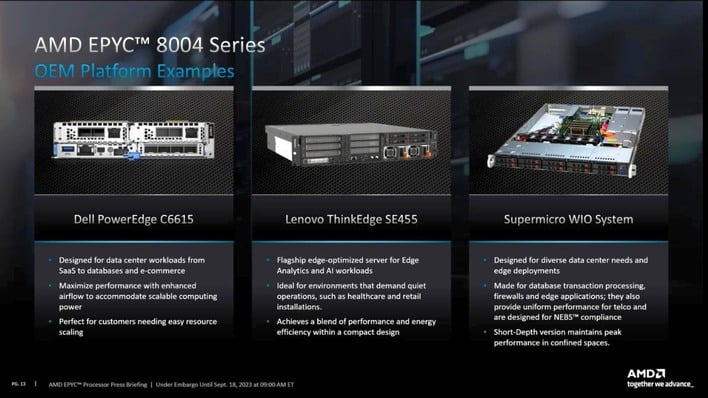 Overall, the messaging is pretty clear: EPYC 8004 Series CPUs are highly-efficient CPUs that can slot in where a full-fat EPYC system may not fit, and where a Ryzen processor isn't a good match for the needs of the application. Clearly OEMs agree, because Dell, Lenovo, and Supermicro already have systems in development based around these CPUs. AMD noted that each of these systems implements Siena in a different way for diverse workloads.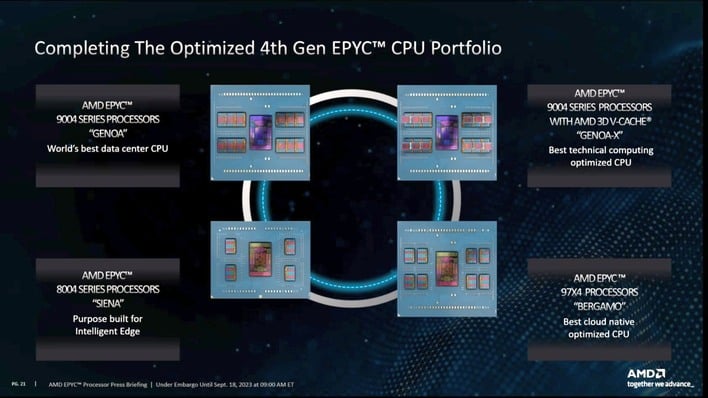 With Siena, AMD says it has "put a bow on its EPYC portfolio." In other words, these are likely to be the last EPYC CPUs to be released from the fourth-generation family. The company's already looking ahead to Zen 5, though, and rumors have been flying about EPYC "Turin" for
a couple of years already
. AMD's next CPU architecture is supposed to be a major departure from Zen 4, and Turin could be a huge step forward for AMD. Only time will tell, of course.