Intel's 56-Core Xeon W9-3495X Sapphire Rapids CPU Flexes Server Muscle In Early Benchmarks
HPC and hyperscale guys are excited for
Intel's Xeon Max processors
with onboard HBM, but Sapphire Rapids comprises an
entire line of processors
spanning the whole range of Xeons. One of those chips has just shown up in the Geekbench database, spotted by the watchful eye of the Benchleaks bot.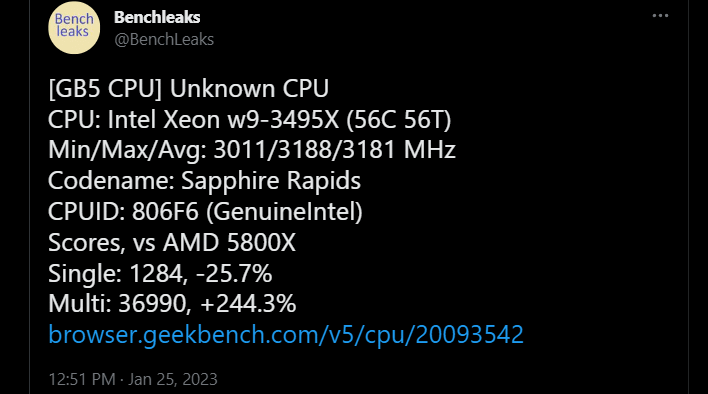 The processor in question appears to be an Intel Xeon w9-3495X, installed into a Supermicro Super Server with an
X13SWA-TF motherboard
. At least, that's what Geekbench reports. The application also reports that the 56-core processor has a 1.9 GHz base frequency and a 4.6 GHz turbo clock, although there's curiously no mention of the hyper-threading we'd expect to see in a processor like this. That could be down to a reporting issue with early silicon.
There's another oddity in the result, too: the performance. Sapphire Rapids' CPU cores are a close relative of the Cove architecture found in Intel desktop processors since Rocket Lake, and we typically expect those chips to score around 2000 on a single thread in Geekbench.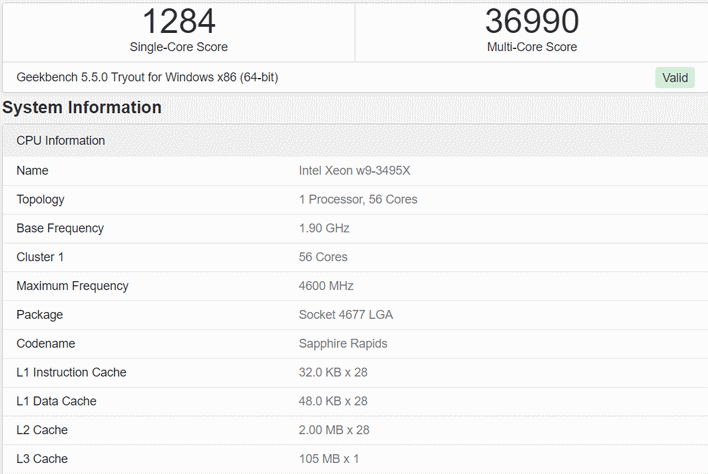 This processor, on the other hand, hits just 1284 in the Geekbench 5 single-threaded test, which is fairly poor for a modern processor. Compare the result from the Core i9-13900K in the Maingear MG-1
we just reviewed
as an example. That leads us to believe that either the CPU or its mainboard aren't final, leading to reduced performance in some way; possibly a clamped boost clock.
Despite the poor single-threaded result, the pre-release processor still manages to crank out a multi-core score of 36990 thanks to its 56 cores. This figure is much more competitive for its core count and seems to confirm that hyper-threading is, in fact, enabled. Other specifications from the processor, like its 2MB of L2 cache per core and 105MB of L3 cache, match
earlier leaked information
.
These processors are scheduled to launch on February 15th, so we'll surely see official benchmarks of final silicon very shortly.