Intel Core i5 14600K Benchmarks Leak And It Overclocks To 5.7GHz
Intel's next desktop CPU release is going to be the
14th-gen Raptor Lake Refresh
, and likely the last generation of processors in the current line of "Core i" family CPUs. As you could guess from the name, these will be essentially (if not literally) the exact same silicon as we're already using in the 13th-gen CPUs, but Intel will be sprinkling some extra cores and clocks down the product stack.
There have already been
numerous leaks of this series
and we know a fair bit about it at this point, but we can still get excited about new leaks. In the last couple of days there have been several Geekbench leaks for the Core i5-14600K and Core i5-14600KF. These are 14-core CPUs with six P-cores and eight E-cores, giving them a total of 20 logical cores and 24 MB of L3 cache.

If you've followed along, that makes them fundamentally identical to the Core i5-13600K except for one spec, and that's the clock rates. The P-Core boost clock has been raised by 200 MHz to 5.3 GHz, and the E-core clock gets a 100-MHz boost, too.
Much more exciting is the possibility of process tweaks offering improved efficiency and reduced power consumption for the new series. If that's the case, that means improved overclockability. Raptor Lake in its 13th-Gen form is already pushed to the limit, and there's not much more to get out of the silicon without using extreme cooling, but it's possible that 14th-Gen could be better-behaved.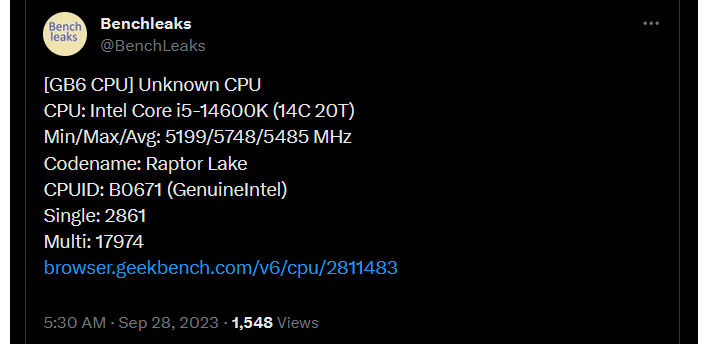 That's not just idle speculation. One of the leaks that we've seen in the last couple of days is a Geekbench 6 result for a Core i5-14600K on a Gigabyte Z790 Aorus Master X motherboard that clocked all the way to 5748 MHz during part of its benchmark run. The average clock rate was reported as 5485 MHz, which is obviously above the rated 5.3 GHz boost. Those numbers aren't entirely out of reach for a Core i5-13600K, but you'd need some serious cooling and a quality chip to get there.
That user was also running
48GB of DDR5 memory at 7600 MT/s, which sounds like a pair of 24GB modules, to us. Even with just two modules, and even on Intel, 7600 MT/s is pretty darn fast for socketed RAM.

We haven't used Geekbench 6 in our testing yet, but paging around the database, it looks like the overclocked Core i5-14600K is scoring in the same ballpark as a Ryzen 7 7700X on the single-threaded tests, and just ahead of a twelve-core Ryzen 9 7900X in the multi-threaded tests. Geekbench 6 is very sensitive to memory throughput, so these results will vary a lot depending on the RAM used.
The 14th-gen "K" CPUs are
expected to launch next month
, possibly as soon as October 17th, if the leakers are correct. While folks on 13th-gen systems probably don't have much to get excited about, if you're running a 12th-gen machine and your motherboard
gets the requisite BIOS update
, a 14th-gen CPU could be a pretty solid upgrade for your system. We'll have a full review to confirm, of course.