AMD Ryzen 5000 Mobile Explored: The Future Of Zen 3 Laptops
AMD Ryzen 5000 Mobile Series Performance Expectations And Key Take-Aways
AMD also provided a slew of expected performance data for various processor models in the Ryzen 5000 series. Although we expect to be able to evaluate a notebook based on one of the processors soon, we must caution that
all
of this data is provided by AMD and hasn't been independently verified by
HotHardware
just yet...
Entry Level: Ryzen 3 5400U Mobile Performance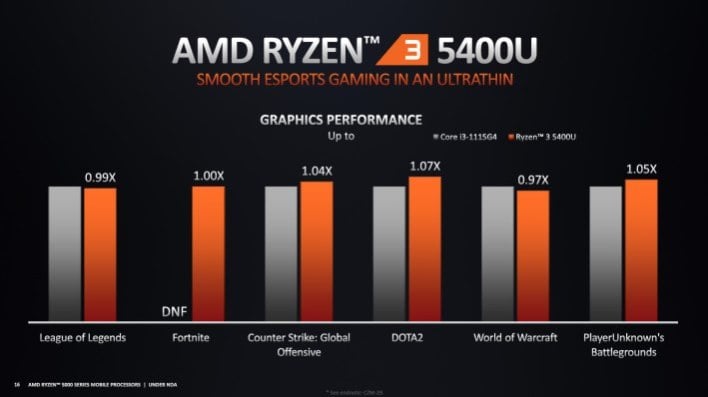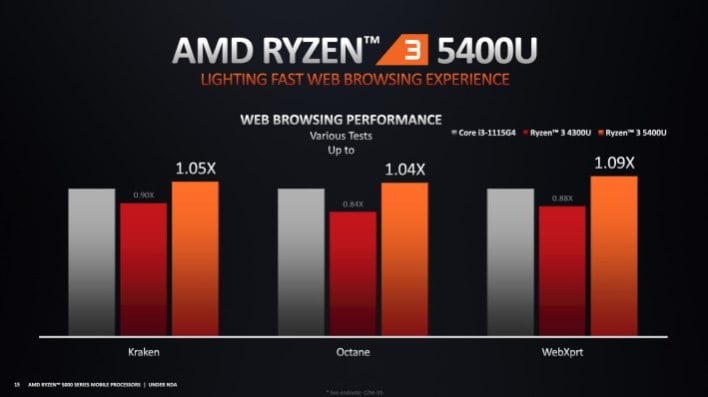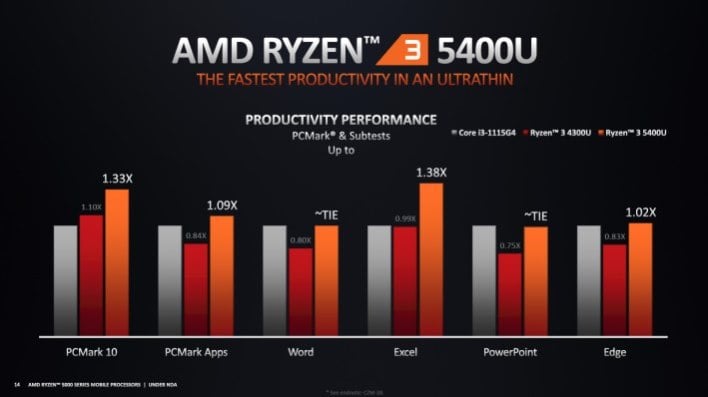 In these comparisons, AMD pits the entry-level Ryzen 3 5400U to the previous-gen Ryzen 3 4300U and Intel's
Tiger Lake
11th Gen Core i3-1115G4. Gaming performance between the Intel and AMD processors is roughly on-par, as they trade victories, with each taking a couple of wins. In all of the productivity or web-based tests, however, the Ryzen 3 5400U either ties or pulls ahead by a large margin.
Mainstream: Ryzen 5 5600U Mobile Performance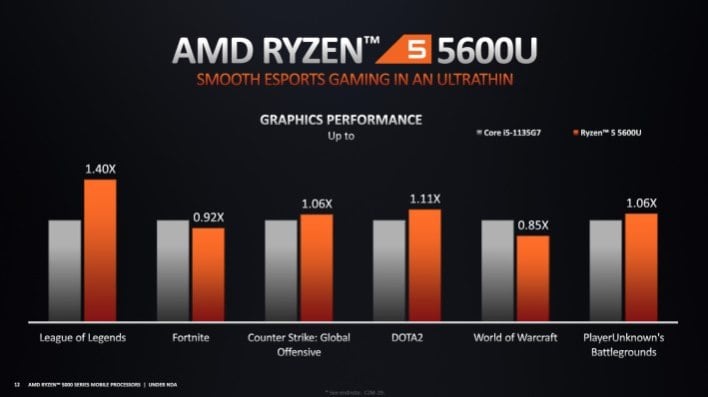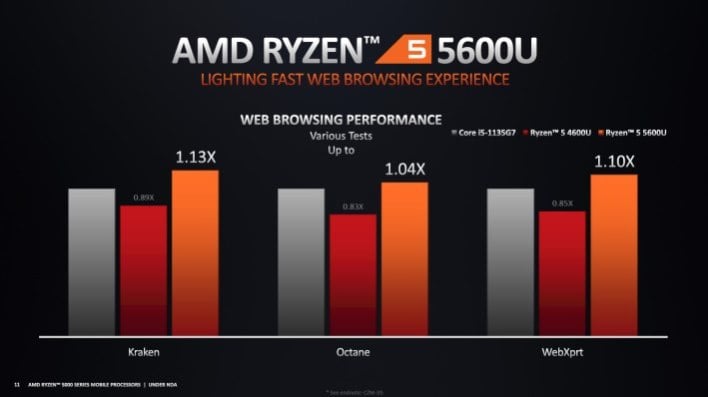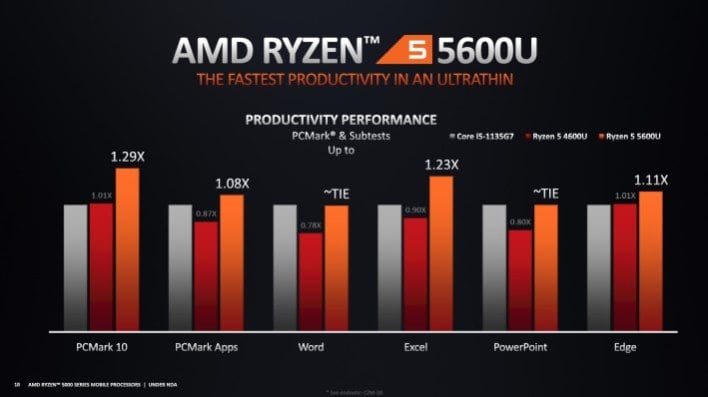 Comparisons were made between the mainstream Ryzen 5 5600U, its 4000-series counterpart, and the intel Core i5-1135G7. As we saw in the Ryzen 3 comparisons, the Ryzen 5 5600U and Intel Core processor trade victories in the gaming tests, though when the 5600U wins, it can be by a relatively large margin, as is the case in League of Legend or Dota 2. In the productivity and web-based tests, there are a couple of ties, but when the additional cores / threads on the Ryzen 5 can be utilized, it can pull ahead by upward of 15% - 30%.
High-End: Ryzen 7 5800U Laptop Performance Claims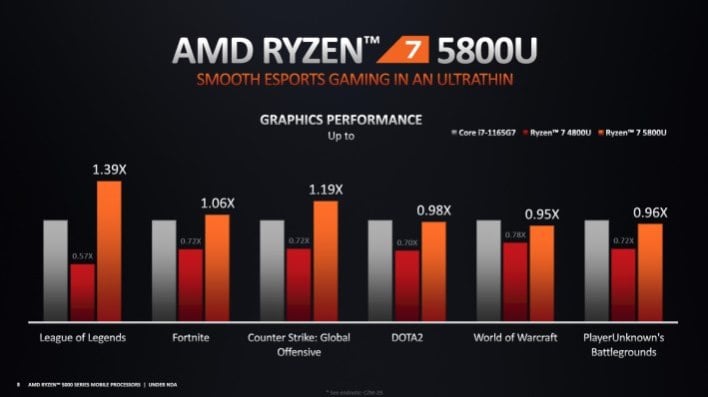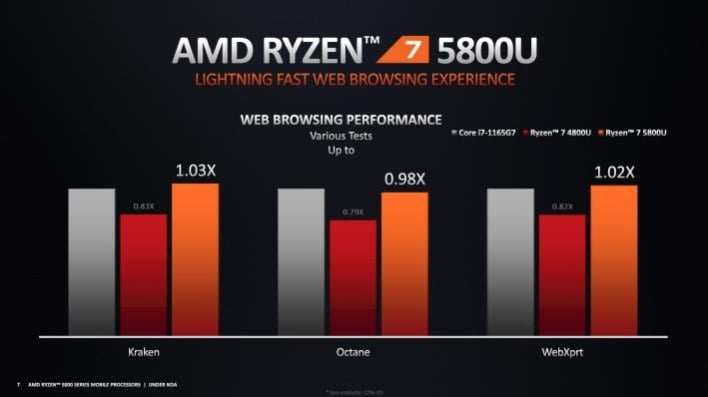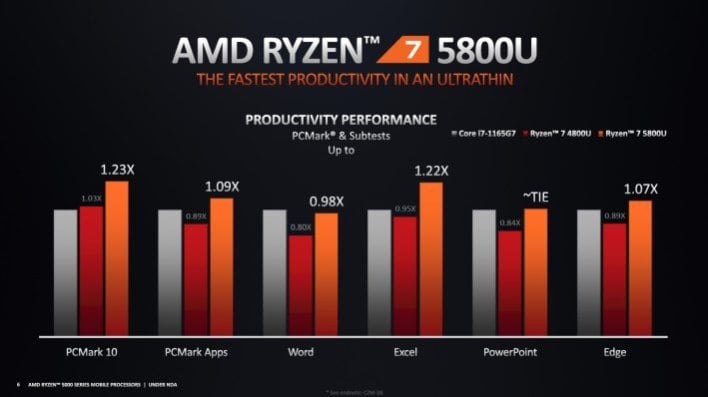 Similar comparisons were made between the higher-performance
Ryzen
7 5800U, Ryzen 7 4800U, and Intel's Tiger Lake Core i7-1165G7, with similar results. The Ryzen 7 5800U clearly outpaces its previous-gen counterpart and competes favorably with the Intel 11th Gen Core processor.
Enthusiast-Class: Ryzen 9 5900HX Laptop Performance Claims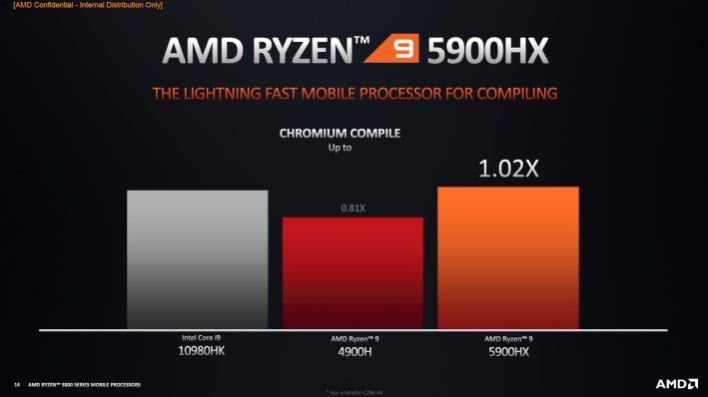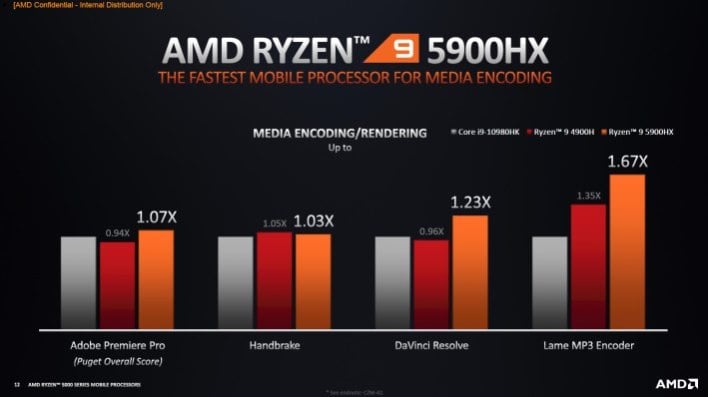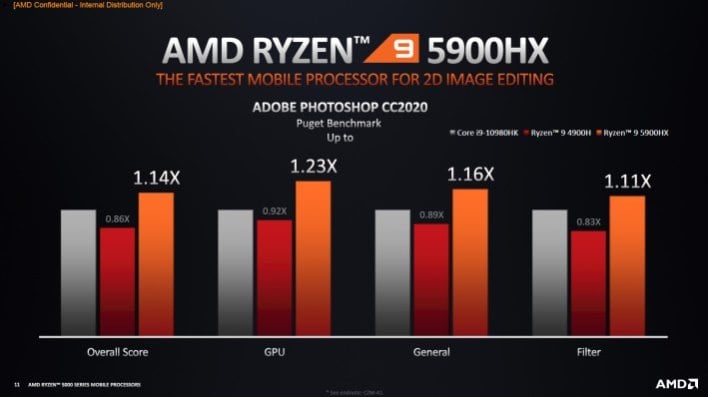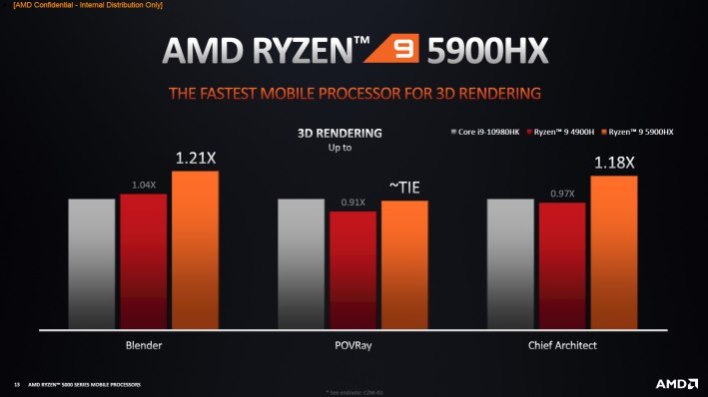 With the enthusiast-class, higher-powered Ryzen 9 5900HX, the performance comparisons were somewhat different. Here, AMD has provided a number of rendering, compiling, image editing, and media encoding benchmarks. AMD's Ryzen 9 5900HX ties with Intel in only one (POVRay) test and sweeps the rest, sometimes by margins of >20% - 60%.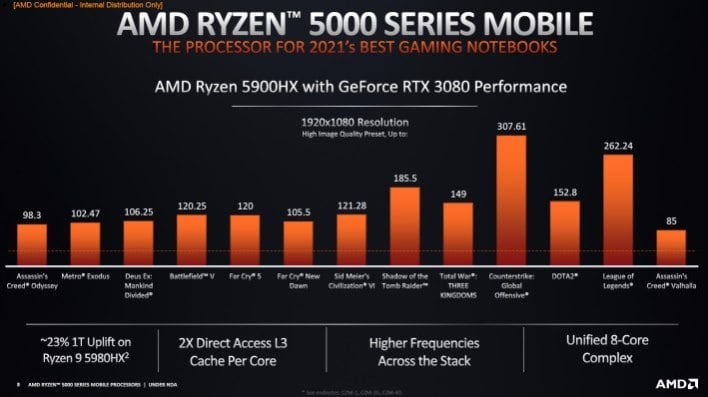 When paired with a high-end, discrete GPU like the
NVIDIA GeForce RTX 3080
, AMD showed an array of games with high image quality settings, all reaching nicely playable framerates at 1080p.
HotHardware's Ryzen 5000 Mobile Wrap-Up And What To Expect
Ultimately it appears AMD has a killer mobile platform on their hands with the Ryzen 5000 series. The platform lacks PCIe Gen 4 support, so ultra-high speed
NVMe
storage isn't going to be an option like it is for upcoming Intel 11th Gen platforms, but that's not a major issue in our opinion. Sequential transfers may show huge deltas between Gen 3 and Gen 4 SSDs, but random 4K transfers -- which are more important in terms of system responsiveness -- aren't all that different. And we're not likely to see Thunderbolt support on many AMD-based notebooks either.
Those features aside, overall system performance looks like it is going to be very strong, with both single and multi-threaded workloads. Power optimizations also appear to have advanced the platform's efficiency and, in turn, battery life for Ryzen 5000 Mobile Series-powered machines. Should everything
AMD
has told us ring true with retail product, we're expecting a new wave of powerful laptops and notebooks, that not only put additional heat on Intel in the mobile space, but exceed the previous generation in virtually every way -- and that's a big win for consumers.
Related content