Alienware x14 Laptop Review: Potent, Petite Gaming Prowess
Alienware x14: Battery Life, Thermals, Acoustics And Our Review Summary
The Alienware x14 comes equipped with an 80.5 Whr 6-cell battery, which is surprisingly large for a 14-inch laptop, and speaks to the trade-offs Alienware had to make, moving the machine's IO ports completely to the rear, likely to accommodate the x14's cooling solution and that relatively large battery. What
Dell
did offer, however, is a very compact 130 Watt power brick at least, to keep the load light in a backpack.
Alienware x14 Battery Life While Video Streaming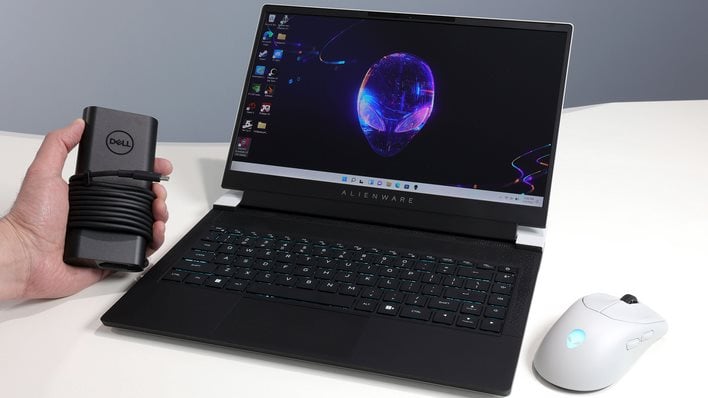 We run a custom 1080p HD video loop test developed in-house, to prove out battery life with our test group of machines. In all tests,
Windows 11
Quiet Hours has been enabled and the displays are calibrated with lux meters on pure white screens to as close to 115 lux as possible. For the average laptop this is somewhere between a 40-60 percent brightness setting.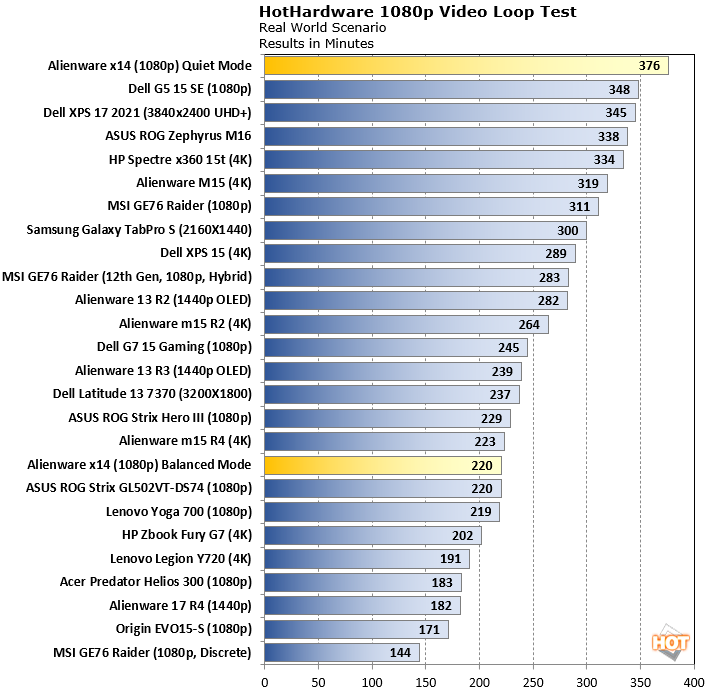 We almost ended our battery life testing with the Alienware x14 set to its Balanced thermal profile, because again, we benchmarked it on Performance mode and Balanced mode is going to be a common setting where most folks might live a lot of the time. However, that would have sold the Alienware x14's excellent Quite mode short. On balanced mode, we managed just a hair over 3.5 hours of untethered uptime, which is strictly middling battery life. However, with Quiet mode set in the Alienware Command Center app, the x14 not only dials its fans way back, it also gates the silicon engines on board to consume less power. Quiet mode showed the Alienware x14 leaping to the top of the pack and still offering a totally smooth and responsive viewing experience. Once again, color us impressed. A gaming notebook that can deliver almost 6.5 hours of battery life and weighs in at just 4 pounds, is definitely a daily driver candidate with some gaming muscle on the side for when you want to kick back.
Backing off a few screws from the bottom lid of the x14 gives easy access to its internals. As you might expect things are pretty tight in here, and as such system RAM is solder to the motherboard with no socketed SO-DIMMs in sight. However, you do get access to a single M.2 slot for the
SSD
and also the machine's combo
WiFi-6E
and Bluetooth module. The battery is also user serviceable should you need to down the road, with just a coupe of ribbon cables to carefully detach, etc.
Alienware x14 Thermals And Acoustic Performance
While we had the new Alienware x14 fired-up for vigorous gaming fun, we read its vital signs for noise output and thermals. The keyboard area of the machine only reached about 100ºF in the numbers and function row area, while the palm rest and letter key area only peaked at around 85ºF. The warmest part of the machine was just under the display, which only reached about 122ºF. The bottom of the machine got a bit warm as well, but not uncomfortably so, at least during the winter here in New England. So, in short, thermals are well in check and reasonable.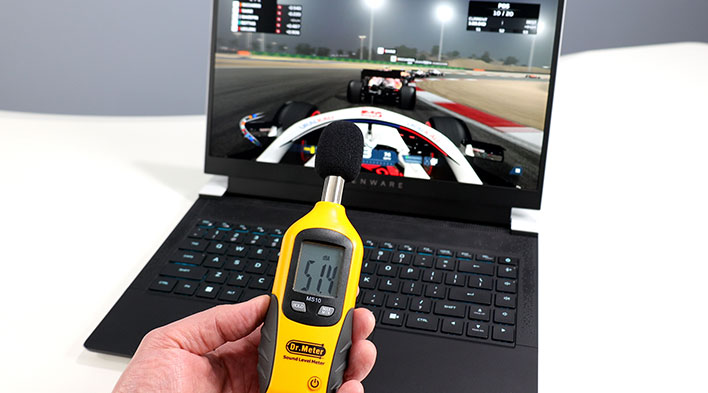 In terms of acoustics, you're looking at the Alienware x14 running F1 2021 with ray tracing, and on its Performance mode setting. Here we saw peaks at around 52db with an average of about 50 - 51 after letting the machine soak on multiple benchmark runs. 50 - 52db isn't too irritating, though it's clearly audible and as expected for a gaming laptop. The fan pitch of the machine has a slight whine to it as well, though again nothing that's all that annoying, and it can be tamed down some in Balanced mode. Quiet mode slows the machines fans way down or off, for nearly silent operation as well, when not gaming. Again, generally speaking, the
Alienware x14
is a well-behaved machine for the firepower it offers.
Alienware x14 Review Conclusion And Top Take-Aways
When you get ahold of the Alienware x14, the first thing you realize is just how thin, sleek and polished it is. This machine is built with absolute precision and efficiency, with tight tolerances and impeccable fit and finish. It's also just simply a very pretty looking machine. Sure, Dell-Alienware could have offered it in matte black, but Lunar Light is just gorgeous in our opinion, though we're curious how that finish will hold up over time. Its tough and resists fingerprints and scratches pretty well, but staining over time could potentially be an issue. That said, in our experience it also cleans up pretty easily with a little warm water and a micro fiber cloth.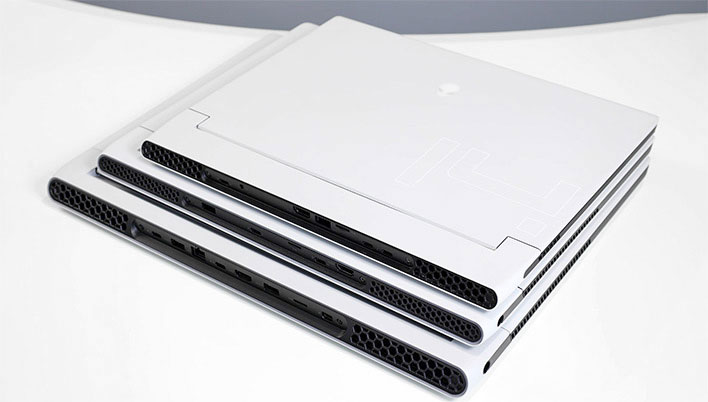 Find The Alienware x14 At Dell.com, Starting @ $1649.99
But beyond its good looks and extremely efficient size and weight, the x14's beauty isn't just skin-deep. As our headline says, Alienware pulled together a potent, petite powerhouse of a machine. The Alienware x14 looks great, feels great to use and puts up excellent performance in its size and weight class, with respectable battery life as well, if you dial its software in for the workloads you're putting it through at the time. Frankly, we expected the
Core i7-12700H
Alder Lake CPU in this machine to weigh heavier on its battery life and thermals than it did, actually.
The only real caveats here for the Alienware x14 are its lack of display options and the design decisions to move all of its IO ports to the rear of the machine. Even a single USB-C port on one side edge would have been a welcomed alternative layout. You can argue that even the headset jack in the rear isn't a big deal, since most folks are running wireless headsets and buds these days. However, the ability to charge or plug-in external peripherals on at least one side port would be a big relief for some users that would rather not have to always resort to flipping the lid down or turning the machine around to get at a port. The other downside for some might be Dell's current lack of display options beyond this machine's excellent 1080p FHD 144Hz display. Some users, myself included, would love a 1440p option in a 14-inch machine.
Further in that regard, Dell and Alienware, you really got me here. 14-inch laptops are simply my favorite. 13-inch machines are just a bit too petite for my geek mitts, but 14 is just perfect for typing comfort and the travel bag too. In fact, the Alienware x14 screams daily driver, with a side of gaming goodness or beefier content creation muscle when you need it, like we here at
HotHardware
do so often on the road. And the oohs and ahhs will flow when you pull this beauty out of your bag in a coffee shop, conference room or classroom. It's just a really cool looking machine that says you like both style and substance. And its entry level or even as-configured and tested pricing is relatively competitive as well. All told, with just a few small caveats really, we have to say well-done, Alienware. The new x14 is highly recommended Hot Hardware.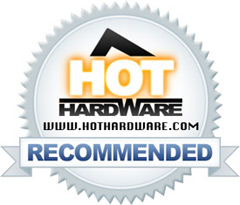 Best looking 14-inch laptop on the market right now in our opinion
Wafer-thin 14.5mm Z-height
Excellent performance in its class
Bright, fast G-Sync display
Tiny, slim power brick
A daily driver candidate that can game

All IO ports are on the rear of the machine
Only one display option currently
Uninspiring sound system
Soldered RAM
Related content
Comments