Frore's AirJet Is Seriously Cool Tech That Aims To Get Rid Of Laptop Fans
Frore Systems' mission is to cause "a revolution in active device cooling." The firm has a presence at the CES 2023 and its new AirJet cooling seems to have impressed seasoned tech analyst
Patrick Moorhead
with its solid state cooling technology, promising a "2x improvement in device performance while operating in silence." The compact and sleek cooling tech is also claimed to facilitate 1.5x performance improvements in devices which substitute twin fan cooling systems for new AirJet devices.
Most readers will probably agree that one of the drawbacks of a
powerful Windows laptop
is the necessity for active cooling fans, which can get pretty loud under load, and are also susceptible to dust build-up and reduced performance.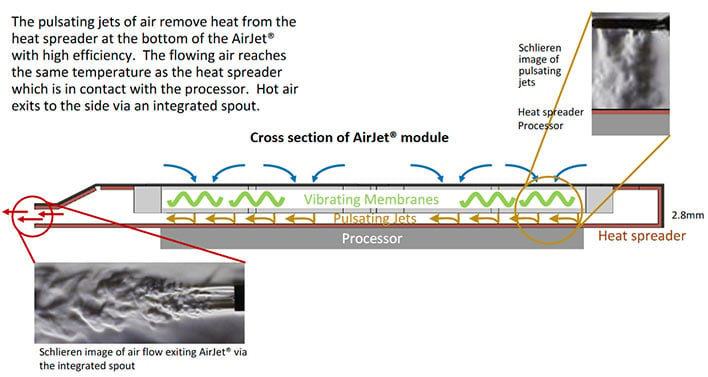 So, how does Frore's solid state AirJet cooling technology work? The firm, which is an Intel and Qualcomm partner, describes its AirJet coolers as "active cooling chips." Inside the slim black rectangular slab of an AirJet, there are an array of tiny membranes that vibrate at ultrasonic frequencies, generating "high velocity pulsating jets" of air.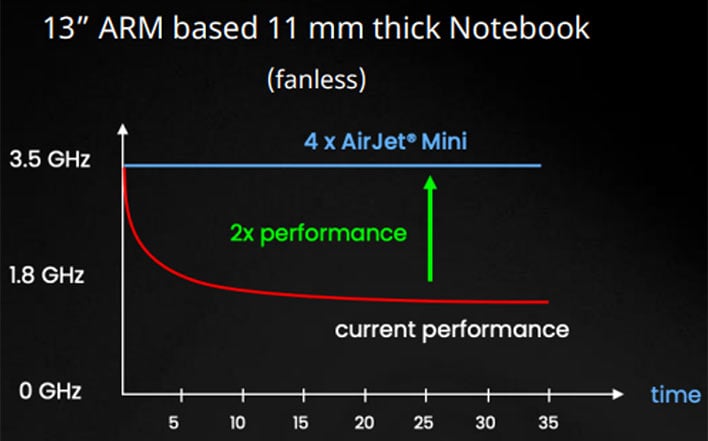 According to the company, this solid state cooling process offers better performance than
traditional fans
, and it's quieter, and more efficient too. To quote some stats, Frore says that the AirJet Mini can generate 1750 Pascals of back pressure, while consuming just 1W of power, and running at a 'silent' 21dBA. Giving these performance figures some context, Frore's figures suggest that an 11mm thick fanless notebook has a thermal limit of just 10W, but this can be boosted to 20W with a quartet of AirJet Mini's implanted - so the portable can offer double the sustained performance. Moreover, compared to a twin-fan
thin and light notebook
, it is still worth doing an AirJet upgrade for a potential 50% power and performance hike with a quieter noise profile.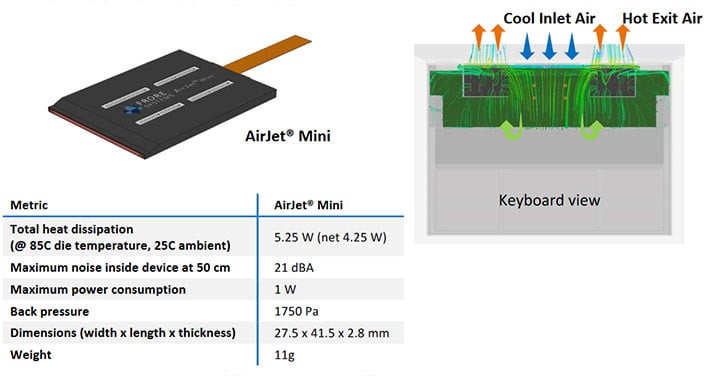 In the images, you can see that an AirJet Mini looks like a small lithium battery pack, and the AirJet Pro is similar to two of the Mini units working in concert. For reference, an AirJet Mini measures 27.5 x 41.5mm and weighs just 11 grams.

The goal of these these AirJet units, and replacing fans in reference designs from partners like Intel and Qualcomm, will hopefully mean thinner, lighter, quieter and more
powerful laptops
.
Frore Systems raised $100M last month, with a significant slice of the investment coming from Qualcomm Ventures. However, we might see the AirJet arrive in Intel systems first, with previous information pointing to Evo series laptops featuring AirJet technology as soon as the current quarter.