Xbox Gamescom 2021 Goes All Virtual, Here's When And Where To Watch The Big Event
Microsoft is planning to livestream its Gamescom 2021 event rather than have it be an in-person affair in Cologne, Germany this year. During the "100 percent virtual experience," Microsoft will provide new looks at several upcoming games. Microsoft is also planning to host a digital special edition Xbox FanFest during the event.
"You'll get in-depth updates from some of our previously announced Xbox Game Studios titles alongside some of our third-party partners, including some of the incredible titles coming to Xbox this holiday, upcoming releases to our monthly subscription service, Xbox Game Pass, and much more," Microsoft said.
When And Where To Watch The Xbox At Gamescom 2021 Livestream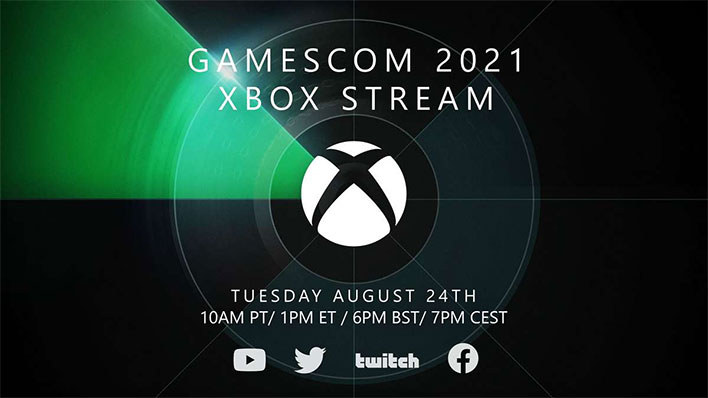 Gamescom 2021 is scheduled to begin in a little over two weeks from now, on Tuesday, August 24. It kicks off at 10:00am PT (1:00pm ET) and will be livestreamed at multiple spots on the web. It will be beamed in 30 languages, along with English Audio Descriptions and American Sign Language.
Here's where you can tune into the event...
Viewers will also be able to catch the livestream at select regional sites like VK.com in Russia and Bilibili in China.

You may recall that Microsoft and Ubisoft caught some heat last year when the
Xbox Series X gameplay reveal pulled up lame
. Microsoft admitted after to setting "some wrong expectations," which contributed to people being disappointed with the deluge of cinematic trailers in place of more actual gameplay footage than what was shown.
It remains to be seen what Gamescom 2021 will bring to the table, but to avoid disappointed and properly align expectations for the event, Microsoft's Aaron Greenberg said the event will feature game updates for titles scheduled to release this year.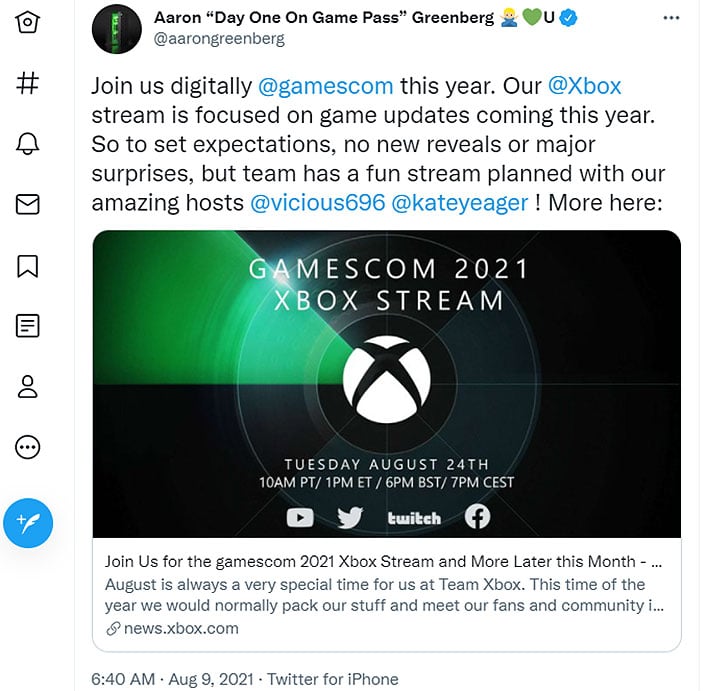 "So to set expectations, no new reveals or major surprises, but team has a fun stream planned with our amazing hosts @vicious696 @kateyeager!," Greenberg stated on Twitter.
We'll have to wait and see what that actually entails, though it could include updates on
Halo Infinite
(the first multiplayer beta kicked off at the end of July), Forza Horizon 5, and various other titles in development. Probably nothing from Bethesda, though. We also wouldn't be surprised if Microsoft made some Xbox Game Pass announcements during the event.
In addition to whatever announcements are in store, Microsoft will hold an Xbox Gamescom sale exclusively "for our fans in Europe." Microsoft is promising discounts of up to 75 percent on a various games for Xbox consoles and Windows PCs. More details will be released closer to the event, though if you want to get a head start, you can
bookmark the deals site
ahead of time.