Why An Unsigned 2007 Apple iPhone Sold For A Record-Shattering $190K At Auction
An original, factory-sealed Apple iPhone model released in 2007 just sold for a staggering $190,372.80 at auction, a sum that more than triples the previous record sale price of $63,356.40 for such an item. The winning bid also blew way past the
estimated range
of $50,000 to $100,000. Why would anyone pay so much for a smartphone that's 'only' 16 years old?
Tech gadgets from yesteryear have proven to be hot collector items that can fetch enormous sums at auction, especially if they're autographed. For example, an ultra-rare
Apple-1 with Steve Wozniak's signature
on the CPU sold for over $340,000 last year. And a
1976 computer check
signed by both Steve Jobs and Woz fetched right around $160,000 at auction.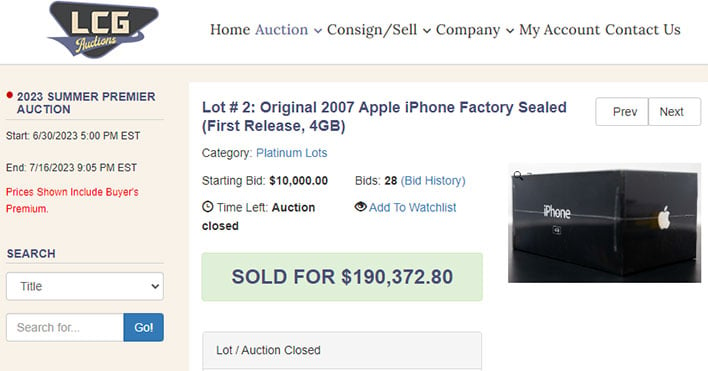 That's not the case with this 2007 iPhone, though—there's no autograph on the packaging and it wasn't owned by either Apple co-founder, or anyone with a level of notoriety (that we're aware of). What skyrocketed this one to a massive payday for the seller is the fact that it's the 4GB model, which didn't sell as well as the 8GB variant. Finding one in excellent condition is rare, and up until now none have surfaced that have still been in the original, factory-sealed packaging.
"The original 4GB model is considered a 'Holy Grail' amongst iPhone collectors. Its extreme scarcity is directly related to its limited production. Debuting on June 29th, 2007, alongside the 8GB model, the 4GB model was hampered by slow sales. Buyers chose to pay the $100 upcharge in exchange for double the storage space. The lagging sales resulted in Apple making the decision to discontinue the 4GB model on September 5th, 2007, just over two months after it was first released," LCG Auctions explained on the listing page.
Somehow or another, the record-setting iPhone's retail packaging also managed to stay in "virtually flawless" condition on the surface and edges. Even though 16 years is not really all that old, the $190K iPhone looks like it could have been packaged up much more recently, with "pristine" labels and "outstanding color and gloss" all around.
Technically, the winning bid out of 28 bids was $158,644. However, the final tally includes the buyer's premium, which is a fee on top of the hammer price that a buyer must also cough up. So the winning bidder in this case is effectively paying
$190,372.80 for a smartphone
that originally retailed for $499.
Images courtesy of LCG Auctions