The Last Of Us Part 1 PC Requirements: The Specs You'll Need For Smooth 4K Gaming
Sony has spent the last few years porting some of its
carefully guarded exclusive games
to PC. We've seen Spider-Man, Horizon: Zero Dawn, Uncharted, and more. Up next is The Last of Us, Part 1, which will probably be Sony's biggest release yet given the popularity of the HBO series. Sony and developer Naughty Dog have finally
released system requirements
for the game, and you'll need serious hardware if 4K is your goal.
No matter what quality level or resolution you choose, you'll need 100GB of SSD storage to install the game. For a low-quality 720p experience, you can get by with a Ryzen 5 1500X or Intel Core i7 4770K for the CPU. GPU requirements are similarly modest, calling for an NVIDIA GTX 970 or GTX 1050 Ti.
But who wants to play a cinematic game like The Last of Us at 720p? The recommended specs for 1080p and 60 fps start with a CPU bump to Ryzen 5 3600X or Intel Core i7 8700. For the GPU, you're looking at a Radeon RX 5800 XT or 6600 XT on the AMD side. NVIDIA owners will need an RTX 2070 Super or RTX 3060 or better.
If 1440p is your preferred resolution, you'll need a Ryzen 5 5600X or Core i7 9700K. The GPU requirement for the "Performance" tier is a Radeon 6750 XT or a GeForce RTX 2080 Ti. This level also requires 32GB of RAM, up from 16 GB on the minimum and recommended tiers.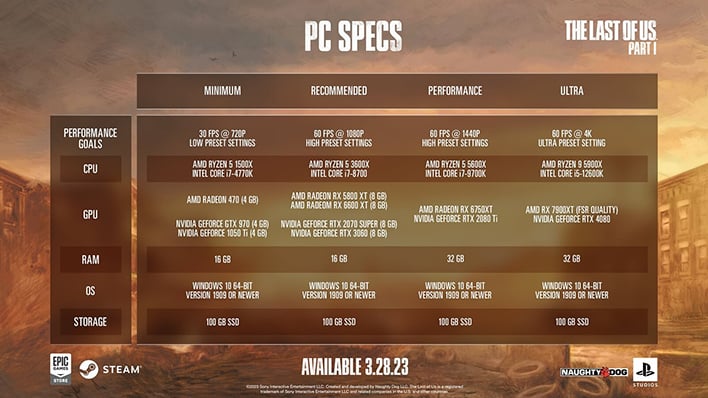 To run The Last of Us, Part 1 at 4K, you need a raft of new, expensive hardware, starting with a Ryzen 9 5900X or Core i5 12600K. The GPU requirement is what stings the most, calling for either a
RX 7900 XT
or
GeForce RTX 4080
. Those GPUs cost $900 and $1,200, respectively, and the PlayStation 5, by comparison, retails for $500. However, the PS5 can only run the game at 30 fps in 4K resolution. If you spend more on PC components, you could technically have a better experience.
The Last of Us, Part 1 launches on PC March 28th with numerous PC quality of life improvements, like AMD FSR 2.2 support, NVIDIA DLSS Super Resolution support, VSync, and more. It will be available on Steam and the Epic Store.