Qualcomm Predicts Global 5G Smartphone Sales To Top 450 Million By 2021
Qualcomm
is one of the largest producers of chipsets for smartphones and other devices in the world, and it has announced that it expects the global smartphone market to ship 450 million 5G handsets in 2021. The company is also predicting that the worldwide market will ship another 750 million 5G handsets in 2022.
Qualcomm is predicting that 5G adoption will be faster than that of 4G due to the timing of commercialization of technology for 5G connectivity in China and the availability of 5G chipsets at multiple price points. When 4G rolled out, many of the devices that featured the tech were only in the high-end segment early on. Qualcomm has predicted that between 175 million and 225 million 5G devices will ship in 2020. With that prediction in mind, the new estimates for 2021 are forecasting 125% growth in the segment.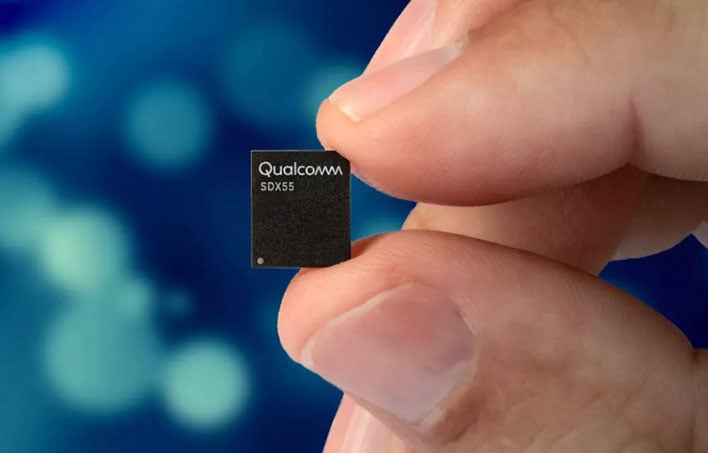 The fast growth of 5G technology is good news for smartphone makers. Many consumers who have been holding onto their older 4G handsets are expected to upgrade devices to jump on the 5G bandwagon, and upgrades will push smartphone sales up for many brands in a market where growth has been stagnant.
Reuters notes that analysts put particular importance on numbers from Qualcomm when it offers such data because it has a close relationship with many smartphone makers as the leader in smartphone chipsets. Verizon has stated that it expects revenue from 5G to increase significantly next year and plans to have its 5G network in more than 30 cities by the end of 2019. The faster 5G networks will make watching videos and playing games on mobile networks at least as good as on WiFi, and possibly better. In other Qualcomm news, the chipset maker announced earlier this month that its Snapdragon 865 SoC would launch in December.