Supremely Rare 1985 NES Store Demo Console With 16 Retro Games Hits Ebay For Charity
The Nintendo Entertainment System (NES) wasn't the first home game console, but it was probably the first one that mattered. With a huge graphical upgrade over the machines of the time, the
iconic controllers
, and an incredible launch lineup, the NES earned a special place in many a nerd's heart. Now you can demonstrate your love of the NES and help charity at the same time by bidding on an ultra-rare demo model of the console.
The American Cancer Society has posted an eBay auction to raise funds, offering a Nintendo M6 store demo unit. This game machine doesn't look anything like the Nintendo consoles you've seen before—it looks more like a mid-80s VCR than the NES. Inside, it's more like a hand-built computer, because that's essentially what it is.
Nintendo made a handful of these devices to send to retailers back in the 80s. At the time, it was unclear if the NES would enjoy the same popularity stateside as as the Famicom did in Japan. The 1985 launch began in just a few test markets like New York and Los Angeles, resulting in
rare variants of games
and consoles that were produced in small numbers. The version of the NES and games most of us know came the following year.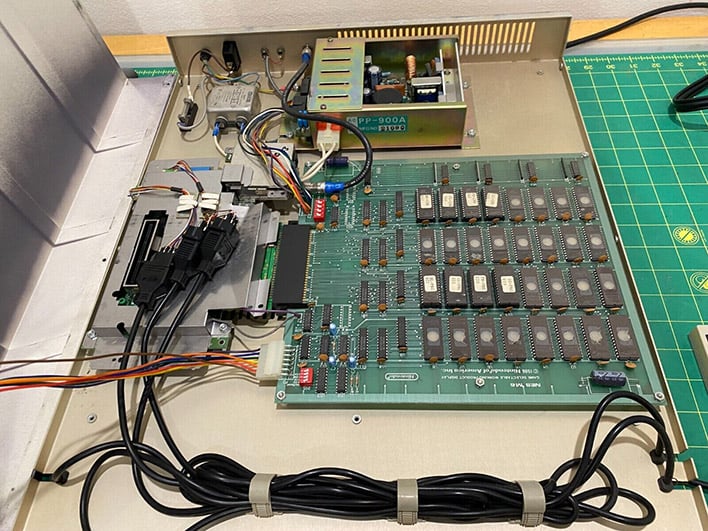 Some of the gamers who would eventually splurge on the NES (it was $200 in 1985, or $582 in 2023 money) got their first taste of the 8-bit future playing an in-store demo like the M6. Inside are multiple ROM chips, giving the player the choice between 16 different games. It also includes two controllers and the
Nintendo Zapper light gun
. There's only one button on the console itself, allowing the player to switch between the included games, and what a lineup! It includes Nintendo's sports titles like Tennis and Golf, along with Super Mario Bros, Duck Hunt, Excitebike, Ice Climber, and more.
The American Cancer Society says the machine has been tested and is in good working order, impressive for a piece of demo hardware from nearly 40 years ago. The winning bid will help support the programs and services offered by the ACS.
The eBay listing
has more than nine days remaining, and the bidding has already crossed the $2,000 mark as of this posting. This is one of those rare instances where you can spend ludicrously on something frivolous and not feel bad about it.