Star Wars Jedi: Survivor Isn't Out Yet And EA Is Already Promising Weeks Of Patches
Although the game hasn't been released yet – it's due to hit Steam tomorrow, April 28 – early reviews of
Star Wars Jedi: Survivor
seem mostly positive, with a few caveats. Some have complained of slow pacing and random performance issues, affecting multiple platforms. And the game recently made the news due to its massive storage requirements, which top out at over 150GB.
To quickly recap,
Star Wars Jedi: Survivor
is a third-person, action-adventure game being developed by Respawn Entertainment, in collaboration with Lucasfilm. The game follows Cal Kestis and picks up 5 years after the events of 2019's wildly popular
Star Wars Jedi: Fallen Order
. Though the game has been in development for quite some time and fans have been eagerly anticipating its arrival, it appears EA may be releasing
Star Wars Jedi: Survivor
before it's been fully baked...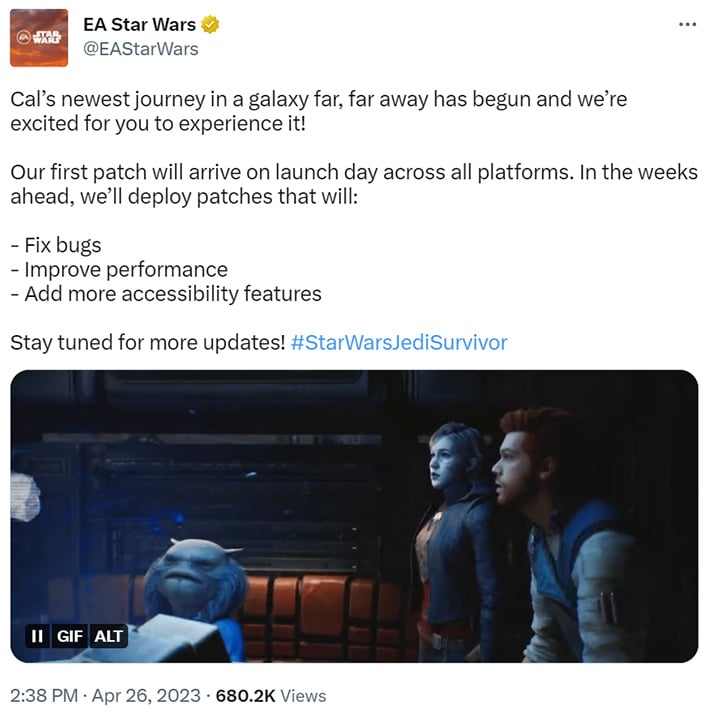 In a
tweet yesterday
, the EA Star Wars account promised a Day-1 patch for all platforms and that in the weeks ahead it would fix bugs, improve performance, and add more accessibility features, with additional patches.
Day-1 patches, unfortunately, aren't new and are often used to squash last-minute issues the pop up after final builds of a game are released to reviewers and other testers. But the announcement of multiple patches over many weeks has some fans asking why the game is being released tomorrow, if it's not ready?
On some level, we agree with that sentiment. Rushing a game out the door when fixes are clearly required, rarely ends well for gamers that are chomping at the bit for a
highly-anticipated title
. However, with the massive nature of the game, it's no surprise that it won't be perfect right out of the gate and the general positivity of reviews has us cautiously optimistic. Regardless, we're looking forward to
Star Wars Jedi: Survivor
. Here's hoping none of the bugs that reveal themselves when the game is released into the wild are showstoppers.