Star Wars And Microsoft Team Up To Give Away Awesome Mandalorian-Themed Xbox Bundles
In a galaxy not so far away, Xbox and Lucasfilm have launched an iconic giveaway of goodies coinciding with
The Mandalorian
Season 3 premiere. One lucky winner will receive a treasure trove of prizes, including a Mandalorian-themed
Xbox
Series X and Series S, a Grogu controller, and a hoodie.
For the fans of the highly-popular
Mandalorian
series, the start of Season 3 has been greatly anticipated. As Din Djarinr reunites with Grogu and the New Republic continues its struggle to influence the galaxy away from its dark past, enthusiastic fans will be sitting on the edge of their seats to see what transpires during the new season. Fans of the show have one more thing to be excited about, as galactic superpowers Microsoft and Lucasfilm have joined forces and are providing an epic opportunity to win some incredible loot.
While the blog post on
Xbox Wire
(image of prizes shown below) states that the winnings also include a fully operational gaming station, it seems it has since been removed, as it is absent from the contest rules page. The Pram XL was said to have massaging cushions, cupholders, LED lights, and holders for your controllers and headphones. Perhaps that giveaway is happening in another galaxy far, far, away.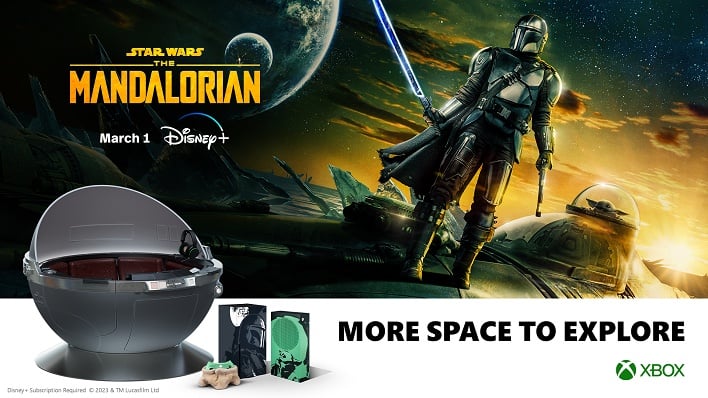 The Mandalorian
Season 3 is streaming now on Disney+, where all three seasons of the hit
Star Wars
inspired show can be viewed. The show's star-studded cast includes Pedro Pascal, Katee Sackhoff, Carl Weathers, and Giancarlo Esposito.
The
contest
is open to fans globally and will run from March 1 through May 11, 2023. The total approximate retail value of the prize package is $853. No purchase is necessary, however, participants need to make sure they are at least 18 years old and reside in a region that supports Xbox Live. Complete contest rules can be found
here
.